By Craig Bowles
Overview
Adobe Systems, Inc. (NASDAQ:ADBE) is slated to report 2Q 2014 earnings after the close on Tuesday, June 17th. The earnings release is expected at approximately 4:05 p.m. EST with a 5:00 p.m. conference call webcast at Adobe Investor Relations.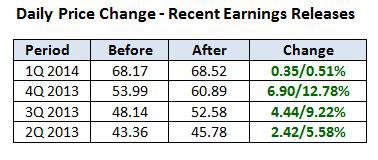 Outliers & Strategy
Key measures:
Non-GAAP Earnings Per Share: Company guidance is $0.26 to $0.32. The Street estimate is $0.30 (range $0.28 to $0.33) (Yahoo! Finance).
Revenues: Company guidance is a range of $1.00 bln to $1.05 bln. Expectations are to increase 1.7% y/y to $1.03 bln (range $1.01 bln to $1.05 bln).
Non-GAAP Earnings Per Share Guidance for FY2014: Company guidance is currently $1.10. The company doesn't normally update guidance during the year. The Street estimate is $1.17.
Earnings Per Share Guidance for FY2014: Company guidance is currently $0.27.
Revenue Guidance for FY2014: Company guidance is flat with 2013 which was $4.06 bln. Expectations are to increase 2.0% y/y to $4.14 bln.
Non-GAAP Earnings Per Share Guidance for FY2015 and FY2016: Company gave approximate targets of FY2015 $2.00 and FY2016 $3.00. The Street's FY2015 estimate is $2.05.
Adobe insiders sold 1,677,280 shares over the last six months. Co-chairman Charles Geschke, CEO Shantanu Narayen, CFO Mark Garrett, and general manager David Wadhwani all sold shares in early April and don't appear to be included in this total.
Adobe shares have a 1-day average price change on earnings of 5.48%. Options are pricing in an implied move of 4.79% off earnings.
Recent News
06/01 Adobe's Creative Cloud, which provides access to web-based subscription services for programs such as Photoshop, Illustrator, and Flash, was down for a day forcing Adobe to offer compensation to customers. The service, however, has continued performing well and helped it post solid results when reporting Q1, according to a story on Fool.com.
05/21 Adobe management met with UBS in Germany.
05/09 Pacific Crest restated their Outperform rating and $75 price target. Adobe resellers are reporting that demand is accelerating for the company's Creative Cloud product, according to a story on WKRB.com.
04/24 Google, Apple, Intel, Adobe settle a $3 billion class-action alleging they formed cartel to retain workers, according to a story on Bloomberg.com.
Technical Review
Last summer, Adobe moved above a resistance area in the low-to-mid $40s that had held since the dot.com peak and then rose over 50%. After some recent softness retested its 200-day moving average, the stock has nearly repeated February's spike. The $58-$60 area has become an important support with resistance at $68-$69. Upside potential after so many long, dull years gives increased legitimacy to any move above $69. (Chart courtesy of StockCharts.com)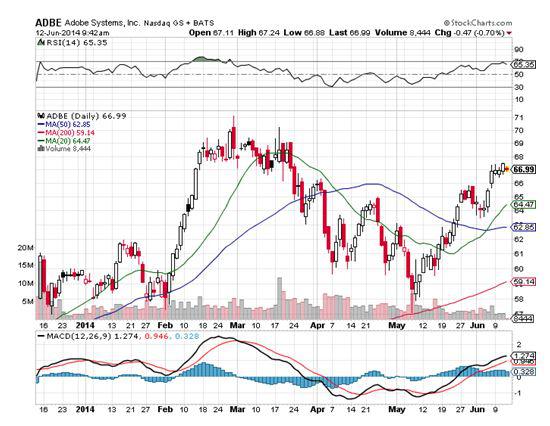 Summary
Adobe's new user growth and moves into new areas that lack credible alternatives excite analysts. New user growth is supported by their cloud subscription service and digital marketing platform. Even moves into hardware sound exciting. Over the last four quarters, the stock price reaction to the earnings releases suggests traders are focused more on these underlying measures and guidance rather than headline numbers. In any case, the company probably needs to report close to the high side of guidance to support a legitimate test of the February/March balance area. Earnings above $0.31 with revenue above $1.034 bln would allow more focus around measures for new business.
DISCLAIMER: By using this report, you acknowledge that Selerity, Inc. is in no way liable for losses or gains arising out of commentary, analysis, and or data in this report. Your investment decisions and recommendations are made entirely at your discretion. Selerity does not own securities in companies that they write about, is not an investment adviser, and the content contained herein is not an endorsement to buy or sell any securities. No content published as part of this report constitutes a recommendation that any particular investment, security, portfolio of securities, transaction or investment strategy is suitable for any specific person.
Disclosure: The author has no positions in any stocks mentioned, and no plans to initiate any positions within the next 72 hours. The author wrote this article themselves, and it expresses their own opinions. The author is not receiving compensation for it (other than from Seeking Alpha). The author has no business relationship with any company whose stock is mentioned in this article.