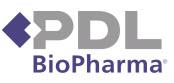 PDL BioPharma (NASDAQ:PDLI) appeared a few months ago on my radar screen as I was searching for new dividend investment ideas. What I look for is solid stocks with currently high dividend yields and the potential for capital appreciation. This offers income investors the opportunity for both income production and capital gains. After doing some additions legwork, I feel PDLI may fit the bill. In the following sections, I will give an overview of how the company operates, the current state of affairs, and then make a call as to whether I feel it meets the standard.
Company Overview
The following is a brief excerpt from the company 10Q I have included for anyone reading this article that is unfamiliar with the stock.
According to the company 10Q:
"PDL BioPharma manages a portfolio of patents and royalty assets, consisting primarily of its Queen et al. antibody humanization patents and license agreements with various biotechnology and pharmaceutical companies. PDL pioneered the humanization of monoclonal antibodies and, by doing so, enabled the discovery of a new generation of targeted treatments for cancer and immunologic diseases for which it receives significant royalty revenue. PDL is currently focused on intellectual property asset management, acquiring new income generating assets and maximizing value for its shareholders. In 2011, PDL initiated a strategy to bring in new income generating assets from the healthcare sector. To accomplish this goal, PDL seeks to provide non-dilutive growth capital and financing solutions to late stage public and private healthcare companies and offers immediate financial monetization of royalty streams to companies, academic institutions and inventors. PDL continues to pursue this strategic initiative for which it has already committed approximately $700 million to date. PDL is focused on the quality of the income generating assets and potential returns on investment."
Now that we have the formal introduction covered, let's take a deeper dive into company's operations by reviewing them in further detail.
Corporate Operations Overview
The company recently gave a presentation of its current operations. The following are the highlights as I see them. You can access the entire presentation here.
Income-Generating Assets
PDLI has deployed $700 million to-date for its strategic initiative of bringing in new income-generating assets from the healthcare sector in order to optimize returns for shareholders. The following graphic is a depiction of the approved Queen licensed products.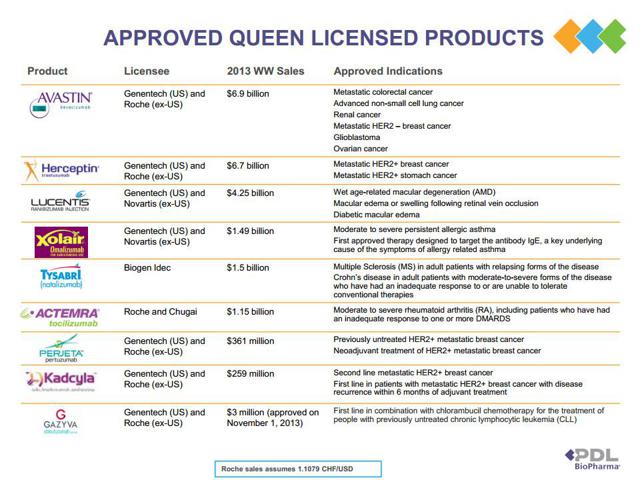 Click to enlarge
(Source: PDL.com)
The company acquires new income-generating assets to support payment of dividends to shareholders. The assets are preferably backed by commercial-stage products. The assets are highly diversified, consisting of drug or medical devices with differentiated profiles.
Income-Generating Assets Scorecard
The following graphic represents the status of these assets currently, how they were financed, and the amounts in question.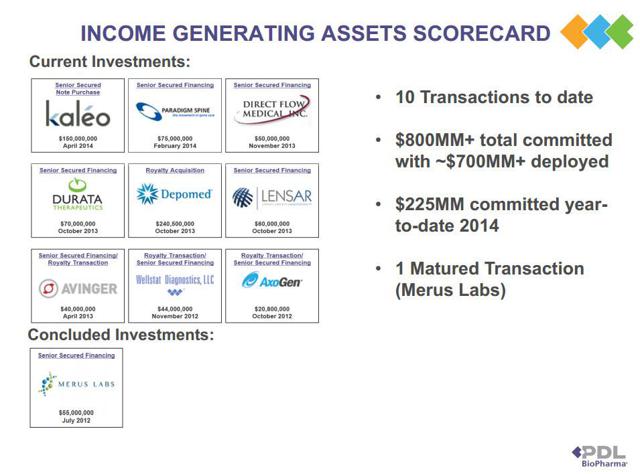 Click to enlarge
(Source: PDL.com)
There have been ten transactions to-date. There are over $800 million-plus in total commitments, with approximately $700 million deployed. $225 million has been committed year-to-date. There is one matured transaction at this time (Merus Labs).
Important Recent Event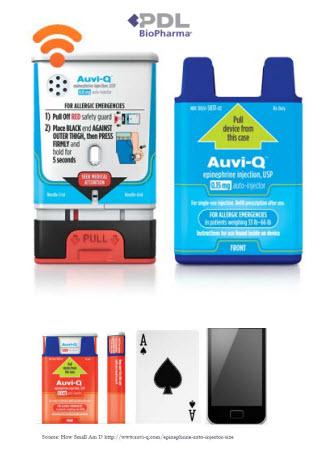 The company recently performed a $150 million transaction with kaleo. PDL acquired $150 million in notes backed by 100% of royalties on sales of Auvi-Q by Sanofi and 10% of net sales of EVZIO by kaleo. The notes pay 13% interest, with a final maturity in March 2029. Nevertheless, repayment is anticipated in 2020. Auvi-Q is a new system for delivery of epinephrine to treat severe allergic reactions that can be life-threatening, such as anaphylaxis. EVZIO, approved by the FDA on April 3, 2014, uses the same technology to deliver naloxone for the treatment of patients who overdose on opioids.
Synopsis
The Queen licensed products have delivered strong historic revenue growth and free cash flow. A recent settlement with Genentech/Roche has increased the certainty of the applicable royalty rates and duration of royalties which underpin the cash flow.
Since 2009, the company has returned to shareholders $5.62 per share in the form of special or regular dividends. The 2014 quarterly dividend is set at $0.15 per share. The company continuously evaluates alternatives to increase return for stockholders through the purchase of income-generating assets, buying back or redeeming convertible notes, repurchasing common stock, and paying dividends. It appears it is doing an exemplary job at this point.
Recent Earnings results
PDL Biopharma recently announced its second-quarter top line revenue number will come in at $140 million, which represents an approximately 3% decline year-over-year. You can read the full transcript here. Nonetheless, it is still 4% above the consensus estimate of $134 million. Last quarter, PDL BioPharma revenues came in at $139.7 million, up 52.2% year-over-year, operating income of $123.2 million, up 45.5% year-over-year, and GAAP EPS of $0.44, which was up 22.2% year-over-year. EPS was in line with the Street's estimates, while revenue beat consensus estimates by $8.77 million.
PDLI is trading for a dirt-cheap valuation on an absolute and relative basis
Absolute Basis
PDLI is one of the most undervalued biotechnology stocks in the market today. The stock is trading for a forward P/E of 4.73.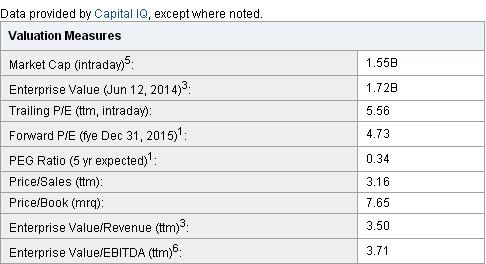 (Source: Yahoo.com)
Moreover, the stock sports a PEG ratio of 0.34. The PEG ratio is the key indicator I look at first to determine if a stock is undervalued. The PEG ratio is a broadly-used indicator of a stock's prospective worth. It is preferred by numerous analysts over the price/earnings ratio, because it also accounts for growth. Similar to the P/E ratio, a lower PEG means that the stock is undervalued. A PEG of 1 or less is believed to be extremely favorable. As Warren Buffett would say, "Price is what you pay, value is what you get." I submit PDLI is one of the best values available in the stock market today.
Versus Peers and Industry
PDLI currently trades at a significant discount to its peers and the industry as well, with a normalized P/E of 5.8 vs. P/E ratios of 29.8 and 21 respectively.

(Source: Scottrade.com)
Free cash flow is solid
The company is generating solid free cash flow in support of dividends and capital returns. Cash reverses were up over two-fold quarter-over-quarter, growing from $99 million to $337 million presently.
(Source: PDL.com)
Debt Is High
The company carries a considerable amount of debt versus the industry and its peers, with a total debt-to-equity ratio of 2.6, versus the industry and its peers at less than one. This is a weak spot.

(Source: Scottrade.com)
The following is a more detailed breakdown of the current debt outstanding.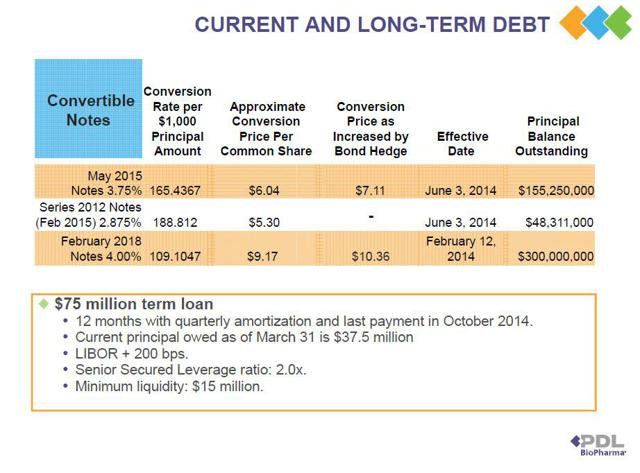 Click to enlarge
(Source: PDL.com)
Technically, the stock looks solid
The stock has been in a long steady uptrend for the past several years, and recently broke above its 5-year high.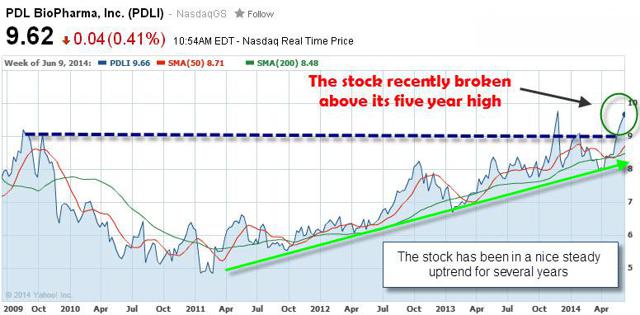 Click to enlarge
(Source: Yahoo.com)
The stock has broken out to the upside recently, and completed the coveted golden cross, where the 50-day SMA crosses the 200-day SMA. The 50-day is also diverging from the 200-day in an upward fashion, which is extremely bullish from a technical standpoint.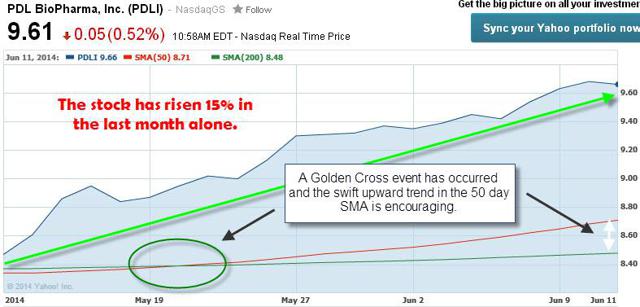 Click to enlarge
(Source: Yahoo.com)
Presently, the stock appears to be under heavy accumulation by the recent shift in upward trajectory.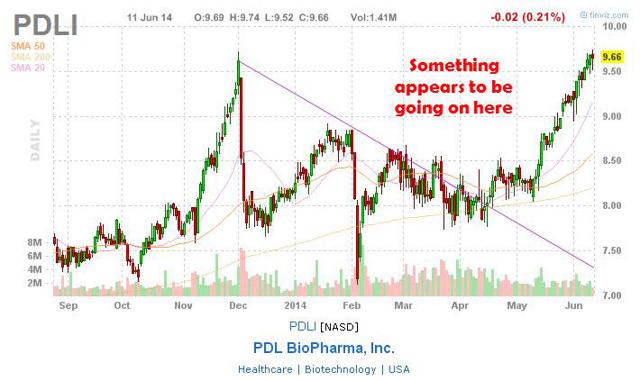 Click to enlarge
(Source: Finviz.com)
Nevertheless, there are always downside risks.
Downside Risks
PDLI's downside risks are many:
First, the competitive environment in the biotech industry is vicious. A relentless onslaught of new products and competitors attempt to disrupt the status quo on a daily basis.
The company remains vulnerable to the standard industry risks of high development costs and a lack of regulatory clarity.
Smaller biotech companies have a history of being highly volatile, and sentiment regarding the company in question can change on a dime.
The company is carrying a significant amount of long-term debt.
Furthermore, macroeconomic and geopolitical risks which are out of the company's control could take a turn for the worse at any time.
Finally, the market is at all-time highs as we enter the summer doldrums, which may induced a macro sell-off dragging the entire market down.
Conclusion
The company has an exemplary track record of managing a portfolio of income-generating assets. The stock has been performing well over the past few years, and appears to be gaining momentum. The company's stock yields 6.21%, and has solid free cash flow, revenue growth, and earnings. It appears this company may provide a great opportunity for dividend investors to obtain both capital gains and income production. Nonetheless, I would layer into any position over time to reduce risk. Further, I would be sure to keep a diversified portfolio of income-producing assets to offset any volatility going forward. In other words, don't put all your eggs into this basket.
Disclosure: The author has no positions in any stocks mentioned, and no plans to initiate any positions within the next 72 hours. The author wrote this article themselves, and it expresses their own opinions. The author is not receiving compensation for it (other than from Seeking Alpha). The author has no business relationship with any company whose stock is mentioned in this article.