Share Dilution
Exelon (NYSE:EXC) recently announced that it will issue 50 million new shares as part of a secondary offering. The offering was needed to finance a portion of the Pepco Holdings (NYSE:POM) acquisition. The bad news for investors is that the new 50 million shares will dilute the current value of the existing shares. This puts downward pressure on the stock price.
At the time the offering was announced on June 10, Exelon was trading at $37.16 or a market cap of $31.91 billion. Prior to the offering, the shares outstanding were 858.72 million. The new 50 million shares diluted the shares to about $35.11 ($31.91 billion/908.72 shares). This was approximately where the stock closed on June 12.
The offering also has a negative effect on the company's earnings per share (EPS). The current EPS estimate for 2014 is $2.37 on net income of $2.04 billion. With 50 million more shares in the mix, this year's EPS should now be about $2.25. This is more than a 5% drop, which is about in-line with the amount that the stock fell over the past two days. Therefore, I think that the dilutive aspect of the share offering has been priced in.
Fundamentals are Not Attractive
Exelon's fundamentals are not attractive in terms of valuation and growth. Revenue for 2014 is expected to be approximately $24 billion. This is over 4% below last year's revenue of $25.4 billion. Revenue for 2015 is expected to decline again to $23.97 billion. I think that this decline in revenue will put further downward pressure on the stock over the next two years. The Pepco Holdings acquisition is not expected to close until the second or third quarter of 2015. Therefore, Exelon will not get a full year's benefit for the acquisition until 2016. Pepco is expected to generate about $5 billion in revenue for 2015. That will provide a good boost to Exelon's revenue for part of the year in 2015 depending on exactly when the deal closes and for the full year in 2016 if plans go as expected.
From a valuation perspective, Exelon is overvalued. Analysts are expecting the company to grow earnings at about 1.5% annually for the next five years. This dismal growth is not conducive to catalyzing the stock price when the average S&P 500 is expected to grow earnings between 9% and 10% annually. When accounting for the share dilution, Exelon's P/E is 15.6 in terms of expected 2014 EPS of $2.25. This means that the P/E is 10 times higher than the company's growth rate of 1.5%. This is much higher than the S&P 500's PEG of about 3. Therefore, I think that Exelon is clearly overvalued in terms of its 5-year expected future earnings growth. This is likely to put further downward pressure on the stock price.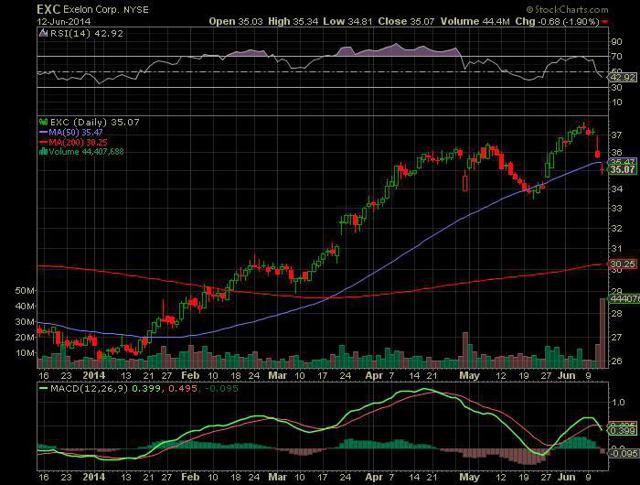 Click to enlarge
Conclusion
Exelon's stock is under pressure from the recent share offering, its current overvaluation, declining revenue, and sub-par expected earnings growth. With only $914 million in total cash and $20.6 billion in total debt, the company is likely to need to finance future acquisitions. This means that Exelon will need to either finance future acquisitions (adding to its debt) or issue more shares down the road. Such a situation is conducive for a declining stock price. Overall, I think that there are better opportunities for investors over the next few years.
Disclosure: The author has no positions in any stocks mentioned, and no plans to initiate any positions within the next 72 hours. The author wrote this article themselves, and it expresses their own opinions. The author is not receiving compensation for it (other than from Seeking Alpha). The author has no business relationship with any company whose stock is mentioned in this article.