For the longest while, Intel (NASDAQ:INTC) has been in a little bit of a funk that it has been waiting to jar itself out of. Not unlike watching Ford (NYSE:F) trade over the last 6 months, Intel has been a little bit of a bugaboo and refuses to make any massive moves or trade outside of the comfortable range that it's established over the last year or so. Just of late, we've seen Intel touch over $27 and look to be making a sustained move to the upside.
Yesterday, Intel upped its guidance. Seeking Alpha reported:
Citing stronger-than-expected business PC demand, Intel now expects Q2 revenue of $13.4B-$14B, better than prior guidance of $12.5B-$13.5B and a $13B consensus.
Moreover, the chip giant now expects "some revenue growth" for the whole of 2014, after previously guiding for flat sales; the consensus is for 0.7% growth.
Full-year R&D/MG&A spending guidance has been upped by $300M to $19B-$19.4B.
The guidance hike follows several quarters of narrowing PC shipment declines, thanks in large part to healthy corporate demand. Windows 7 system purchases tied to Microsoft's decision to end Windows XP support have played a key role.
Not only did the company up its guidance, it did it in an area that we've been waiting for: PC demand. This should come as good news not only to Intel, but also to companies like HP (NYSE:HPQ) and Apple (NASDAQ:AAPL), who rely on the PC market to hold up. Apple has been able to buck the trend mostly, with Mac, but companies like HP will have been waiting for this as a positive sign towards the future. I wouldn't be surprised to see both of these names get a small shot in the arm during Friday's trading.
This is especially great for Intel shareholders as confidence pours in and the stock looks to be on its way to pushing $30.
This is the chart for the last two years, but Intel is slated to open at around $29.89 today - a major gap up, especially for a stock like Intel that is finicky in trade most days and doesn't make big moves.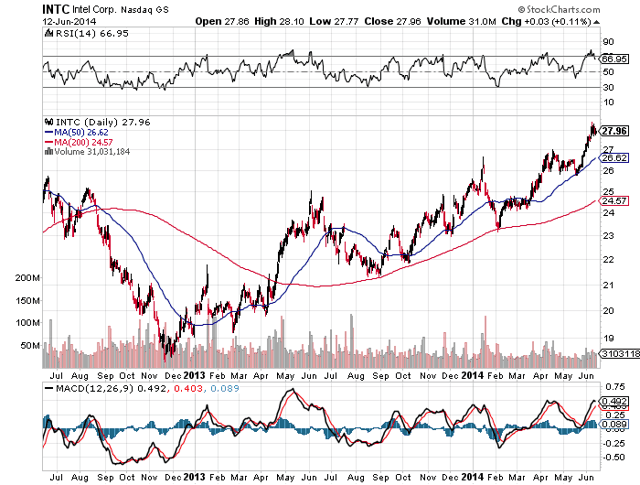 Mired in what some have called a visionless rut, Intel has been playing catch-up since the days it didn't get itself into tablets and mobile during their boom. Intel's next moves? Get involved in cloud, continue its planned launch of new chipsets for the year, and rush to try and make Intel a presence in mobile and tablets.
The 4th-gen Haswell chips are on their way:
What we're going to be looking at here is the 4th-gen Haswell refresh, codenamed "Devil's Canyon". The main appeal of these new chips is going to be better TIM (thermal interface) design. These processors are being specifically made for overclocking and the extra heat that it produces. Overclocking is basically forcing a chip to handle more than it was specifically designed for in order to achieve better performance - there's a right way and a wrong way to do it. This generally generates more heat, and can actually push your PC's stability limits if not done correctly.

In this case, overclocking should be dealt with within the design in thermal interface (read: handling the heat and power that come with overclocking). Overclocking with Ivy Bridge was tough, due to the processor's TIM design.
And Intel is doing somewhat of a fair job establishing its name in tablets in the U.S. and "playing catch up." You've seen the Intel commercial with the street musician on the tablet, right?
Of late, Intel made a good move, getting itself in a bunch of the new Chromebooks. Should the PC market continue to hold up, this could look to benefit Intel monetarily in coming quarters.
Also of late, the company is trying hard to break into the Chinese tablet market, even if it means sacrificing margins. The UK Register reported:
Industry insiders have told Taiwanese tech-news rag DigiTimes that Chipzilla has been cutting prices and offering marketing subsidies to tablet vendors willing to build designs with its processors.

The main targets of these efforts have been Chinese white-box vendors, at least 20 of which are reportedly already building tablets based on Intel processors and system-on-chip (SoC) components.

To reach buyers in the notoriously stingy price-sensitive Chinese market, however, those slabs will need to arrive at rock-bottom prices, especially given the glut of cheapo ARM-based tablets already available.

IDC research shows fondleslab sales cooled a bit in the most recent quarter, but the world's vendors still shipped a combined 50.4 million units in the three months ending in March, the vast majority of which were based on some flavor of ARM chips.
All in all, we've seen some bona fide good news on Intel's end and the ensuing break out upwards has been a long time coming for those investors that have been patiently buying or adding in the $20 region, where it feels like Intel has been forever. I'll be looking to see if Intel can deliver on its increased guidance and how Intel's news affects those in the PC market in the next couple of trading sessions.
Best of luck to Intel shareholders.
Disclosure: The author is long AAPL. The author wrote this article themselves, and it expresses their own opinions. The author is not receiving compensation for it (other than from Seeking Alpha). The author has no business relationship with any company whose stock is mentioned in this article.