The hepatitis C market has come on investor's radar in a big way over the last few months. Gilead Sciences (NASDAQ:GILD) launched its Hep C drug, Sovaldi, in the first quarter. The drug carries a huge price tag for its 12 week treatment program but cures what can be a fatal disease and/or avoid a painful and very costly liver transplant. The drug posted sales of over $2.25B in its first quarter of sales and is on its way to be the biggest and most successful drug launch in history.
Obviously the drug's huge success focused big pharma even more on this lucrative space. Merck (NYSE:MRK) made a huge splash by buying Idenix Pharmaceuticals (NASDAQ:IDIX) for almost $4B earlier this week. This was an over a 200% premium to what the stock closed at the week before. This for a company that has virtually no revenues and that is posting significant losses.
What Idenix does possess is an attractive portfolio of Hep C product candidates based on nucleotide/nucleoside chemistry and prodrug technologies. Hep C has morphed into the new HIV as far as the amount of people infected, the amount of potential revenue to be made and the amount of attention being heaped on the area by major drug makers.
I continue to believe the way to play this development is by buying Gilead Sciences which won big and is still printing money in the HIV arena and now has one of the biggest drug blockbusters ever. The company bought the developer of Sovaldi, Pharmasset, in late 2011 for some $11B. Gilead was accused by many of overpaying for this developmental drug company. Given that Sovaldi should do at least $11B in sales in its first six quarters of roll out; some pundits should be eating crow right now.
As I recently detailed, one of the best things about Gilead it is remarkably cheap given its growth prospects. Thanks primarily to Sovaldi, earnings should more than tripled this year to over $6 a share on back of an almost a doubling of annual revenue over 2013's levels. The company also continues to dominate in the HIV space and has promising products in the pipeline including ones to treat lymphocytic leukemia and Respiratory Syncytial Virus (RSV). The stock is way too cheap at approximately 13x forward earnings.
For more speculative investors, Conatus Pharmaceuticals (NASDAQ:CNAT) might be worth a look and an initiation of a small speculative position. Conatus' lead product is Emricasan, which it believes has the potential to interrupt a variety of liver diseases. The company has Four Phase 2 clinical trials for Emricasan underway to assess its safety and efficacy in acute-on-chronic liver failure, chronic liver failure, post-liver transplant HCV clearance with unresolved fibrosis and nonalcoholic steatohepatitis.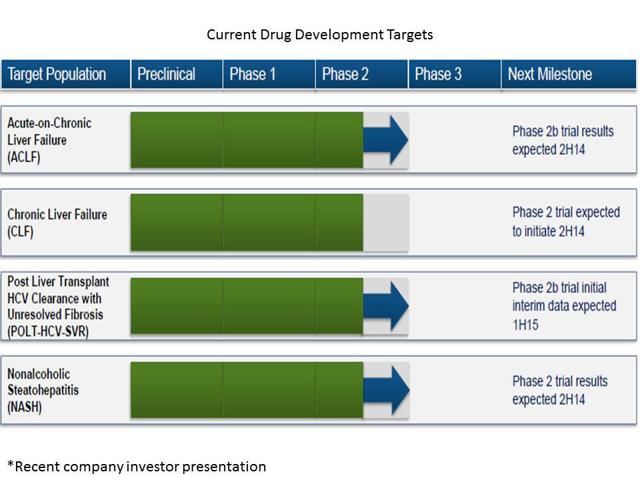 Click to enlarge
The stock has been extremely volatile recently due to the buyout of Idenix and speculation that Conatus might be the next target in this space. I bought shares in the company yesterday during a significant pullback in the stock. I immediately sold covered calls against the position given the lucrative option premium available. It is a good strategy to mitigate risk but does take some potential reward off the table.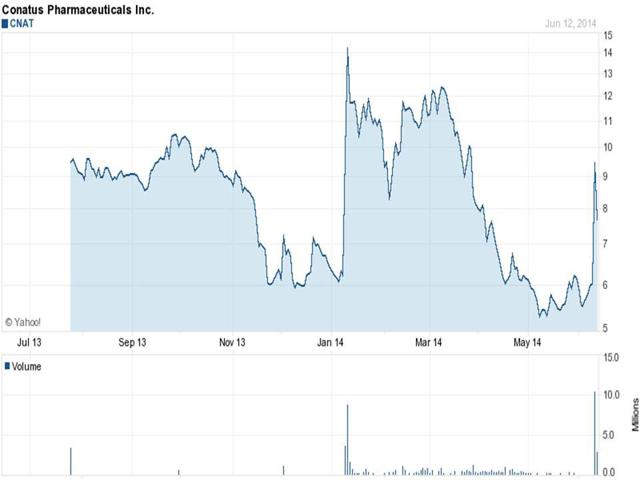 Click to enlarge
Conatus came public last July and even with its recent rise is substantially below its IPO price. The company has a market capitalization of approximately $120 million of which some $50 million is in net cash. Encouragingly this has been basically no insider selling since the company came public. The shares go for around $8 a share currently. The four analysts that cover the stock have a median price target of $15 a share on CNAT. Roth Capital initiated the shares as a "Buy" rating on the stock with a $23 a share price target on the stock.
With an estimated 150mm to 200mm people infected worldwide by hepatitis C with several million carriers in the United States with millions more in Europe, this obviously is a potential very lucrative area for drug companies to target. Here are two ways to play it.
Disclosure: The author is long GILD, CNAT. The author wrote this article themselves, and it expresses their own opinions. The author is not receiving compensation for it (other than from Seeking Alpha). The author has no business relationship with any company whose stock is mentioned in this article.