Introduction
Yesterday, Intel (NASDAQ:INTC) raised their second quarter base revenue guidance by $700 million due to an improved demand; specifically from the business sector. With Windows XP's expiration and a softening PC market being the driving factors, it is likely that AMD (NYSE:AMD) will also show a similar revenue boost, but probably on a smaller level.
AMD's PC chip revenue has been suffering with heavy sequential decreases for nearly every quarter in the last several years. Last quarter was the first quarter that returned AMD to the normal seasonal decline. During AMD's last conference call it guided that their PC chip revenue will see sequential revenue growth for the rest of the year, showing signs of a rebound. In a softening PC market that is coupled with AMD's latest offerings, I firmly believe that this is very true and view this quarter as the first of many upcoming revenue increases in the computing solutions sector.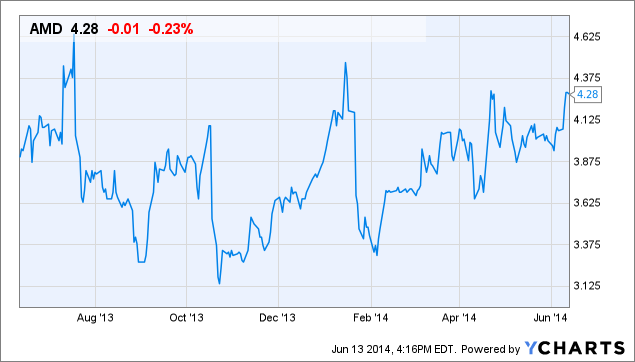 Increased Business PC Demand boosts Intel's Revenue
Thursday, Intel guided that they now expect to generate $13.7 billion, plus or minus $300 million opposed to their previous guidance of $13 billion, plus or minus $500 million. In addition, rather than posting flat revenues for the entire year, Intel mentioned that they would see some revenue growth. These adjustments were highly driven by a high demand for business PCs thanks to a steadying PC market, along with Microsoft's (NASDAQ:MSFT) ending support of Windows XP.
AMD to benefit?
Although AMD launched an array of new products this year, I am highly suspect that AMD will benefit as well but not on the same level as Intel due to the push coming from business sectors. AMD's product portfolio is very limited compared to Intel's and their milestone in computing performance increases has been centered around the more recent chips, Kaveri Mobile, Beema, and Mullins for laptops and tablets, rather than desktop PCs Although these chips are less suitable, AMD still has a focus on the business market which should lead them to benefit on at least some level.
AMD Already Guided For A Sequential Revenue Increase
For AMD's first quarter results, their Computing Solutions (CS) segment posted a sequential revenue decline of 8%, pulling in a petty $663 million. That's just over half of the CS revenue it generated in the same period two years ago in 2011. However, during the conference call, AMD stated that it expects to deliver sequential PC revenue growth for the rest of the year.
The future looks much brighter as AMD generated a sequential revenue increase for the first quarter as OEMs prepared to roll out notebooks that will ship with AMD's latest Beema and Kaveri Mobile APUs. AMD has previously suffered from a lack of design wins while being stuck in the most terrible laptops in the market. Lately though, the notebooks for Beema and Kaveri Mobile look much more promising. For this year, AMD expects to obtain more than double the amount of design wins they did last year which will easily help them reach their sequential revenue growth goals for the rest of 2014.
AMD's latest offering provides good solutions in laptops
Last year, AMD was heavily focused on their graphics sector where we saw several consumer GPU launches along with the consoles and their professional FirePro GPUs in the latest Mac Pro. However, AMD has now turned some of that focus onto the PC sector with a barrage of new APUs. AMD recently launched their Kaveri mobile APU for a wide range of laptops and the results have been splendid.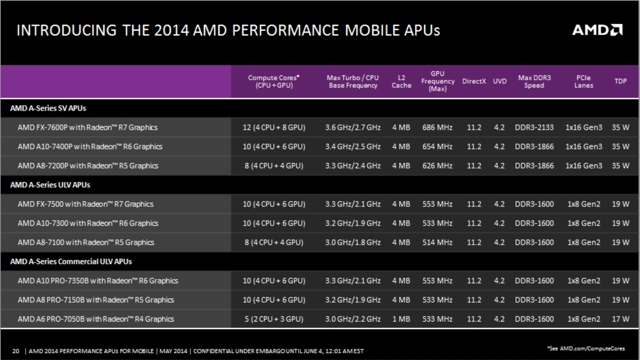 (Source: PC World)
The chart below of benchmarks provided by AMD compares AMD's Kaveri APU (19W FX-7500) to Intel's Haswell processor (15W i7-4500U). While being stuck with an inferior manufacturing process with 28nm nodes compared to Intel's 22nm FinFET node, AMD still achieved "comparable" results in PCMark 8 and for 3DMark and BaseMark CL, Kaveri performed over 50% better. While AMD still has a higher TDP, the progress and performance they have achieved in Kaveri are very impressive.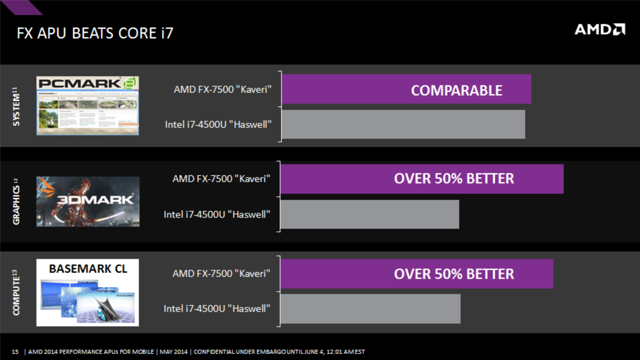 (Source: PC World)
Conclusion
AMD's declining PC revenues have ended with the first quarter and from here on out the chip maker has paved an ascending route to revenue growth. With Windows XP support ending, Business PC demand increasing, and a drastically improved and highly competitive offering by AMD - the results are crystal clear. AMD's PC problem is over.
Disclosure: The author is long AMD. The author wrote this article themselves, and it expresses their own opinions. The author is not receiving compensation for it (other than from Seeking Alpha). The author has no business relationship with any company whose stock is mentioned in this article.