Brookfield Infrastructure Partners (NYSE:BIP) is a relatively unique company with unique, high-quality, hard-to-duplicate infrastructure assets, especially in the transportation segment. Investors should view BIP as a non-correlated diversification away from traditional stocks and bonds and accessing a high-quality asset manager specializing in infrastructure assets. BIP's transportation, utilities and energy businesses offer strong, stable and growing cash flow funds from operation, enabling BIP to provide investors with strong dividend yields and dividend growth. BIP grows through prudently acquiring high-quality infrastructure assets much as a private equity firm grows through the acquisition of desirable investment targets, as well as occasionally engaging in the timely pruning of fairly valued assets.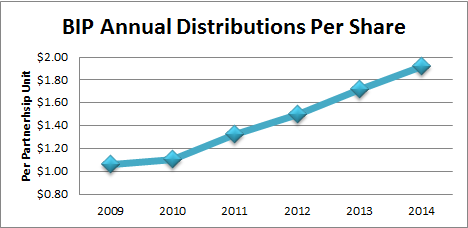 Source: BIP's Investor Relations
Corporate Highlights:
BIP's Q1 2014 FFOs/unit was $.89, slightly beating analyst expectations for the 15th time in the last 17 quarters and increasing by 11.25% versus Q1 2013. Key drivers of this growth were as follows:
The additional investment in BIP Transport's Brazilian toll road operation in Q3 2013.
Improved results from BIP Transport's Australian railroad due to the full contribution from the expansion program and higher volumes from a bumper grain harvest.
Increased natural gas volume demand into the Chicago market at BIP Energy's North American gas transmission business due to record cold weather.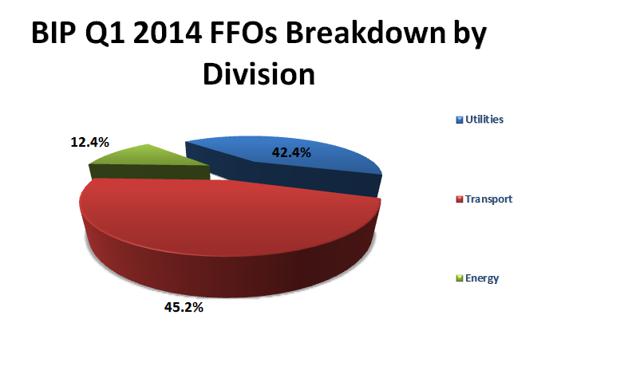 Source: BIP's Q1 2014 Report
Business Unit Highlights:
BIP Transport saw a 42% increase in its FFOs for Q1 2014 versus the prior year's period primarily driven by contributions from the additional investment in BIP's Brazilian toll road operation in Q3 2013. BIP and particularly BIP Transport seem to be adept at creating public-private-partnerships. BIP also benefited from improved results from its Australian railroad due to the full contribution from the expansion program and higher volumes from a bumper grain harvest. BIP's Transport operations generated 13.5% revenue growth and the division saw positive operating leverage as its operating costs decreased by 2%. Non-cash expenses for BIP Transport were $61M for Depreciation and Amortization (up 19.6% versus last year) while deferred taxes and charges were $1M. BIP Transport's Ports business enjoyed 25% FFO growth on the strength of lower borrowing costs.
Source: BIP's Q1 2014 Financial Supplements
BIP Utilities saw a 3.25% decrease in its Q1 2014 FFOs versus prior year levels. The decrease in FFO was primarily attributable to the sale of its Australasian regulated distribution operations on November 30, 2013. Excluding the impact of the sale, results were ahead of the prior year due primarily to improved performance at BIP's UK regulated distribution business due to higher rate base, inflation indexation and higher connections revenue. BIP Utilities' maintenance capital expenditures in Q1 2014 were $2M and were $4M less than Q1 2013. BIP Utilities' Regulated Terminal and Electricity Transmission each had flat year-over-year performance as negative movements in foreign exchange offset incremental pro forma operating income growth.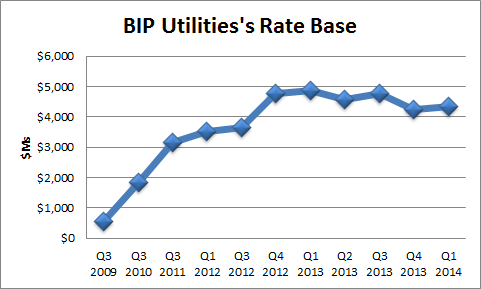 Source: BIP's Q1 2014 Financial Supplements
BIP Energy's FFOs increased by $4M year-over-year due to higher revenues driven by increased natural gas volumes into the Chicago market and higher basis spreads. These higher spreads were the result of natural gas price volatility caused by an unusually long and cold winter. BIP Energy's UK energy distribution operations also benefited from higher tariffs as well as lower costs associated with a margin improvement program over the past year. BIP Energy's Adjusted EBITDA was $41M in Q4 2013 and $35M in Q4 2012 due to the aforementioned natural gas market recovery. BIP Energy's maintenance capital expenditures decreased from $6M in Q1 2013 to $49M in Q1 2014 due to the timing of maintenance projects.
BIP's Corporate and Administrative segment's FFO decreased by $3M (14%) in the quarter as increased interest and distribution income and reduced financing costs were offset by the absence of BIP Timber's results as BIP sold BIP Timber in H1 2013. BIP is committed to make five new investments in BIP Transport and BIP Energy totaling $600M and BIP announced three notable acquisitions over the last few months:
BIP signed an agreement in February to acquire a 50% equity stake in APM Terminal's Elizabeth container terminal located in the Port of New York, New Jersey. BIP expects to close this deal by the end of June. This transaction enables BIP to enter the second busiest port market in the U.S. and invest in a long-term, high quality asset in this sector.
BIP signed a definitive agreement to acquire the Seattle Steam Company. The acquisition complements its existing district energy systems operations located in Toronto, Houston and New Orleans. Seattle Steam is a privately owned utility founded in 1893 that operates two independent steam plants and provides sustainable district heat through 18 miles of distribution pipeline to nearly 200 buildings in downtown Seattle and on First Hill.
BIP also signed a definitive agreement in April to acquire 100% of Macquarie District Energy. Macquarie District Energy owns district cooling systems in Chicago and Las Vegas with a system in Chicago considered one of the highest quality facilities in the U.S. BIP expected to close the Macquarie District Energy & Seattle Steam acquisitions in September.
Investing in BIP also enables investors to gain access to faster growing emerging markets because Brookfield Asset Management (NYSE:BAM) and its affiliates (including BIP) have the long history in those markets and there are potential diversification benefits that comes from investing in stable developed markets as well as higher growth emerging markets. Emerging markets also offer BIP large-scale investment opportunities. There are no toll road platforms in North America or the UK that are of the same scale as BIP's South American toll roads. The ability to invest in the motorway sector in North America and UK is limited because the regulatory framework and political will is not yet in place to introduce the private sector into the road infrastructure sector to the same degree as in South America. Here are highlights of BIP's investment philosophy:
BIP focuses on organic growth because it provides predictable high return sources of capital investment.
BIP also tries to invest on a contrarian basis. Emerging markets are by their nature more volatile, so it enables BIP to invest on a contrarian basis when geopolitical events occur as investors often paint all emerging markets with the same brush.
BIP only focuses on those countries and states that based on its experience and research it believes has sufficiently reliable judiciaries and sound economic and regulatory policies.
BIP only focuses on those sectors that it believes exhibit good barriers to entry and attractive investment attributes.
As BIP is a long-term investor, BIP is not concerned about periods of short-term volatility and generally sees them as excellent entry points to invest.
Another key component to BIP's investment philosophy is that BIP only invests significant capital if it has people on the ground to oversee its operations.
Conclusion:
In conclusion, BIP is building a solid foundation for its shareholders. Investors looking for high yields and non-equity correlation should consider BIP's portfolio of unique, hard-to-replicate assets. BIP provided unit-holders with strong returns from capital appreciation and partnership unit distributions since it went public in 2008. Although BIP's unit price is within ~9% of its fair intrinsic value and investors should not expect the relative returns to be as breathtaking over the next five years as the previous six years, investors should realize that BIP will be a great alternative to the S&P 500 and traditional utilities as represented by the XLU.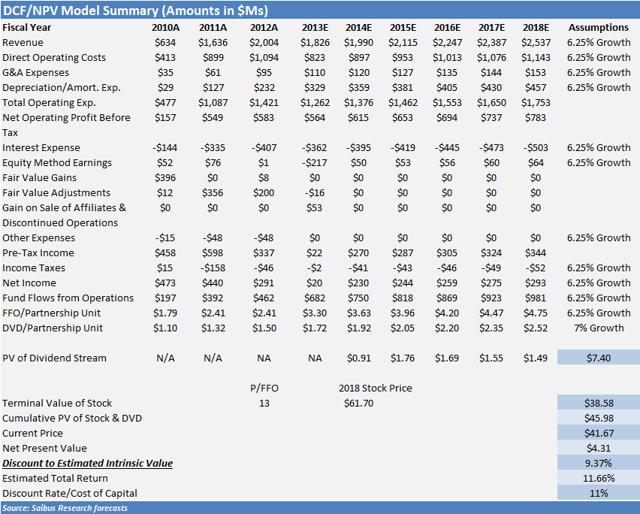 Source: FactSet Marquee and My Estimates
Disclosure: The author has no positions in any stocks mentioned, and no plans to initiate any positions within the next 72 hours. The author wrote this article themselves, and it expresses their own opinions. The author is not receiving compensation for it (other than from Seeking Alpha). The author has no business relationship with any company whose stock is mentioned in this article.