Walter Energy (NYSE:WLT) is a pure-play met coal producer. The company has been struggling to register a satisfactory financial performance in recent quarters due to soft coal market conditions. Coal demand has been challenged due to tougher environmental regulations, a global economic slowdown and lower natural gas prices. The met coal market is likely to remain weak in the near-term because of soft Chinese met coal demand and excess coal supply from Australia, and continued weakness in the met coal market is likely to weigh on WLT's performance. However, better coal supply management and cost controls will portend well for the coal industry and WLT in the long term. WLT's stock price performance is highly sensitive to a recovery in met coal prices. Also, WLT is trading at a depressed valuation, which I believe is justified given the prevailing tough industry conditions.
Met coal prices have remained weak in recent quarters and the situation is likely to continue in the near term, as the market is oversupplied. The met coal benchmark price for 3Q2014, which is expected to settle by the end of June, is likely to stay weak. Met coal price for 2Q2014 settled at $120 per ton, which was the lowest in the last seven years. Chinese steel production accounts for more than 50% of the world's steel production, and is important for the met coal market. Chinese steel production growth in 1Q2014 dropped to less than 5%, as compared to high-single digit and low-double growth in all four quarters of 2013. The following chart shows decreasing met coal quarterly benchmark prices.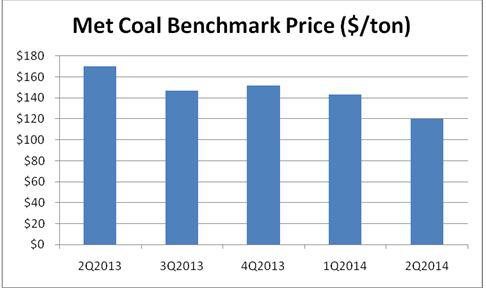 For a future recovery in met coal prices, better coal supply management is critical. According to Alpha Natural Resources' (ANR) CEO, the met coal market is currently 15-20 million tons oversupplied. Met coal companies have been announcing production cuts to rationalize demand and supply equilibrium. So far, there have been more than 10 million tons of supply cuts announced on an annualized basis by coal companies, including WLT, ANR, Arch Coal (ACI) and CONSOL Energy (NYSE:CNX). However, I believe more supply cuts need to be undertaken by the companies to rationalize the met coal market and trigger a price recovery.
Financial Performance and Liquidity
As a result of the weak Coal Industry environment, WLT continues to report weak financial performance. The company reported an adjusted EBITDA of $26 million, missing consensus estimates by $18 million, mainly driven by weak coal prices. Adjusted EPS for 1Q2014 was $(1.81), missing consensus estimates of $(1.21). Despite the fact that the company's earnings remain weak, it has been doing well to reduce its costs. WLT is expected to lower its SG&A by 10% in 2014. Also, the company has decided to close its Canadian operations beginning in 2Q 2014. This will not only help the company reduce its supply but also help it reduce cash burn and reduce costs, as WLT's Canadian mines have relatively high operational costs. For the full year (2014), the company expects met coal production to be in a range of 9-10 million tons, and has lowered its met coal sales guidance from 11-12 million tons to 10.50-11.50 million tons.
The company has been making efforts to improve its financial flexibility and has been considering different options, including asset sales. By the end of 1Q2014, WLT's total liquidity increased to $676 million, up from $587 million in 4Q2013, as a result of recent financing. Also, the company is considering the sale of non-core assets of $250 million, which will help the company improve its financial flexibility. However, the timing of the asset sales remains uncertain and is dependent on a recovery in the met coal market.
To preserve cash, the company has been cutting its capital expenditures. WLT expects capital expenditures for 2014 to total $130 million, down from $153 million in 2013 and $391 million in 2012. Capital expenditures for WLT are likely to accelerate in the last three quarters of 2014 as the company only incurred $12 million of capital expenditures in 1Q2014, which will put pressure on cash flows.
Conclusion
WLT is among the leading met coal companies of the world. The company's performance in recent years has been weak due to tough industry conditions. The company is likely to face challenges in the near term as met coal markets remain weak and oversupplied, creating a hurdle in a met coal price recovery. Coal producers have been cutting their supplies to rationalize demand and supply, but I believe more supply cuts need to be observed to address the concerns of an oversupplied market. WLT is currently trading at depressed valuations (P/S of 0.18x and P/B of 0.44x), which I believe is justified given the tough industry conditions.
Disclosure: The author has no positions in any stocks mentioned, and no plans to initiate any positions within the next 72 hours. The author wrote this article themselves, and it expresses their own opinions. The author is not receiving compensation for it (other than from Seeking Alpha). The author has no business relationship with any company whose stock is mentioned in this article.