During the Goldman Sachs 35th Annual Healthcare Conference, directors from MannKind (NASDAQ:MNKD) shed a little more light on the progress for a partnership for marketing Afrezza. They also noted that all manufacturing processes would be held onto by MannKind to protect the Technosphere platform going forward. Directors have noted that the company is seeking to move into other markets, such as pain management, vaccines, and possibly, hygiene. All of which are very huge markets. Investors can listen to the webcast of the conference, and view all the slides, here.
First, though, I would like cover a couple of the slides demonstrated at the conference:
How BIG is the Diabetic Market?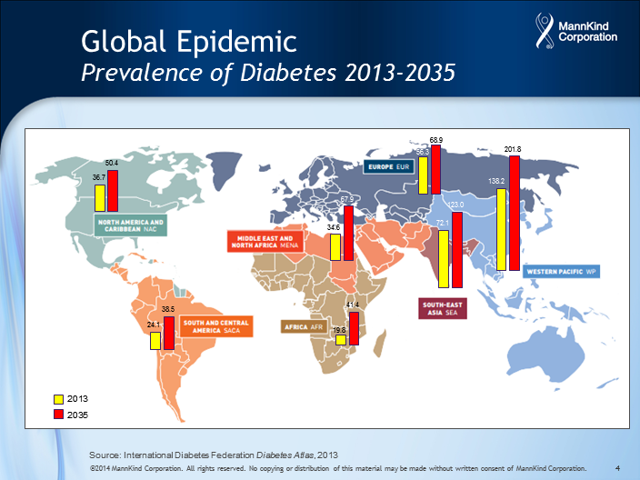 The above slide was demonstrated at the recent conferences, including the most recent Goldman Sachs 35th Annual Healthcare Conference, and shows the ever-growing diabetic market that Afrezza will compete for throughout the world. The most interesting increases in numbers come out of the Middle East and India (population over 1.6 billion) and Africa (population 1.069 billion), which represent some of the biggest populations in the world. Looking at the bar graphs in the slide, it appears that expectations for the diabetic populations in these areas are to at least triple in size over the next 22 years.
These are astounding numbers, and provide positive indication of a robust future for MannKind, should the FDA give the nod on Afrezza approval. The most recent numbers listed from the CDC for cases of diabetes in the U.S. alone now stands over 29 million people, and growing. This count does not include those in a pre-diabetic stage that are not even aware that they may need to be on insulin. Those numbers stand at about 1 out of every 4 persons in the U.S.
How would Afrezza be accepted in the market, and will doctors prescribe Afrezza?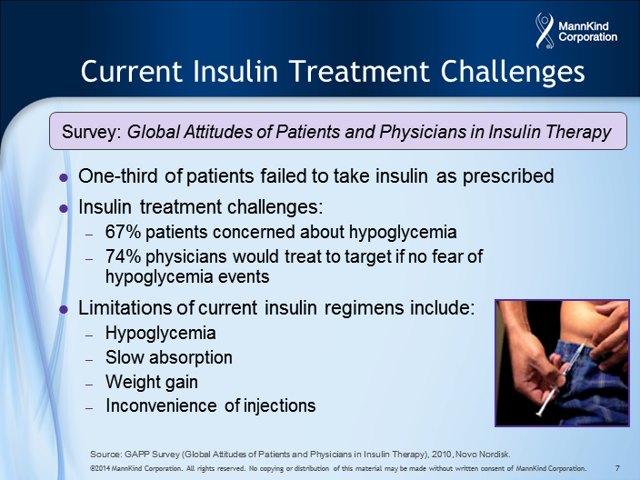 Just above is another slide from the same presentation, which clearly shows that Afrezza has a very significant chance of being overwhelmingly accepted by patients, and even more accepted by doctors to prescribe to patients, based on the hypoglycemia and weight control results from the trials. COO Hakan Edstrom even noted, "There is a significant advantage for General Practitioners to keep their patient base by prescribing Afrezza, because they currently lose those patients once they move into current insulin treatments." It benefits general practitioners greatly to prescribe Afrezza over other treatment options, where possible, because patients are income to doctors.
Partnership Potential for MannKind
COO Edstrom made it clear that MannKind is in serious negotiations with multiple potential partners and many of these companies are currently in the diabetic market. Knowing that the diabetic market is controlled by 3 main Big Pharma companies, it could be concluded that Big Pharma is very interested in Afrezza. He also made it clear that the company was NOT in a poor cash-strapped negotiating condition, where it needs to take any deal available. In turn, this means the company has negotiating power when it comes to Afrezza, and it will certainly take its time and get the best deal available.
Also discussed was the timing of a partnership announcement, where COO Edstrom stated it would be about a 6-8 week time frame as of June 12, 2014. This should be expected, and is not something that should be seen as a negative event for the company. The potential partner and MannKind will want to see the label approved by the FDA before finalizing an agreement. The cleaner the label is from the FDA, the better the position for MannKind to get a more favorable deal. So, why would Big Pharma wait until after approval to ink a deal? The answer likely lies with MannKind, because they understand better what they have and what they have to lose or gain. Personally, I believe the lack of an announced partner right now is more likely MannKind holding out, rather than Big Pharma holding out.
Of course, short sellers will likely try to spin the 6-8 week delay again as a negative for the company. Besides, this has been one of their favorite motives, both before and after the overwhelming FDA Advisory Committee vote on April 1, 2014 recommending approval of Afrezza. Some of the tactics being used by short sellers to protect their short investment have been proven false time and time again, which I have written about previously. This will be no different if they (short sellers) try to spin the 6-8 week time frame for a partnership deal to be finalized as a negative event. I expect they will, but will again fail to sway investors. Potential multi-billion dollar deals are simply not made overnight, as there are so many legal implications that need to be ironed out, and investors should be confident in CEO Al Mann's abilities to negotiate the best deal possible. He has a long track record of making big financial deals that benefit both companies and investors.
MannKind presents one of the most intriguing opportunities in the world right now, based on the Technosphere platform. An FDA approval of Afrezza completely establishes the Technosphere platform to be valid for moving into the pain management market and other markets described by the company directors. In fact, it has been recently reported that a company official was quoted as saying that MannKind has been in a pre-clinical phase of entering the pain management market. Should the FDA approve Afrezza, investors will want to keep a sharp eye out for a quick announcement of Technosphere entering clinical trials for pain management, since it is a global $60 billion market in itself. My advice to investors remains the same. Stay patient and maintain a long-term standing with the developments at MannKind, and try to avoid the distractions created by short sellers.
Disclosure: The author is long MNKD. The author wrote this article themselves, and it expresses their own opinions. The author is not receiving compensation for it (other than from Seeking Alpha). The author has no business relationship with any company whose stock is mentioned in this article.