The airline ETF may be set to soar after combating rising fuel prices, a global credit crunch, overcapacity and a host of other external factors that airliners are unable to control.
The International Air Transport Association (IATA) stated that passenger demand is recovering as passenger traffic increased 9.2% in July year-over-year, with the Asia-Pacific region experiencing a 10.9% gain, and cargo volume surging 22.7%, reports Palash R. Ghosh for International Business Times. However, the aviation industry in the developed world is still a little troubled, and companies have had to consolidate and cut costs.

Randy Tinseth, commercial airplanes vice president for marketing at Boeing (NYSE: BA), remarks that "for passenger traffic in 2010 we're expecting to see a 5% to 6% improvement over where we were last year; in terms of cargo, somewhere around 14% or more."

Furthermore, Boeing projects a healthy increase in demand for pilots, engineers and maintenance staff over the next 20 years. The company also estimates that the whole airline industry will buy 30,900 new aircrafts valued at $3.6 trillion between 2010 and 2029.
Dan Milmo for The Guardian writes that the global airline business will generate a profit of $8.9 billion this year, up from a previous forecast of $2.5 billion. The IATA also believes that demand will increase by 5% next year, but Europe still suffers from overcapacity.
Claymore/NYSE Arca Airline (NYSEArca: FAA)
click to enlarge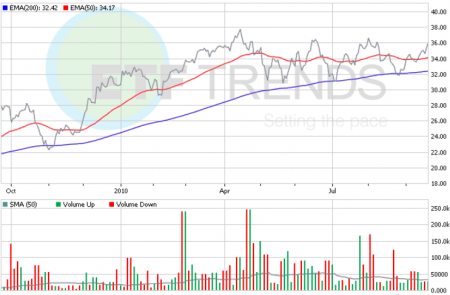 Max Chen contributed to this article.
Disclosure: None