Phew. . . I had been wondering the last few weeks about the fixed-income ETFs finding their way into the portfolio I invest based on the weekly ETF Pullback model I introduced on Seeking Alpha a couple of months ago. While I'm not by any means looking for an economic boom, I had a sense that double-dip recession is not in the cards and that the economy would move forward. If that scenario pans out, fixed income, especially the long-duration fixed income ETFs that predominated, were not likely to fare well. There were, indeed, a few days during which the portfolio underperformed the S&P 500, but by yesterday, I had regained some performance advantage.
This week, the model is starting to position for an economy poised to flex its muscles a bit. Here are the current ETFs.
This is last week's list.
Vanguard Long-Term Govt. Bond (NASDAQ:VGLT)

Nuveen New York Quality Income (NUN)

PIMCO 25+ Strips (NYSEARCA:ZROZ)
Global X/InterBolsa FTSE Colombia 20 (NYSEARCA:GXG)
SPDR Barclays Capital Long Treasuries (NYSEARCA:TLO)
We've got some income here, although I don't expect to be in these ETFs long enough to cash in meaningfully on that. The model is rebalanced weekly so the appeal of these choices lies in the extent to which their yields, current or prospective, may appeal to others next week, two weeks hence, or however many weeks pass before the model tells me to sell.
In terms of pure income investing, the orientation here is pretty aggressive and requires some measure of economic progress to pan out.
DHY, the high-yield bond ETF, is not just a yield play. Its price trend will also reflect sentiment regarding creditworthiness, something that is enhanced by a good economy and dampened by fear of recession.
Superficially, REZ and RWR, the two REIT ETFs, are plays on yield and real estate asset values. At a deeper level, however, they, too, are economic plays. If business is good, the trusts will enjoy better rental income trends and that will feed into dividends and asset valuations.
To some extent, PSK, the preferred-stock ETF, is more of a pure income play. Dividends there are established by contract (sort of), not business performance. But that's only true to a point. Unlike the situation with bonds, a company can skip preferred dividend payments without triggering a default, so companies are willing to do it in bad times when they feel a need to conserve cash. Many preferred issues are cumulative, meaning that their dividend arrears must be paid up before a company can pay dividends on common stock. But if preferred dividends start getting skipped, don't hold your breath waiting for the cumulative feature to support the price of PSK in the short term. Instead, just hope for a good economy.
This week's listing is hardly a to-the-max cyclical play. There are no heavy industry ETFs. There are no semiconductor plays. There's no energy. Homebuilding is not represented. We don't even have meaningful retail exposure (except, possibly, for rental stream at the real estate ETFs). So my blood pressure is not really going to soar if a bad number is released in the week ahead. But it is at least somewhat positioned on the bullish side of the fence.
APPENDIX
To create this model, I started with a very broad-based ETF screen I created in StockScreen123.com.
Eliminate ETFs for which volume averaged less than 10,000 shares over the past five trading days

Eliminate HOLDRs (I don't want to be bothered with the need to trade in multiples of 100 shares)

Eliminate leveraged and short ETFs (I think of these as hedging tools rather than standard ETF investments of even trading vehicles)
Then I sorted the results and select the top 5 ETFs based on the StockScreen123 ETF Rotation - Basic ranking system, which is based on the following factors:
120-day share price percent change - higher is better (15%)

1-Year Sharpe Ratio - higher is better (15%)

5-day share price percent change - lower is better (70%)
The idea of using weakness as a bullish indicator is certainly not new. But often, it's an add-on to other factors that, on the whole, emphasize strength. Here, the weakness factor is dominant, with a 70 percent weighting.
This model is designed to be re-run every week with the list being refreshed accordingly. I trade through FolioInvesting.com, where I pay a flat annual fee rather than a per-trade commission, so I don't care about the fact that turnover form week to week is often 80%-100%. If you want to follow an approach like this but do have to worry about commissions, the strategy tests reasonably well with three ETFs, or even with one. (Cutting the number of ETFs is far preferable to extending the holding period.)
Figure 1 shows the result of a StockScreen123 backtest of the strategy from 3/31/01 through 7/22/10.
Figure 1
Figure 3 covers the past five years, a very challenging market environment that witnessed the fizzling of many strategies that had succeeded for a long time.
Figure 2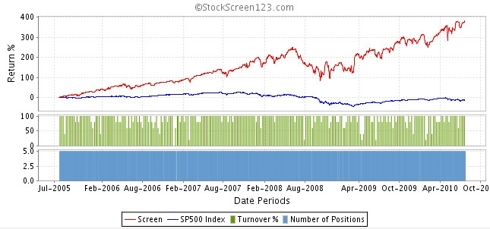 Click to enlarge



Author's Disclosure: Long DHY, REZ, IDX, RWR, PSK