While some might argue that Microsoft (NASDAQ:MSFT) no longer deserves a place as one of the Big Three Tech firms, along with Apple (NASDAQ:AAPL) and Google (NASDAQ:GOOG) - particularly given the increasing command of the market being drawn by Samsung (OTC:SSNLF) - it is too soon to count Mr. Softy out. Maybe 'the Big Four' is a more apt moniker, particularly as each is charging ahead into the next frontier of personal electronics: the smartwatch. Microsoft recently announced that it will be introducing its own smartwatch that will be functional across all major platforms. Apple's iWatch is expected this fall, Google rolled out Android Wear last March, and Samsung recently brought the Simband into the open. The takeaway is that the wearables market is heating up.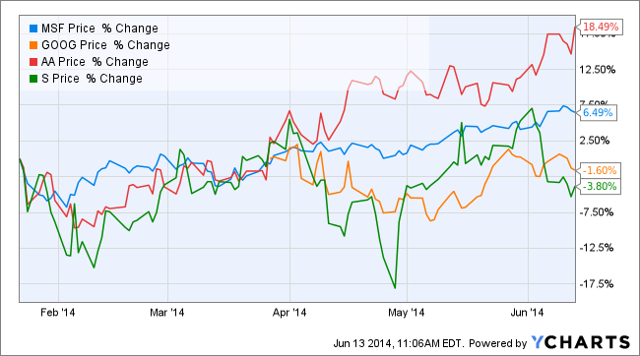 How Microsoft Could Become Key
While at first look, the Microsoft project seems somewhat underwhelming, particularly in an already crowded arena that adds FitBit, Jawbone, and Nike (NYSE:NKE) to the offerings from the tech behemoths, the cross platform approach is the key element. Where Microsoft has been "Windows-centric" in the past, a more open approach could change the game. Two of the biggest issues with Samsung's Galaxy Gear are the requirement of a Galaxy smartphone to make it work and the high cost of the device. By adopting a cross platform approach, a Microsoft device could immediately have greater relevance. If the device can be introduced with a modest price - Microsoft may be able to establish a strong foothold in this rapidly growing market.
In terms of the Windows platform itself, a smartwatch will bring Microsoft more in line with iOS and Android, each of which support apps for most of the major fitness bands (only Nike is exclusive to iOS). This is clearly an open frontier as evidenced by Samsung's recent replacement of Android in the Galaxy Gear with Tizen, its own open source OS developed with chip giant Intel (NASDAQ:INTC) and others. The potential size of the wearables market is hard to predict, but it is likely to be significant and offer substantial growth to the ultimate winners. Being an early mover is critical, but particularly for Microsoft, which has fallen significantly behind in the smartphone arena.
What About the iWatch?
Where Google, Samsung, and Microsoft are looking to become the skeleton upon which other devices (as well as their own) can be built, Apple is much more likely to remain a closed system. This is nothing new for Cupertino, but, in my estimation, raise the stakes for the iWatch. While the projections on how much the iWatch could mean in sales for Apple vary widely, it is the next big thing from a company that needs a next big thing. Apple products, which typically carry premium prices, will need to offer something unique when compared to other options that are still compatible with iOS. The strategy selected, assuming that the device is rolled out this fall as expected, will be a critical element for Apple investors to consider. Wearables is a rapidly growing industry, with significant carry over in the health care field; Apple needs to compete here.
Time to Act?
Unlike Apple, Samsung, or Google, Microsoft has the most to gain here because of its relative underperformance in smartphones. Investors should be carefully watching the rollout and how it is received in the market. Trading with a P/E around 15, and offering a 2.7% dividend yield, Microsoft looks like a solid tech holding. With the potential catalyst of a cross platform smartwatch coming this summer, I am a buyer here.
Disclosure: The author has no positions in any stocks mentioned, and no plans to initiate any positions within the next 72 hours. The author wrote this article themselves, and it expresses their own opinions. The author is not receiving compensation for it (other than from Seeking Alpha). The author has no business relationship with any company whose stock is mentioned in this article.