For Apple (NASDAQ:AAPL) shareholders, the last year has been the time of milk and honey, as the shares have shot up some 65% since their lows of under $400 a share (before the stock recently split 7 for 1) in late June of last year. Bears clearly missed the boat on this one for myriad reasons, but that does not keep them from continuing to make some of the same fundamental mistakes. These logical flaws have cost the bears a huge and predictable rally in Apple, or worse, getting taken out on a stretcher if they were actually short the shares.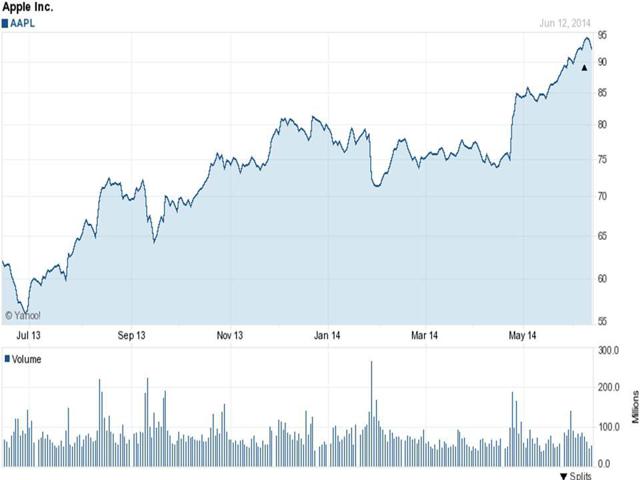 A case in point is a recent bearish piece by Michael Blair, who has been a bear for over a year. I like Michael. He is a good chap and a gentleman to boot. I look forward to the dinner based on our bet on the direction of the stock of Apple he now owes me as well; the next time our paths cross.
Mr. Blair posts well-written pieces with good analytical reasoning, great charts and can make a persuasive case for a bear on Apple. Unfortunately, he keeps making some of the same oversights on the company that other myopic bears have made over the past twelve months.
Better Shorts:
One critical flaw in the bears' outlook when the stock was trading much, much lower was a basic one. Simply put, there were and are much better short targets in the market. At its nadir in late June, Apple was trading at six times forward earnings once the company's over $160 billion cash hoard was taken out of the equation. I am sorry, but if I was a short, I would rather target a retailer that sells $100-a pair yoga pants (Lululemon (NASDAQ:LULU)) that was priced at 50 times earnings, or a tech play like Splunk (NASDAQ:SPLK) that has no real earnings yet.
Brand And Ecosystem:
Another miss by the bears on Apple was missing the power of Apple's brand and ecosystem. Downloads from the App store now total more than $1B in revenue a month, and are growing exponentially. Apple gets a 30% cut of these high margin sales, and should post over $3B in profit this year just on this one small piece of its ecosystem.
I am hoping my dinner with Michael takes place here in Miami so I can show him first-hand how powerful Apple's design and branding continue to be. I will be the first to admit, this is something that is easy to miss for a man not caught up in fashion and culture - including this author.
However, what reassured me and allowed me to back up the truck when Apple was at the depth of its doldrums was this observation. Everywhere you go in Miami, as well as New York and other cities, you see two things. First, men tend to have a variety of smartphones, including those from Apple, Samsung (OTC:SSNLF), HTC (OTC:HTCCY), and even BlackBerry (NASDAQ:BBRY) still. However, next time you go out to a restaurant, look at all the ladies and what they are carrying. If your city is anything like mine, 90% to 95% of these women will be using an iPhone, which is not only a smartphone but a fashion statement.
Overemphasis on Innovation:
A constant refrain among Apple bears is that the company can no longer innovate since the passing of its legendary leader, Steve Jobs. However, innovation is not the only way for a technology company like Apple to create shareholder value. It can sign distribution deals with huge telecom to expand its reach into different markets. The transactions Apple successfully completed with NTT Docomo (NYSE:DCM) and China Mobile (NYSE:CHL) last year added more than 800mm potential new customers.
A company can also make incremental changes to its core product line to create additional customer demand. The larger screens that will be a part of the iPhone 6 are the perfect example of this strategy, and the new phones will be welcomed by this author and his old eyes.
Finally, a company like Apple, with its financial resources, can pursue shareholder-friendly moves like boosting its dividend nicely twice since its lows, or buying back over $40B in its own stock since summer, with tens of billions more left on its stock repurchase program. Given the extent of shareholder activism these days, mounting pressure leading the company to initiate these moves should have been predictable. Even with all the cash Apple has returned to its shareholders over the past year, it still has some $150 billion of net cash and marketable securities on the book.
Sentiment Is A Fickle Beast:
The last basic flaw bears have made on Apple is not recognizing what a fickle beast sentiment can be. Obviously, in hindsight, sentiment was way, way too negative on Apple at its lows. When sentiment gets this negative, it only takes the slightest good news to ignite a substantial rally.
This should also be a warning to Apple bulls. The stock has had a huge run, and is no longer the screaming buy it was back in June. I have reduced my position significantly since when the shares constituted almost 10% of my portfolio back in early summer.
I have the stock listed as an ACCUMULATE that I will happily add to my position if we get any significant pullbacks in the market. The stock is still selling at a discount to the overall market multiple of 16 to 17 times forward earnings, and the company still has catalysts on the horizon (eg. the launch of the iPhone 6). The last point of this article is not to skewer the bears on Apple, but to learn from them.
Disclosure: The author is long AAPL. The author wrote this article themselves, and it expresses their own opinions. The author is not receiving compensation for it (other than from Seeking Alpha). The author has no business relationship with any company whose stock is mentioned in this article.