Intel (NASDAQ:INTC) has created a 52-week high earlier this week at $28.42. Over the last few quarters, Intel's earnings have remained a mixed bag with revenue rising steadily. In the first quarter of 2014, sales from the company's newly formed IoT (Internet of Things) Solutions Group grew 32% year-on-year. Strong demand in retail in-vehicle infotainment was responsible for this remarkable growth. What is even more interesting is that the IoT Solutions Group's Atom volume nearly doubled over the same quarter of last year.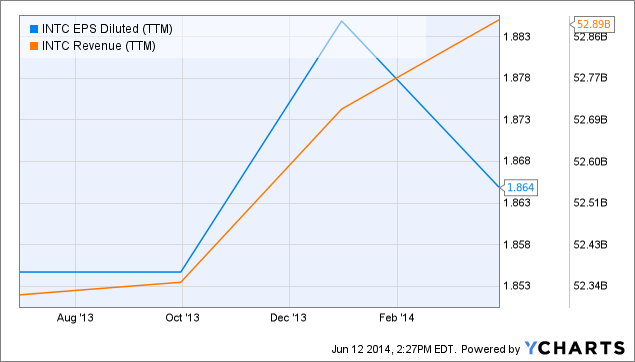 INTC EPS Diluted (TTM) data by YCharts
Moreover, the company's Datacenter revenue grew 11% year-on-year with cloud, networking and storage businesses recording growth in excess of 20%. We believe that Intel's financial performance in the coming quarters will continue to be robust, driven particularly by the sales growth of the IoT and Datacenter Groups. The stock is expected to rise further amid this encouraging environment.
IoT Solutions Group Potential
Intel's new IoT Solutions Group, a division combining the Intelligent Systems Group and Wind River organizations, will focus on its existing business of making chips for commercial and industrial devices. It is a pivotal division for the company that seeks to gain from the growth of IoT. The division is also working on a range of low-power chips, such as Quark SoC X1000 and E3800 Atom, for wearable devices and ingestible biomedical.
Wind River's operating systems are found in over a billion of devices in IoT, which implies that Intel's low-power chips can be embedded in those devices. So the growth of the low-power chips could be enormous. The products that the IoT Solutions Group focuses on include devices with a number of different plug-ins, such as USB, HDMI, VGA etc. Such devices range from security cameras to weather data collectors to retail asset management monitors.
The group generated about $2 billion in revenue of Intel's $12.8 billion overall revenue, representing 32% year-on-year growth. We believe that the group will continue to grow going forward.
Datacenter Growth Potential
Intel's Datacenter Group develops high-end co-processors for supercomputers as well as low-energy systems for Datacenters. The main reason that the company's Datacenter business will continue to grow is the sustained proliferation of cloud computing, which is at the heart of Intel's Datacenter business. The company is the leading provider of workload optimized silicon, software defined infrastructure, cloud security, rack scale architecture and big data analytics.
While investors are suddenly becoming a bit skeptical with cloud, because it has made software much easier to write, deploy and maintain, and therefore much easier and cheaper to sell, a recent report from Gartner seems encouraging. Gartner says that the IoT will transform the current form of the Datacenter business. Fabrizio Biscotti, research director at Gartner said:
IoT deployments will generate large quantities of data that need to be processed and analyzed in real time. Processing large quantities of IoT data in real time will increase as a proportion of workloads of Datacenters, leaving providers facing new security, capacity and analytics challenges.
We feel that this transformation will create new opportunities for Intel's processors, which will boost its Datacenter revenues in the long run. Datacenter has the potential to boost Intel's memory business also. Investors should note that Intel had all-time record NAND revenues in the first quarter of 2014, driven by Datacenter, particularly cloud.
Final Words
Intel's future growth will be driven primarily by the Internet of Things. Datacenter is also related to IoT, as pointed out by Gartner. The formation of the IoT Solutions Group by Intel should be viewed as a positive step by the company.
Business relationship disclosure: The article has been written by a BB Research stock analyst. BB Research is not receiving compensation for it (other than from Seeking Alpha). BB Research has no business relationship with any company whose stock is mentioned in this article.
Disclosure: The author has no positions in any stocks mentioned, and no plans to initiate any positions within the next 72 hours. The author wrote this article themselves, and it expresses their own opinions. The author is not receiving compensation for it (other than from Seeking Alpha). The author has no business relationship with any company whose stock is mentioned in this article.