Background: Tibco Software (NASDAQ:TIBX) is a $3.35 billion market cap provider of software solutions. The company's shares are liquid and trade an average of 2.7 million shares per day.
Price To Book: 3.4
Tibco Software is forecast to record lower second-quarter earnings after the market closes on June 19, 2014.
The consensus estimate is currently 13 cents a share, a drop of 5 cents (27.8%) from 18 cents during the equivalent quarter last year. Analysts' estimates this quarter range from 12 cents to a high of 22 cents per share. Sequentially, expectations are 6 cents lower than last quarter.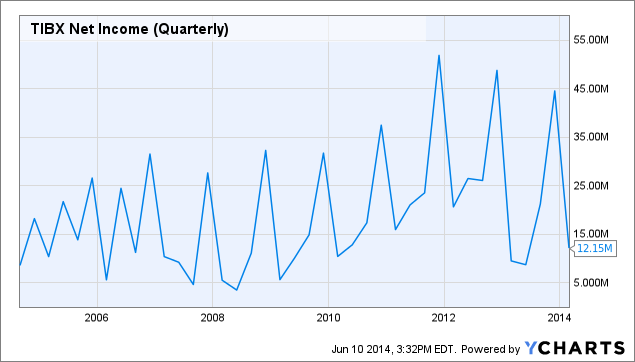 Historically, the fourth quarter is the strongest and the company hasn't failed to meet or beat estimates in the last three years.
Over half the analysts covering Tibco Software rate it as a buy or strong buy. 12 of the 23 analysts covering the company give a buy recommendation. 10 analysts rate it a hold, and 1 recommends selling. The average analyst target price for Tibco Software is $23.63.
A price target is what analysts think the stock will reach within 12 months. It may arrive there, but don't expect a perilous free journey. The shares spiked a few days ago after Praesidium Investment Management sent a public letter to Tibco's Board "suggesting" a few changes to "unlock value."
Tibco responded with the usual Wall Street "Thanks, we received your letter and are reviewing it. Don't call us, we'll call you" response. Praesidium controls over 3% of the float. The problem is if Praesidium doesn't get what it wants, it may take its ball and go home, and maybe take others with it.
Public letters are typically towards the last, and certainly not the first, effort to effect change. A public lashing by a key investor demonstrates Praesidium isn't pleased with the direction management is taking. So far, the response is positive, and everyone's happy, but that may change and if you're a shareholder, stay diligent on updates including Praesidium selling some of its shares.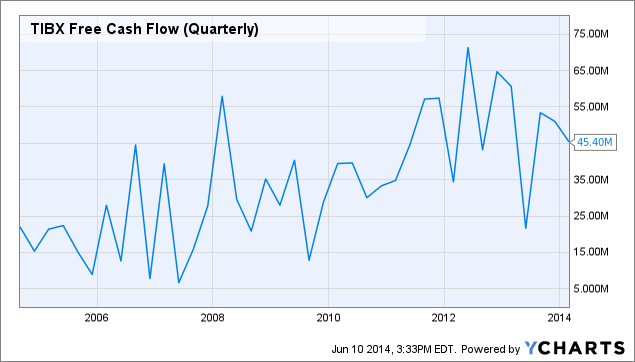 Last earnings release was a non-event. The company beat by a penny and the stock hardly budged. The shares climbed 10 cents or half a percent over the previous close. That's despite a 6% increase year-over-year and record revenue last reported quarter.
This quarter, investors are bracing for a much greater possible reaction based on option pricing. Call and put option premium tells us that the market is pricing in an 8%, or about $1.66 move in the next 9 days.
That means, as a shareholder or potential investor, you should anticipate the stock to trade as low as $19.07, or jump higher to $22.39, and still remain within one standard deviation. If you're not already prepared for such a wide move (and there's no guarantee it won't move beyond the expected range), you want to be.
You will want to keep a keen eye on margins. Last quarter, the company reported a 72.1% non-GAAP margin. Even in the software business, that's impressive.
Other companies occupying the enterprise software space include IBM (NYSE:IBM), Oracle (NASDAQ:ORCL), and Progress Software (NASDAQ:PRGS). In the last 12 months, database maker Oracle outperformed Tibco and the other two's performance with a 25% share price appreciation.
The overall market increased 20% as measured by the S&P 500, but Tibco's shares lost 6%. Almost surprisingly, short sellers haven't found Tibco attractive. Only 1.4% of the float is shorted. Obviously they missed this one. That's indirectly good news for shareholders.
Short sellers are considered to be the "smart money" investors and if they're not convinced a stock is a short, the downside risk is relatively speaking, much lower.
Part of the reason may come from Tibco's active share repurchase program. In the last 10 years, Tibco has bought about 30% of the float, giving shareholders much greater concentration.
From a technical analysis view, the shares are in a long-term bull trend on the monthly chart, but otherwise, the stock appears soft and difficult to get excited about. A significant beat will go a long way to alleviate Tibco's blues.
Disclosure: The author has no positions in any stocks mentioned, and no plans to initiate any positions within the next 72 hours. The author wrote this article themselves, and it expresses their own opinions. The author is not receiving compensation for it (other than from Seeking Alpha). The author has no business relationship with any company whose stock is mentioned in this article.