By Craig Bowles
Overview
FedEx Corporation (NYSE:FDX) is slated to report 4Q 2014 earnings before the bell on Wednesday, June 18th. The earnings release is expected at approximately 7:30 a.m. EST with an 8:30 a.m. earnings conference call webcast available at FedEx Investor Relations. Results from FedEx are widely seen as a proxy for economic growth and tend to heavily influence the broader market gauges, including the equity index futures.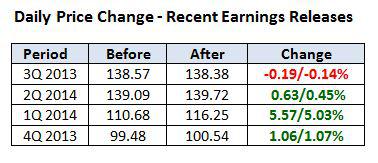 Outliers & Strategy
Key measures:
Earnings Per Share: Company guidance is $2.25 to $2.50. The Street estimate is $2.36 (range $2.28 to $2.44) (Yahoo! Finance). If the company produces a non-GAAP EPS, the estimate would be comparable to that measure.
Revenues: Expectations are for an increase of 2.0% y/y to $11.66 bln (range $11.44 bln to $11.85 bln).
Earnings Per Share Guidance for 1Q2015: The current Street estimate is $1.94 (range $1.76 to $2.03).
Earnings Per Share Guidance for FY2015: The current Street estimate is $8.78 (range $8.15 to $9.47).
FedEx insiders sold 544,156 shares over the last six months. More than offsetting this is the Q4 announcement of their largest stock buyback plan ever of 32 million shares and January's bond sale of $2 bln to speed up stock buybacks.
The company will adopt dimensional weight pricing for all ground shipments as of Jan. 1, 2015. Up to now, it has limited that formula to packages measuring three cubic feet or greater.
Warren Buffett recently bought nearly 9 million shares.
FedEx shares have a 1-day average price change on earnings of 3.29%. Options are pricing in an implied move of 2.82% off earnings.
Recent News
06/10 FedEx raised its quarterly dividend by 5 cents per share to 20 cents.
05/27 Morgan Stanley "remains on the sidelines" with an Equal-Weight rating while waiting for greater visibility for cost savings in 2015. FedEx CFO Graf said management should "have a good show" for investors in June, according to Benzinga.com.
05/20 Memphis air cargo volume rose 9.3% YoY in April, according to Bloomberg.com.
05/15 Investors need to focus on FedEx ground given the high margins of over 15% are the best in the industry, according to a post by Motley Fool.
05/08 Barclays downgraded FedEx to Equal-Weight from Overweight and lowered the price target from $160.00 to $140.00 due to stagnant profitability despite improvement plans noting "actual results will be difficult to obtain", according to a web post by Benzinga.com.
05/02 FedEx will raise their fuel surcharge by 3% in June in an attempt to offset increasing costs from rising fuel prices.
04/24 UPS missed Q1 estimates and reduced full year guidance to the low end of their previous range. Winter storms were blamed for increasing costs, according to a post by Bloomberg.com.
Technical Review
FedEx has retested December's all-time highs following 2013's 50% advance. 2013's move up was similar to the first move of 50 points out of the great recession. Those 2013 highs and more recently June's first half are now acting as a resistance area above $140. Historically, the stock has tested below the 200-Day MA soon after sharp advances, so a retest would seem likely by October. That being said, consolidative support appears strong below $136 down to $130 with limited resistance for higher prices. Above $135 encourages optimism. (Chart courtesy of StockCharts.com)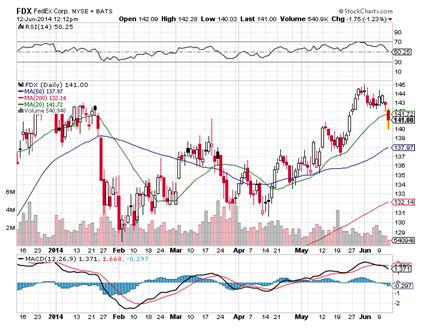 Summary
FedEx is supporting their stock with a massive buyback and insiders took advantage and sold the all-time highs. Now enters Warren Buffett's buying. Both UPS and FedEx have moved higher since the lousy UPS earnings report and are testing December highs. Traders don't expect much for this earnings report, so an earnings miss of a few cents wouldn't be surprising as long as revenue comes in closer to $11.7 bln with a decent outlook for 2015. The biggest worry is the stock had quite an advance last year and still hasn't had its historically normal healthy pullback.
DISCLAIMER: By using this report, you acknowledge that Selerity, Inc. is in no way liable for losses or gains arising out of commentary, analysis, and or data in this report. Your investment decisions and recommendations are made entirely at your discretion. Selerity does not own securities in companies that they write about, is not an investment adviser, and the content contained herein is not an endorsement to buy or sell any securities. No content published as part of this report constitutes a recommendation that any particular investment, security, portfolio of securities, transaction or investment strategy is suitable for any specific person.
Disclosure: The author has no positions in any stocks mentioned, and no plans to initiate any positions within the next 72 hours. The author wrote this article themselves, and it expresses their own opinions. The author is not receiving compensation for it (other than from Seeking Alpha). The author has no business relationship with any company whose stock is mentioned in this article.