On June 11th, Target (NYSE:TGT) announced they are increasing their quarterly dividend 20.9% to $0.52 from $0.43 starting on ex-dividend date of August 18th. The $2.08 annual dividend has a current dividend yield of 3.64%.
Dividend History and Growth:
Target is a dividend champion with 46 years of dividend growth and 49 years of dividend payments.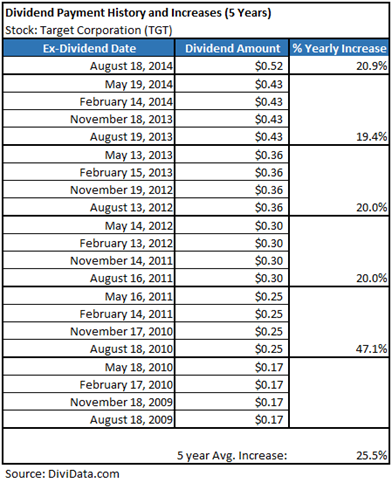 As you can see, TGT's dividend has more than tripled in 4.5 years.
Chowder Number: With the 5 year dividend growth average (OTCPK:CAGR) now at 25.5%, plus a 3.6% dividend yield, the forward looking Chowder Number is now 29.1!
For a rough general rule of thumb, a Chowder number around 10-12 is good and 15+ is great.
Chart: Target 5 Year Dividend Yield

Source: YCharts
Over the last 2.5 years, the retailer typically trades with a dividend yield between 1.95 and 2.2%.
The current dividend yield of 3.64% would require a stock price increase of 65% to go back to the upper end of the 2.2% normal dividend yield.
If the retailer gets back on track with earnings growth and positive contributions from Canada, there is major opportunity in appreciation upside.
Don't be Surprised by the Dividend Increase of ~20% - It was already mentioned in the last two earnings reports:
From FQ4 2013 Earnings Report:
"We expect once again to raise our annual dividend in the neighborhood of 20% this year, which will mark our 43rd consecutive annual increase. And even with a temperate outlook for near-term traffic and sales and understanding there will be further costs relating to the data breach, our current outlook envision share repurchase capacity of $1 billion to $2 billion in 2014, beginning later in the year as our business stabilizes and we have more clarity on potential breach related costs."
From FQ1 2014 Earnings Report:
"We returned $272 million in dividends this quarter, up from $232 million last year as our $0.43 per share quarterly dividend was more than 19% higher than a year ago. We plan to recommend that our Board authorize another similar increase this summer."
Valuation: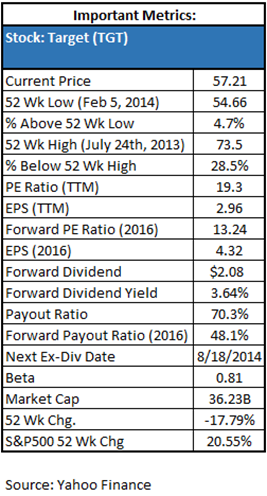 A couple points to note from the valuation metrics:
Current price is less than 5% above the 52 week low which means that the current price is still a great entry opportunity
The current PE Ratio (NYSE:TTM) of 19.3 is high, but the forward PE Ratio (2016 Analyst Estimates) of 13.24 is very low
This means that investors with a long term horizon that can wait for the retailer to recover could be well rewarded while being paid one of the highest dividend yields in the industry
The payout ratio is above 70% which is fairly high. This would certainly reduce future dividend increases and buybacks until earnings grow
Earnings Estimates: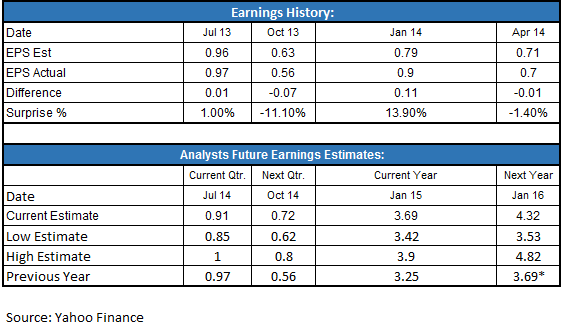 The lowest analyst estimate for 2015 or 2016 is currently 3.42 which would result in a PE of 16.7 and a more reasonable payout ratio of 60.8%.
Management guided for 3.60-3.90 for 2015 during the FQ1 2014 Earnings Report which would result in a PE of 14.66-15.89
The 2016 analyst expected earnings estimate of 4.32 would result in a PE of 13.24 and a better payout ratio of 48.1% which would provide additional cash flow to put towards future dividend increases or buybacks
Management's Future Earnings Expectation After FQ1 2014 Earnings Report:
"U.S. Second quarter comparable sales should be flat to slightly positive. We expect U.S. segment EBITDA margin rate will be below last year's 10.8% rate, but we expect a smaller year-over-year decline than we experienced in the first quarter. Both gross margin and SG&A expenses will be pressured by our efforts to grow traffic and expand our digital capabilities. These updated expectations will put our full-year adjusted EPS in a range of $3.60 to $3.90"
Share Repurchases:
FQ1 2014 Earnings Report:
"We did not repurchase any shares in the first quarter. While we expect to generate cash well beyond our expected uses over the next several years, our current metrics are beyond typical boundaries of our middle A cart rating. As a result, we do not expect to repurchase shares in the second quarter and may resume repurchases in the back half of the year at the earliest. To resume this activity, we need to see continued improvement in our U.S. and Canadian operations, moving our credit metrics back to acceptable levels, relative to our single A rating. In addition, we believe it's prudent to hold off on any repurchases until we have more visibility into our potential liability for third party, card networks fraud and administrative costs related to the data breach.
Invest everything appropriate in our core business on projects that will support Target's growth and generate superior returns; support the dividend and build on our record of more than 40 years of annual dividend increases. And beyond those first two uses, return cash through share repurchase when we have room within our middle A credit ratings."
FQ4 2013 Earnings Report:
"Our current outlook envision share repurchase capacity of $1 billion to $2 billion in 2014, beginning later in the year as our business stabilizes and we have more clarity on potential breach related costs."
Impact of Data Breach:
From FQ1 2014 Earnings Report:
"Our first quarter GAAP earnings reflected several items that reduced EPS by approximately $0.04. These items included data breach related costs net of an insurance receivable, continued reduction and the beneficial interest asset and a charge related to our decision to move from Visa to MasterCard for our co-branded REDcard credit product.
U.S segment comparable sales decline of 0.3% was near the upper end of our guidance and reflects meaningful improvement from trends we were experiencing shortly after the breach."
"(We made the) decision to move all of our REDcards under MasterCard's industry leading chip-and-PIN technology. This decision, along with our accelerated rollout of chip-enabled card readers to all of our stores by this September, are among many crucial steps we're taking to restore confidence among our guests, that it's safe to shop at Target."
It should be noted that the amount of the buyback for later this year will be impacted by any additional costs related to the data breach. The U.S. segment comparable sales is off 0.3% for FQ1 and FQ2 was guided for flat to plus 2%.
This would suggest it is a minor impact and certainly not a doomsday scenario as many mention it to be. It appears the chip technology that will be implemented in all stores by September will be a strong step in restoring confidence in guests.
Impact of Canadian Expansion:
From FQ1 2014 Earnings Report:
"single-digit decline in second quarter Canadian segment comparable sales as we'll be comparing against the very large grand opening surges we experienced a year ago.
We expect the Canadian segment gross margin rate will improve beyond 20% in the second quarter, but will continue to reflect pressures from promotions and efforts to eliminate excess inventory. Expense rates in this segment should show modest improvement from our first quarter rates, but will remain elevated far beyond what they'll be in the long run. Altogether, second quarter Canadian segment EBITDA losses measured in U.S dollars are expected to be approximately flat to last year."
FQ4 2013 Earnings Report:
"In Canada we expect 2014 capital expenditures in the $300 million to $400 million range, down more than $1 billion from peak spending in 2013."
In summary, it appears the Canadian expansion issues will continue as there is an expectation for flat EBITDA losses year over year. In benefit, the capex is guided down to $300-400M from $1B.
This data shows that the impact of the Canadian expansion problems are more serious than the data breach and that there is still quite a ways to go.
This is clearly a big impact, but it is one they could get out of if they aren't able to generate improvements in earnings. It is possible for Target to exit the Canadian market altogether at any point in the future and take charges to do so to prevent the yearly losses from the Canadian operations that they are taking.
Management's Three Goals for FY14-15
From FQ1 2014 Earnings Report:
"The Board and our team are aligned on three priorities. The first is growing traffic and sales in our U.S. segment. While the environment is challenging, we can do better. We need to improve on something we've historically done well, delivering unique products and services at great prices.
Second, we must improve our Canadian segment performance. Canada is a great market and Target is a great retailer, but so far, we have not lived up to our potential or our expectations. Improving operations is key, but we need to think broadly about all aspects of our business and whether other changes are needed.
(Third, we want to) accelerate our digital transformation and become a leading Omni-channel retailer. To do this, we'll move more quickly to become more flexible in how we serve our guests, eliminating barriers that prevent them from shopping with us, where and when they want. This includes delivering products and services more flexibly in our stores or anywhere else the guest wants to receive them.
Our common theme across all of these priorities is a continued focus on our guests, not just the ones we currently have, but the potential guests who aren't shopping with us today. We need to listen intently to all of them, how they're feeling, what they want and how well we're serving them.
Specifically, we expect to invest more in gross margin for newness, product innovation and promotions in both the U.S. and Canada to enhance our value proposition across both sides of the Expect More, Pay Less brand promise, and incur incremental expenses as we devote more resources to improve operations in Canada and speed up the development of digital and flexible fulfillment capabilities in the U.S. Longer-term, we believe these investments will be paid back in the form of faster, profitable growth and increasing market share in both segments."
Conclusion:
Target provides a solid 3.6% forward dividend yield for investors to wait for a large potential opportunity in capital appreciation as the business recovers from the data breach and mitigates losses or even better - generates a profit from it's Canada operations.
The 20.9% dividend was not unexpected in that it was already mentioned in FQ1 2014 earnings report, however management has followed through with their promise even with a new CEO to the benefit of shareholder return.
The data breach has had a more minimal impact on earnings than it has on consumer and investor sentiment.
The Canadian expansion has so far been a burden to generating profits and there are no signs of it improving at this time.
Disclosure: The author is long TGT. The author wrote this article themselves, and it expresses their own opinions. The author is not receiving compensation for it (other than from Seeking Alpha). The author has no business relationship with any company whose stock is mentioned in this article.