Overview
CarCharging Group (OTCPK:CCGI) is an Electric Vehicle [EV] charging company transitioning from development stage to growth stage. It is on a mission to provide EV charging services at every parking location, as well as in residential places and municipalities among others. The company has also been on an acquisition spree, after it made four acquisitions in fiscal year 2013.
CarCharging Group made strategic acquisitions over the past year, the most notable one being, the acquisition of ECOtality's Blink Network, a company that provides electric vehicle charging services throughout the U.S via the Blink Network brand. This acquisition made CarCharging Group the largest EV charging services provider in the country.
Nonetheless, since the acquisition in October last year, CarCharging Group has yet to turnaround the business it acquired through a bankruptcy auction. This has been the biggest challenge for CarCharging Group, upon which, if trounced, it could turn the fortunes of the company.
In fiscal year 2013, CarCharging Group reported mixed results as revenues grew massively from $258k to $466k while net loss increased from $5.2 million to $24 million. However, the huge shore up in losses was partly due to the acquisition of the Blink Network and massive stock compensations.
The company also registered impressive improvements on some of its operational metrics, including a massive jump in the monthly kWh charging output, and net EV charging service fees.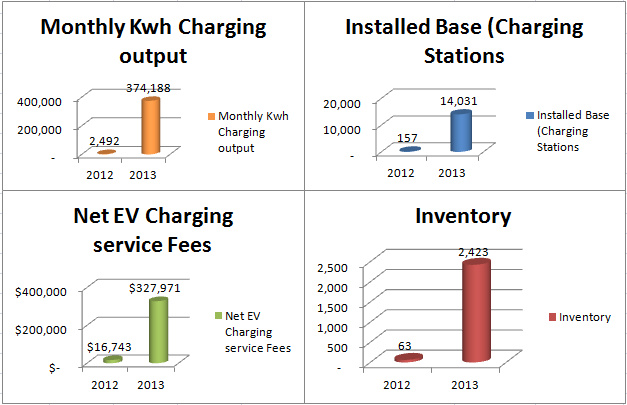 Data source: CarCharging Group
CarCharging Group is undoubtedly expanding, but its losses too are and therefore, will need to start monetizing the assets it acquired last year, in order to give investors renewed hope. The good news is that, the company is putting measures in place to ensure that last year's acquisitions deliver according to the strategic plan.
For instance, the company signed an agreement with Gridscape Solutions to help in integrating Nissan DC fast Chargers into the Blink Network. This is a significant step in CarCharging Group's roadmap to monetizing the Blink Network's assets.
This means that the company is on its way towards making the 14,031 charging stations revenue generating streams, as it continues to cement its position as a market leader in EV charging services. The Blink Network has an estimated 35,000+ members nationwide, which provide the much-needed base for revenue generation.
Reasons why CarCharging Group Could Resume Uptrend
A. CarCharging Group's acquisitions are not shots in the dark; they are strategic and fit well into the company's value proposition.
Over the last few quarters, CarCharging Group has made various acquisitions that fit well in its growth strategy. After the acquisition of ECOtality's Blink Network, the company has moved on to establish itself as a market leader in the business of EV charging services.
For investors, the dream acquisition of ECOtality may appear to be going through some difficulties in terms of monetization, but for CarCharging Group, this is basically part of its transformation into a market leading status in the EV Charging industry.
Now, to become a leader in the industry, first, the company needs an overwhelming presence, call it market share. CarCharging group now has that, after acquiring the Blink Network. Just to bring the picture into perspective, as of May 2013, there were roughly 20,000 charging stations in the U.S. These included Blink Network's charging stations, which CarCharging group acquired later in the year.
Based on these numbers, CarCharging Group commands more than 70% of the market in terms of EV charging stations. However, a majority of these are home-based charging stations, which of course make part of CarCharging Group's 35,000+ active Blink Network members that the company intends to monetize fully going forward.
The fact that a majority of the Blink Network's Charging stations are home-based makes CarCharging Group's opportunity in the residential markets rosier. This is because due to the time required to charge an EV, home-based systems present a more compelling option for EV owners; they have more time to charge their EVs to full capacity than in the case of a roadside station.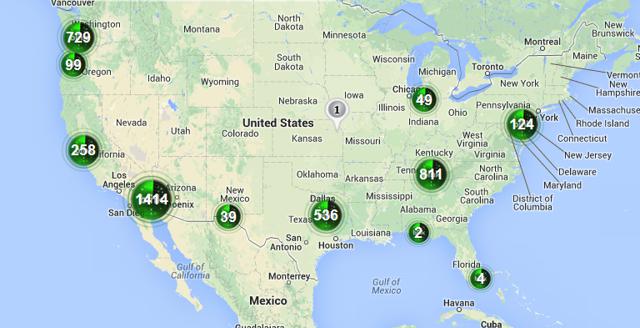 Blink Network's Commercial Charging map locations (Source: Blink Network)
Based on the map above, it is clear that there is a lot of room to grow for CarCharging Group. Notice that, the Blink Network as noted represents CarCharging Group's main force in the market. Nonetheless, it appears to be lacking presence in the entire midlands and northern regions.
However, CarCharging Group has continued with its hunt for key partnerships in the real estate market, as it seeks to expand presence in the rest of the country. These partnerships will help the company drum-up its expansion campaign in commercial points.
Some of the latest members to be added in the list of these alliances include Lerner Enterprises and Simon Property Group. The two give the company the opportunity to install more Charging points at strategic locations in Washington DC and Las Vegas, respectively.
Altogether, there are three catalysts emanating from CarCharging Group's acquisition of ECOtality:
Blink Network's Blink HQ, gives CarCharging group access to residential single family homes as well as multi-family apartment dwellers.
The acquisition also increased CarCharging Group's commercial charging locations by 4,075, which also is key to the company's strategic growth in the industry.
Blink Network had established several partnerships with various property owners. These are going to be crucial in the company's continuous expansion in the commercial EV charging business.
B. Alliances with key product developers
CarCharging Group has not limited its partnerships to property owners. The company has extended this to product developers as it seeks to augment its innovative technological products with those from leading providers in the industry. These are creating a key vertical in its product mix, which in exchange widens its addressable market.
Additionally, the alliance with leading product developers also acts as a secondary marketing tool, as the partners have global brand presence.
For instance, CarCharging Group has collaborated with Nissan (OTCPK:NSANY) in the deployment of Nissan's quick Charger stations. The quick chargers reduce charging time drastically by up to 80%. Now, as discussed earlier, one of the biggest obstacles in EV Charging is the time it takes to charge the EV when compared to filling a gasoline vehicle.
The two companies made a public announcement last year about their intentions to make EV charging more readily available, and to expand consumer awareness of the electric car market. Nissan is one of the leading manufacturers of EVs, as its Nissan Leaf, leads the mark in terms of shipments. According to reports for EVs shipped between January and April 2014, Nissan Leaf shipments stood at 7,272, compared with Chevy Volt's 5,054, Toyota Prius PHV's 5,030, and an estimated 4,600 for Tesla Model S.
Therefore, while CarCharging Group's products are compatible with all of these EVs, the partnership with Nissan boosts the company's competitive edge in the fast charging products market. Nissan is a global brand, which means that as the EV industry continues to grow, CarCharging Group will have a compelling opportunity to expand in other regions of the world.
CarCharging group has also teamed up with ChargePoint, the second largest EV Charging products developer in the U.S. CarCharging Group recently installed ChargePoint EV Charging equipments in Manhattan, NY.
CarCharging Group also entered into an agreement with one of the world's leading brands in the power industry; General Electric's (NYSE:GE) industrial solutions business to establish interoperability between CarCharging's Blink Network and GE's Watt Station EV chargers.
This partnership will eliminate the barriers that have existed among EV Charging networks by integrating their systems to allow drivers to utilize both companies' mobile applications and Radio-Frequency Identification (RFID) cards interchangeably.
This partnership opens new access and payment channels for the entire EV industry. Additionally, it also widens CarCharging Group's addressable market by enabling easier access to EV Charging stations provided by General Electric and its own Blink Network EV charging points.
Furthermore, associating with a leading global brand like GE also heightens customer's confidence in its products. In addition, CarCharging looks to grow both nationally and globally, and this partnership is going to play a key role in easing penetration and acceptance by customers.
CarCharging Group's other notable partnerships include SemaConnect and Efacec. The company's Level II charging stations are compatible with several EVs sold in the U.S including Tesla model S, Nissan LEAF, Chevy Volt, Mitsubishi i-Miev, Toyota Prius Plug-In, Honda Fit EV, and Toyota Rav4 EV, as well as many others that will be launched in the near future.
Now, just as noted earlier, compatible products are critical for the company's business model, which involves a variety of targeted brands. These types of products will help the company to maximize revenue potential without necessarily increasing the associated costs, thereby increasing operating margins.
In summary, the company's alliance with leading players in the industry and the provision of compatible products generate four main catalysts:
The company benefits from indirect marketing thereby enhancing global awareness. For instance, the partnership with Nissan and GE will play to the advantage of CarCharging Group's product mix.
CarCharging Group is able to expand to other strategic locations where the various product developers boast significant market share thereby increasing its addressable market.
CarCharging Group is also able to cut on costs by installing products developed by other providers. Therefore, considering the fact that the company is yet to become a cash cow, these alliances will be crucial, and provide a cheaper way of generating revenues.
Finally, the company's product compatibility with various EVs ensures that it will be able to generate optimal revenues from every product while at the same time reducing the cost of revenue.
C. The industry promises a stupendous growth
Three major catalysts could propel the EV industry to new heights. EVs are products of technological advances, and technology happens to be one of the prevailing catalysts for a major growth in the industry.
From a smartphone point of view, we are already moving from Ethernet powered internet connection cables to WiFi connectivity. In fact, we already have wireless chargers for smartphones.
Now, a similar paradigm shift is taking place in the EV charging industry, and interestingly, this is happening while the industry is still at its early growth stage.
1. Wireless EV charging to boost industry growth
Now, as noted earlier, one of the biggest challenges in EV charging is the time it takes to charge the car. While it only takes a couple of minutes in a gasoline filling station, EV charging can take hours. The fastest is the DC fast charge, which takes about 30 minutes.
However, companies are devising new charging methods at the lowest cost possible. Wireless charging is leading the mark in this respect, as providers seek to emulate the trend established in the smartphones market.
Now, by description, wireless or induction charging uses magnetism to transmit energy. The current flowing from the power source, moves through the wireless charger by creating a magnetic field, which then creates a current in the coil inside the device. This coil is connected to the battery and then, the current charges the battery.
Currently, only two EV brands are supported; the Nissan Leaf and Chevy Volt, but soon, more will be released with this capability. In fact, according to reports, wireless charging enabled EVs are expected to increase significantly in the next five years, as the device becomes more of a necessity than a feature.
Reports also indicate that current wireless EV Chargers are primarily in the form of charging plates, on top of which EVs park. However, CarCharging Group has filed for two patents for wireless EV Chargers that it believes could revolutionize wireless EV chargers. This is likely to spur the production of wireless EV chargers.
"Car Charging announced the filing of a utility patent application (#13600058) with the United States Patent and Trademark Office for an inductive EV charging station in the form of a parking bumper. Transmitting the energy through a bumper, which is common in most parking lots, provides seamless and effortless charging, as it will only require the EV driver to park the car's wheels near the charging apparatus."
The company also expects this type of wireless EV charger to be more cost effective than the current ones. It also believes that they would be more energy efficient. This is a key advantage for the company and the industry in general.
The other type of patent the company has applied for includes a wireless charging system embedded underground, which the company's CEO Michael D. Farkas acknowledges will take time to commercialize due to the costly implementation.
"User friendly inductive charging will facilitate the widespread adoption of electric vehicles. Going to the gas station will be a thing of the past," Farkas said when making the announcement three years ago.
2. The government is providing incentives for players to venture into the EV industry
In 2009, Ford Motor Company (F) was awarded $5.9B in government grants, as the U.S government continued with its push to foster electric vehicles industry.
Tesla Motors (TSLA) on the other hand, received $465M worth of loans. The U.S government has also approved a $7,500 tax credit to purchasers of electric vehicles.
In general, the government is trying to promote the use of green energy, which is in tandem with the global demands to reduce activities contributing to global warming and climate change.
Elon Musk, the CEO of Tesla Motors was appointed by the U.K government in Nov 2013, to be the "electric Car tsar" in a bid to champion the campaign in changing the way people think about cars and driving.
This indicates a growing global acceptance of electric cars and the governments are joining in the campaign by offering various incentives to help in growing the industry.
According to CarCharging Group's recent results, the U.S government is also issuing grants to EV Charging service providers. The company has already received nearly $883k worth of grants, rebates and incentives to defray the cost of equipment and installation of 108 charging stations during 2013. This is vital for the company as it continues to transition from development to growth stage.
These incentives will boost the company's ability to install more charging stations around the country, as it gears towards break-even point.
3. Current numbers indicate that the industry is growing
The EV industry is already showing tremendous signs of growth. Based on data obtained from various sources, the number of EVs/plug-ins shipped is set to grow significantly for the fourth year running.
In 2010/2011, the number of EVs/plug-ins stood at about 20,000. In 2012, the industry shipped more than 53,000 units, while last year, the figure was close to 100,000, as 97,500 were sold to the market.
Based on the current figures, as of April 30, the number of EVs/plug-ins shipped is set to rise, as there is already a difference of more than 5,000 EVs/plug-ins compared to the numbers shipped in the first four months in 2013. Assuming an incremental growth rate, the EV industry could be boasting about one million vehicles by 2016.
In summary, three main catalysts are providing a promising industry outlook:
The aspect of wireless charging is likely to inspire the development of more user-friendly, cost-effective and power efficient charging devices thereby boosting penetration.
The government is playing its role in providing incentives for players to venture in the industry as the adoption of green energy products continues to grow.
The current numbers indicate that the industry is responding positively, and hence this provides motivation for various auto-manufacturers to produce more EVs, which would then reduce the cost of purchasing EVs.
D. CarCharging Group's Value Proposition Is Interesting
CarCharging Group is currently valued at about $69M. The company trades at about $0.90 per share, which is 90.56 times its current annual sales per share.
This appears to be a pricey valuation for a company that still faces a stiff challenge of monetizing its assets. It is a hefty premium that investors would think twice before committing a dime. However, CCGI has the advantage of being an early stage company, where these levels of valuations are common.
Looking at the company's income statement, the picture gets worse as you approach the bottom of the statement. The company's operating loss of $19.3 million in 2013, compared to $5.1 million reported in the previous year says it all. It is a $14 million jump in the wrong direction.
However, optimistic investors could argue otherwise. When you look closer, there is a clear picture that the current numbers in the income statement are justified to some degree.
The acquisition of ECOtality's Blink Network assets along with various operational expenses related to the company's transition from development stage to growth stage played a big role in ballooning the operating loss.
For instance, the company posted a depreciation and amortization charge of $2.5M. Last year, there was no such charge on its income statement.
Additionally, as the company continued its transition from development stage, costs associated with service revenues increased to $744k compared to last year's 5k. Illustratively, the company's net service revenue margins squeezed to -127% compared to last year's margin of about +68%.
The company's operating expenses also soared massively to $11 million as compensations in the form of options and warrants increased due to the four acquisitions completed during the year.
In general, CarCharging Group is no longer the small development stage company it used to be. It has put in place the ideal foundation for growth. Unfortunately, expenditures associated with this expansion have hit first and massively, when compared to revenues.
Nonetheless, based on Q1 results, it appears as though the time for revenues to start streaming in, in millions, has just arrived. And based on its current valuation, this growth story could get much more interesting with time.
CarCharging Group is getting its revenue pipeline on track, a situation that could see its price soar significantly if the current p/s ratio is maintained over the next 1-2 years.
Based on the company's most recent quarter results (Q1, 2014), services revenue, which includes EV charging fees increased to $255,659. This suggests that, the company could easily breach the $1 million mark for service revenues in fiscal year 2014.
The company's overall revenues were $355,685, which suggests that the company could potentially report more than $1.4 million in revenues for year 2014.
The company seems poised to improve on last year's net loss as well. CarCharging posted a net loss of $0.49 per share in year 2013. However, based on Q1, 2014 run-rate for $0.05 loss per share, the company could post a loss of $0.20 per share, effectively cutting last year's loss by a massive 59%.
Could this be a source of investor optimism? Maybe, but the current valuation metric is already pegged at a hefty premium and probably, the best that could come out of it is retaining P/S at 90x.
Now, based on the current P/S ratio of about 90x, annual sales of $1.4M could translate to a valuation of $126 million for CarCharging Group, or about $1.62 per share, which represents at least 80% upside potential.
However, the biggest challenge for the company would be maintaining investor optimism to continue valuing the stock at p/s multiple of 90x.
If this is not achieved, a market correction could potentially wipe out this premium effectively affecting the projected valuation of $126 million.
However, signs of sustainable revenue growth could maintain investor optimism
One of the main reasons that CCGI has been able to maintain such a hefty premium on its valuation is because of the promise of the EV industry, and its gigantic market share. Investors seem to have a lot of faith in the EV industry, and CarCharging Group appears well placed to capitalize on the industry's rapid growth.
As noted earlier, the company has established a strong network with property owners, and also boasts the biggest share of the residential customers market, via the Blink HQ. However, in order to realize its potential, CCGI must optimally monetize its current assets, or at least show that it's on course to doing so.
Now, for the residential customers, the company currently has more than 35,000 registered members (including those from multi-residential premises), mostly acquired together with Blink Network's assets, and seeks to monetize every one of them.
As an incentive, the company is offering a $100 worth of kWh credits for residential customers who purchase the $700 EV chargers. This is likely to boost monetization of the members.
Now, assuming full monetization of these members, with each owning an EV, let's evaluate the potential revenues from the residential members.
In 2013, the average number of miles driven per person fell to about 9,400 for the year.
CarCharging group has an effective EV charging rate of $0.12 per kWh for the Nissan Leaf. This is the lowest rate, and we are going to use it in order to be as conservative as possible.
According to reports, on average, an EV consumes 30kWhs per 100 miles. There are some that consume more, like the Tesla Model S 35 kWhs per 100 miles, while Toyota Rav4 EV eats up 44 kWhs. The most power efficient EV is the new BMW i3, which consumes 27 kWhs per 100 miles.
Now, based on an average consumption rate of 30kWhs per 100 miles, an EV driver charging his vehicle at CarCharging Group's EV charging stations would have paid ~$338 in 2013 (9400/100*30*$0.12).
Assuming that all the 35,000 members are monetized within the next two years, then we are potentially looking at $11.8 million worth of revenues.
For commercial chargers, the company is giving property owners and retailers every reason to install its chargers at their locations as this is also bound to increase their revenues and profits.
According to Blink Network, business owners, retailers, and employers can reap significant benefits from the Blink Pedestal and Blink Wall Mount charging stations. They provide the ultimate in low cost, flexible deployment of chargers, from one unit to hundreds.
The property owners and businesses can also deduct up to 30% of costs associated with installation if they act before the end of 2014.
The company has also introduced measures to increase the uptake of its services by electing to offer the charging equipment to property owners/managers at no charge, but retaining the ownership and maintenance.
These measures could be very crucial in helping the company to monetize its commercial chargers.
Now, Blink network charges approximately $1 per every hour a vehicle is attached to one of its commercial chargers. Now, with near optimal monetization, each commercial charger could lock in about 8 hours of service to EVs. Note that to fully charge one EV using the level II charging stations, it takes between 4-8 hours depending on the EV.
Assuming the lower limit of 4 hours and a minimum of two vehicles per charging station, per day, then CarCharging Group could potentially register 8 hours of charging in each of its commercial EVs on average daily.
The company has more than 4,000 commercial EVs (adding the figures in the screen shot referenced earlier). So assuming 4,000 are active on near optimal monetization, then annual revenues could be estimated at $11.6 million (4,000*8*$1.00*365), assuming constant service every day for 365 days of the year.
Note that the $1.00 per hour charging fee (SEC Form 10k) is for Blink network clients, guests are charged at $1.50 per hour. This means that the current effective rate of $1.00 per hour could prove conservative in the end.
Now, assuming that the two classes of revenue do not cannibalize on each other (a residential customer only charges at home), then CarCharging Group has the potential to generate nearly $24 million worth of revenues by the end of 2016, and roughly $12 million by the end of 2015. In case of cannibalizations, those figures could be cut in half, assuming zero commercial customers (full cannibalization).
The above proposition for sustainable revenue growth provides some good optimism for investors to look forward to, with genuine products and services that could provide incremental revenues when optimally monetized.
Therefore, with this in mind there is a genuine chance that investors could be willing to pay the current premium on the stock as the company continues to shore up revenues. The $1.4 million sales for year 2014 are almost a certainty based on the current run rate, and this shows signs of growing monetization of the Blink Network.
Additionally, the overall personal services industry seems to attract heavy premiums. The industry is currently priced at 117.8x in price to earnings ratio (source: Yahoo finance). The price to free cash flow is pegged at -22x while CarCharging Group currently trades at -27x in P/FCF, which is not too far from the industry average.
Long-term looks even better
For long-term revenue growth, the company's alliance with major product developers like ChargePoint, Nissan and GE among others provide the incentive for expansion, as these provide it with a wide addressable market.
The industry is also providing the necessary motivation to both the EV manufacturers and EV Charger developers as it continues to show promising signs of growth. This is crucial for CarCharging Group ability to generate sustainable revenues and incremental margins for eventual profitability.
According to reports by the year 2030, there could be 40 million electric vehicles on the road. Now, with the current numbers standing at roughly 200,000 EVs/plug-in hybrids, and with the industry demonstrating accretive growth, one million EVs/plug-in hybrids do not seem far-off. In fact, EV manufacturers expect to have about 1.2 million EVs/plug-ins by the end of 2015.
Therefore 1 million EVs/plug-ins is a number achievable within the next 1-2 years as nearly all the leading auto-manufacturers are committed to launching an EV by 2015. This means that the industry could grow five-fold based on the current numbers.
If CarCharging Group retains its current monetization (i.e. $1.4M expected for 2014 for 200,000 EV industry), then we are looking at a potential $7-$8.4 million worth of revenues for year 2016.
Now, this means that in order for CarCharging Group to achieve $24 million in revenues or better by 2016, then it may have to increase its monetization rate by 300%. This figure looks practical, because after just nine months of acquiring ECOtality, the company is now generating more than $100,000 per month.
Note that the company acquired ECOtality Blink Network via bankruptcy auction, which means ECOtality was generating virtually nothing from the Blink Network assets. The prospect of the industry growing 5-fold eases pressure on CCGI to monetize Blink Network assets, as it provides ready market for the company. It is also an incentive to expand to other parts of the country.
The primary risks
It's a Micro-cap stock, which means High Risk
As a micro-cap stock, CarCharging Group is thinly traded and does potentially involve a lot of price manipulation. The stock's beta of 6.16 is a testament to its risk levels, and hence investors should exercise caution before making any bets.
Now, there are two types of investors who buy these types of stocks.
Speculators/manipulators are usually focused on pumping the stock in the short term only to dump it a few days or weeks later. Unaware investors often fall in the traps of speculators/manipulators and end up losing their money.
Then, there are those that buy the stock with a long-term view. These investors understand that early stage stocks present a potential upside in the long term. In most cases these stock tend to report deficits for extended periods, as they try to disrupt the market with various products.
However, when they turn profitable, gains are usually massive, but this could take quite a while before it happens. Therefore, some of these investors often run out of patience and join the first class of investors mentioned above in bid to recoup some of their investment.
Competitors are vertically integrating
First, CCGI is not the only player in the market, and some of its rivals who are also its partners, and are recognized brands worldwide. They pose significant threats by virtue of their sizes, as they enjoy huge financial muscles and brand loyalty.
Additionally, some of these rivals are also auto-manufactures, for instance Nissan and Tesla Motors, and have enough cash to launch massive projects. Their ability to integrate vertically could be vital in gaining market share at the expense of CarCharging Group, because they could easily sell their services together with the EVs.
Transitioning from development stage to growth stage will require effective cost management
The other key risk is the company's ability to trim its operating costs and R&D. CarCharging Group should expect to spend substantially during its transition from development stage to the next level.
Based on the company's recent results, there was a significant increment in operating costs and the cost of services, which are bound to continue growing as CCGI increases monetization.
This could delay the time it takes to turn profitable, if not managed well. Investors' first interest is evaluating the ability of the company to maintain sustainable revenue growth, but if profits are delayed for extended periods despite generating good revenues, then there is a risk that they could change their sentiments on the stock.
Therefore, this period calls for shrewd cost management in a bid to channel more cash to shareholders and for reinvestment in the business.
Monetizing current assets must start peaking
The company has been experiencing a challenging task in monetizing Blink Network's assets. In order for it to realize its potential, it has to overcome this challenge.
CCGI reported $255.6k revenues in Q1 2014, however, when we compare this to what was reported in Q4, 2013, there is a very slight change, which suggests that the monetization campaign is yet to gain the right momentum.
In Q1 of 2013, the company generated $10.5k in revenues, Q2, 2013 the figure was $32.2k, while in Q3, it reported $40.8k. This sums up to about $83.5k worth of service revenues for the first three quarters of 2013. Now, its full year 2013 service revenues came at $327.9k meaning it generated $244.4k in Q4, 2013.
This means that the company registered an improvement of just over 11k in Q1 2014 compared to Q4, 2013. That is roughly 4.5% sequential increase in revenues.
Therefore, despite the company's overall improvement from Q1 last year, the sequential improvement indicates that the momentum is building slowly.
Now, according to CEO Michael Farkas, monetization is the primary target in the short term, and based on the current monthly EV charging revenues of more than $100,000, he believes that CCGI is on the right track. It should be, because this is the only way to get to the next level.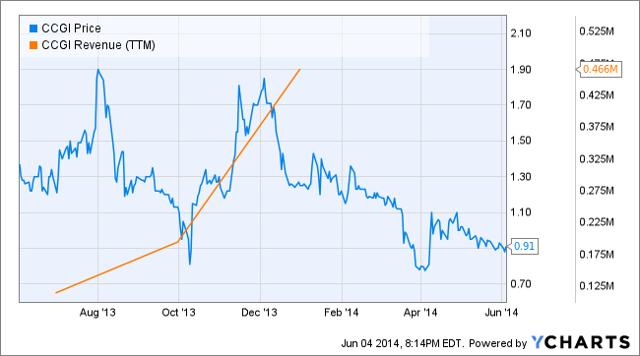 Now, looking at the company's stock price over the last 12 months, the company has fallen nearly 30% despite the rising revenues. However, this still values the stock at more than 90x in P/S, which still appears pricey on general terms. Nonetheless, as mentioned earlier, the company's current stage in business means it is allowed to trade at those multiples.
Warrants and Options could derail uptrend
Finally, CarCharging Group has several outstanding warrants and stock options, paid out in form of compensations. Once the company reaches profitability, there could be rapid conversion of these warrants and options into common shares.
This could happen tentatively in three years' time, as most of them have a maturity period of three years and were issued last year. The subsequent sale of the converted securities in the stock market could affect the stock price.
However, at the current price of about $0.90 per share, the outstanding warrants and options carry hefty premiums in terms of the average exercise price, compared to the company's market price per share.
Stock Options

Source: CCGI SEC Form 10K 2013
CarCharging Group is currently trading at about 38% discount against the average exercise price for outstanding options, which are priced at $1.43 per common share. This means that the options are unlikely to affect the current price negatively in the near term, but could potentially prevent the stock price rising above this mark.
Warrants

Source: CCGI SEC Form 10K 2013
The average price for the outstanding warrants is $1.42 per common share. Again, this prints a similar scenario like in the case of the outstanding options, as the current stock price is way below $1.42.
In general, the outstanding options and warrants do threaten the company's long-term market valuation. However, at an average of about $1.43 exercise price for the options and warrants, there is a lot of room to run for CCGI.
In fact, from another point of view, CarCharging Group would have to rally about 62.5% to trigger the average exercise price for the warrants and options. Nonetheless, this is still below the current value proposition of 80% upside potential. This means that they could potentially hold the stock from trading beyond $1.43 per share if converted to common shares.
Conclusion
CarCharging Group continues with its expansion across the country while growing its network by forming key alliances.
However, the most immediate task is to monetize Blink Network. This has not been very effective yet, but signs indicate that things could get better in the next few quarters.
The company also attracts significant amount of risks, one, typical of any micro-cap, early stage company, and two the obvious threat posed by partners and rivals, among others.
That said, investors have demonstrated optimism in the company's current valuation, despite the recent plunge. They also seem likely to continue valuing it at current p/s multiples on the expectation that the revenue department could get better thereby leading to profitability in the near future.
The bottom line is that the company seems to be on course to overcome the challenge of monetization, albeit slower than many would have hoped. This is a step forward no matter how small.
Additionally, the industry outlook promises room for growth, and CCGI's alliances with various product developers provides it with a widened addressable market.
Finally, as illustrated, CarCharging Group has laid down the foundation for sustainable revenue generation, with key incentives for customers and partners to utilize its products and services.
Now, with the company poised to report $1.4 million worth of revenues this year, and with the monetization campaign on course, investors seem more than likely to maintain the current valuation of the stock in P/S at 90x. This could result in $126M in valuation, or about $1.62 per share, representing 80% upside potential. Overall, the long-term risk/reward trade-off looks pretty interesting for CCGI.
Disclosure: The author has no positions in any stocks mentioned, and no plans to initiate any positions within the next 72 hours. The author wrote this article themselves, and it expresses their own opinions. The author is not receiving compensation for it (other than from Seeking Alpha). The author has no business relationship with any company whose stock is mentioned in this article.
Editor's Note: This article covers one or more stocks trading at less than $1 per share and/or with less than a $100 million market cap. Please be aware of the risks associated with these stocks.