Editor's Note: This article was originally published on May 7, 2014.
American International Group (NYSE:AIG) reported Q1 2014 earnings. The new trend with AIG quarterly reports is a mixture of good and not so good news. We discussed how things don't move in a smooth ratable fashion and there will be bumps along the way. In that sense AIG did not disappoint; we have a mixture of both good and disappointing news. Still, AIG is headed in the right direction but has more work to do; our three- to five-year investment time frame will likely deliver the expected payoff.
AIG reported net income of $1.6 billion for the Q1 2014 compared to $2.2 billion for the Q1 2013 for a 27% decline. After tax operating income was $1.8 billion for Q1 2014 compared to $2.0 billion for Q1 2013. Diluted earnings were $1.09/share for Q1 2014 compared to $1.49/share for Q1 2013. After tax operating income was $1.21/share compared to $1.34/share in Q1 2013 clearing the low Wall Street's $1.06/share consensus estimate but disappointed on lower than expected revenue.
Capital Plan
The capital plan took center stage over the past few months. A pleasant surprise was AIG announced it repurchased 17.4 million shares of AIG common stock during the Q1 2014 for an aggregate purchase price of approximately $867 million ($49.83/share) with $537 million remaining under the repurchase authorization. This is the most aggressive share buyback since AIG's purchased its shares from the U.S. Treasury when the Treasury was selling their large holdings of AIG common stock. It is encouraging to see AIG more aggressively buying shares of common stock trading 25%-30% below book value.
Robert Benmosche, president and CEO of AIG started the conference call by confirming the previously announced sale of AIG's International Lease Finance Corporation (ILFC) to AerCap Holdings N.V. has received all regulatory approvals; "so we're very confident that this transaction will in fact close in the second quarter."
AIG's divestiture of this largest non-core holding has been a four year challenge for the company. On closing AIG will receive approximately $2.4 billion cash; 97.6 million shares of AerCap stock for a 46% ownership position of AerCap; and shed about $26 billion of debt associated with the air craft leasing subsidiary. AIG stated it will update the stress test, liquidity forecast, and capital plan during the second quarter and discuss with the rating agencies, the Federal Reserves and the board of directors to determine what actions to take as a result of the sale of ILFC.
AIG still holds certain assets and liabilities of AIG Financial Products (AIGFP), the division cited at the center of the company's financial crises. This portfolio referred to as the direct investment book or DIB is a portfolio held by AIG and not related to AIG's core insurance operations. Significant progress has been made unwinding these AIGFP positions but some residual exposure remains until completely wound down in 2018. AIG announced in Q1 2014 they reduced DIB debt by $2.2 billion through redemptions and repurchases using cash allocated to the DIB and further reduced DIB debt in May through a redemption of $750 million notes due 2015 also using cash allocated to the DIB.
Return on Equity
Insurance companies make money from writing profitable insurance policies (underwriting) as measured by the combined ratio; and from returns on the invested premiums (float) as measured by return on investments until the premiums are paid out as claims. Both sources of earnings are reflected in the return on equity the primary measure for shareholders of how much the company is earning on our investment in the company.
The intrinsic value of AIG is based on the book value of the company increasing with profitable insurance underwriting and returns on the invested float contributing to the return on equity (ROE). As shown in the graph below, somewhat dated but nonetheless still true, a higher ROE correlates to a higher multiple to book value and therefore a higher share price. So a company with a weak 5% ROE will trade at a multiple of about .75 X book value and a company with a strong 10% ROE will increase book value faster and therefore trade at a more attractive multiple of about 1.0 X book value.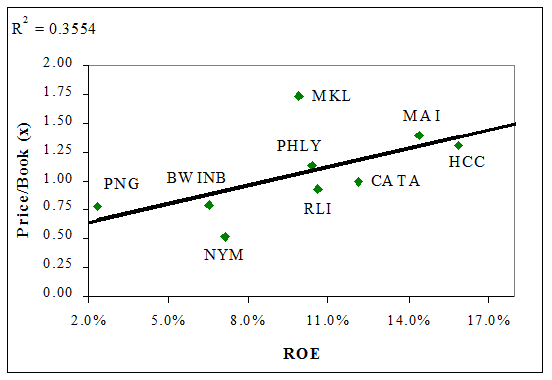 Source: Casualty Actuarial Society.
At the Q1 2014 annualized ROE of 7.5%, the above correlation would suggest AIG shares should now trade at about 0.8X book value but they don't. AIG's reported Q1 2014 book value of $71.77/share and the share price of about $50/share is a 0.7X multiple of book value. Is the above correlation valid? A recent comparison to industry peers suggest it is and AIG's ROE is just low compared to its peers.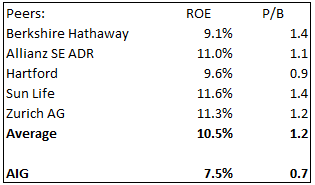 AIG has shown small improvement in the return on equity over the past three quarters but still lags their peers and consequently the share price to book value also lags their peers.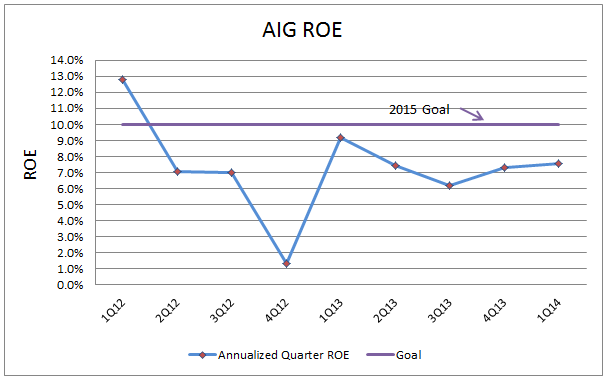 Performance Improvement Needed
Performance matters and AIG needs to demonstrate that a 10% ROE (the original aspirational goal of the company) can be achieved to command a 1.0X book value multiple or greater. Management has several levers to do that with the potential result of a $71/share price or an additional 40% appreciation over the current price.
Lever 1: The capital plan is one lever to improve ROE. We've been a strong proponent of share repurchases from the start and are glad to see more aggressive share repurchases in Q1 2014. For every $1 spent on share repurchases at about $50/share management is acquiring assets worth $71.77/share for a 43% immediate return on that equity dollar spent, quite an improvement over 7.5%! Hopefully proceeds from the sale of ILFC will be used to accelerate this program.
Lever 2: Prevailing historic low interest rates make it a tough environment for insurance company's return on investments. We don't know when interest rates will rise but they will eventually. That will improve insurance investment returns and return on equity. Interest rates are out of management's control and their job is to come up with offsetting initiatives to these unfavorable interest rates and competitive pressures. AIG's competitors face the same issues and some are just doing a better job dealing with them.
Operations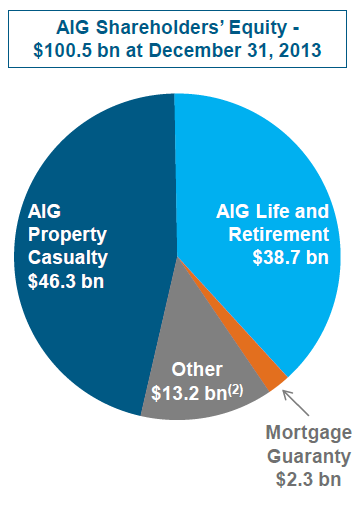 AIG's problems during the financial crises stemmed from losses at AIGFP and the liquidity strains from those businesses. This once shining star distracted attention from the performances of what is now AIG Property and Casualty (P&C), AIG Life and Retirement (L&R) and the mortgage insurance business, Mortgage Guaranty (MG) all now AIG's core businesses and the key to unlocking the intrinsic value of the company.
AIG Property and Casualty (P&C)
As the largest division in AIG with shareholders' equity of $46.3 billion at year end, P&C results were disappointing. The P&C business reported a $97 million underwriting loss for Q1 2014 compared to a $232 million income in Q1 2013. P&C paid out $1.01 in claims and expenses for every premium dollar it took in during Q1 2014, higher when compared to $0.97 for every dollar received during the Q1 2013. Net premiums earned declined 3.8% or $328 million and investment income declined 5.2% or $69 million. Pretax operating income at P&C declined from $1,557 million to $1,159 for a 25.5% decline.
Lever 3: Our key metric for the P&C division is the combined ratio a measure of how well management is pricing risk. A combined ration below 100 reflects profitable insurance policy underwriting and above 100 reflects underwriting losses. Management's original aspirational goal was a level between 90% and 95% and P&C has a lot of work to get there. The accident year ratio is also reported but only reflects that particular year's underwriting experience ignoring policies written in the past but still in effect and perhaps paid on, not a meaningful measure in our view.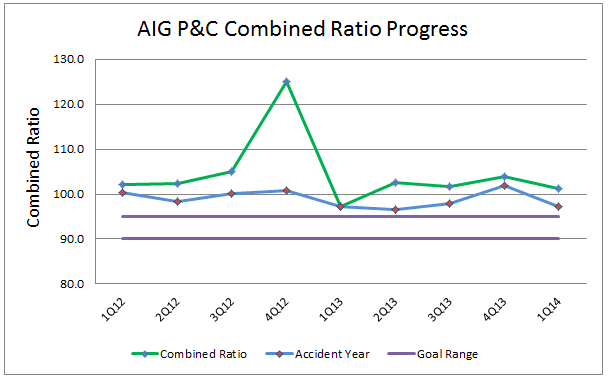 AIG Life and Retirement (L&R)
L&R is the second largest division in AIG with shareholders' equity of $38.7 billion at year end reported operating income increased from $1394 billion to $1417 billion or 1.2% as assets under management increased and revenues increased.
Lever 4: A key metrics for the L&R division is assets under management (AUM) and investment yield. Insurers invest the premiums paid by the insured and collect investment returns until claims are paid to the insured. In L&R AUM can be held for decades and can be a large contributor to ROE. L&R has shown significant progress on the AUM aspirational goal but lags on its yield goal.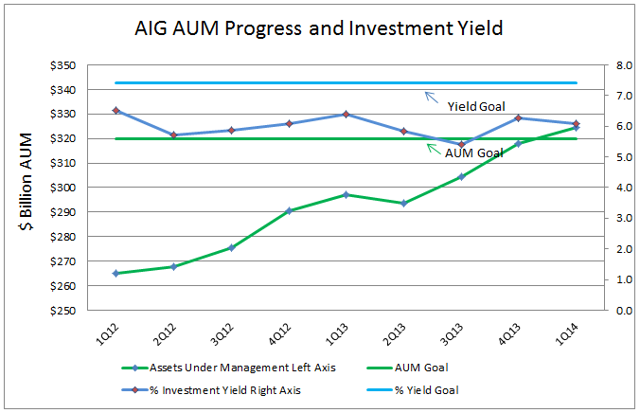 Lever 5: Another key metrics for the L&R division is Life Insurance in Force because it ultimately determines the level of AUM and investment earnings. Although revenues increased modestly (1.2%) in L&R during the Q1 2014 Life Insurance in Force lags considerably below what was once thought possible by 2015.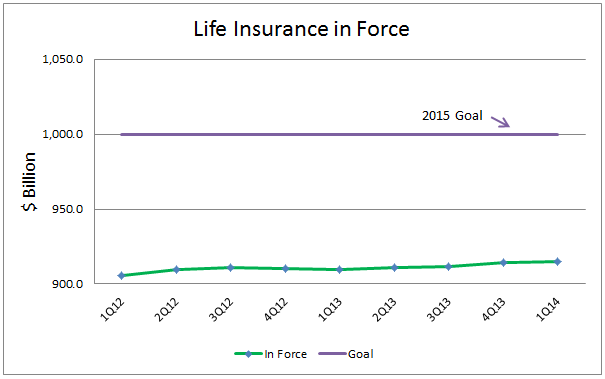 Mortgage Guaranty
The MG division is the smallest core business unit with AIG shareholders' equity of $2.3 billion at year end. MG reported operating income increased from $41 million to $76 million or 85%. This company's performance has been outstanding. Unfortunately is too small to have a material impact on AIG. A spinoff of the company would likely bring more value to AIG's common shareholders.
Lever 6: Our key metric for the MG division is the combined ratio a measure of how well management is pricing risk and its' performance has been good.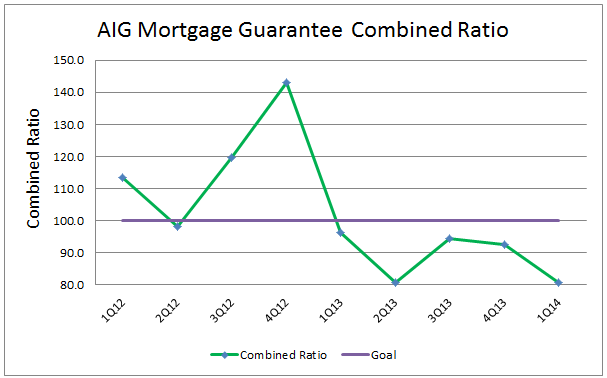 AIG's book value reached our three- to five-year target early but the share price is lagging considerably due to low returns on equity.
Summary
Although AIG is out of critical care; challenges remain. Operations improvement is needed to improve the return on equity that is lagging peers and resulting in AIG's shares trading at an unacceptable discount to book value. The share repurchases will help but the company's focus needs to return to the previously shelved aspirational goals and deliver on promises to improve results. In the meantime aggressive share repurchases at these accretive values remain an easy solution.

References:
Disclosures: Long AIG common stock.