It has certainly been an interesting couple of weeks for investors in Arena Pharmaceuticals (NASDAQ:ARNA). The sales of Belviq took an anticipated dip with last week's numbers, competitor Orexigen (NASDAQ:OREX) saw its application for approval of Contrave delayed until September, Arena's CEO spoke on CNBC, and this week's numbers represent a full year since Belviq launched. In addition to that, the Arena annual shareholders meeting is scheduled for today.
With a full year of sales in the books, it is time to assess where things stand. IMS Health's unadjusted script sales stand at about 263,000, for an average of just over 5,000 scripts per week. In the past year, we have seen increased sales reps, a direct-to-consumer advertising campaign, better insurance coverage, and better overall awareness of Belviq. We have seen the company sign a deal with Eisai for what amounts to almost the rest of the world, with application in Canada, Mexico, Brazil, Taiwan, and South Korea. We have also seen the company withdraw its application in Europe, and see a rejection in Switzerland. We have seen Belviq studies initiated or continued as well. Currently, a trial regarding a safety study with phentermine is expected to wrap up soon, while a trial on smoking cessation is expected to yield results this Fall. On the sales front, we have seen sky-high expectations missed and marketing partner Eisai announce intentions to relaunch Belviq this summer. It has certainly been an interesting year.
At this point last year, investors were anticipating $150 million in sales by the end of 2013 and $200 million in sales by March 31st of 2014. 2013 sales totaled about $28 million, and sales by March 31st stood at about $45 million. In 2014, I have cumulative sales at about $32.5 million. Some analyst expectations have not been revised as yet, but the bullish case points to sales of $150 million this year. The current pace, which I track closely, stands at about $100 million.
The key here is not really visiting the past, but assessing what the street is expecting from Arena, and more closely, Belviq. It has long been my opinion that sales of $100 million in 2014 are pretty much baked into the price of the equity. Thus, anything that tracks along those lines is neutral-to-slightly positive for the equity. I have also long maintained that if we want to see real appreciation in the stock, the trajectory of sales needs to show a demonstrable shift to $125 million at a minimum and $150 million as the desired goal. This all boils down to when Arena can tap into some substantial milestone payments and an adjustment in the revenue sharing agreement. Those begin in earnest when net sales reach $250 million (about $450 million in gross sales).
Marketing partner Eisai has spoken of a re-launch beginning in July. That could leave us with a "same-old, same-old" situation in terms of marketing for another few weeks. We are now 8 weeks into the television ad campaign, with an estimated spend of about $1.8 million, according to industry tracker iSpot.tv. Last week, we did see a modest rise in prime time advertising, but as yet, have not seen Eisai deploy an advertising strategy that mimics what a company like Weight Watchers is doing, which is about 20% to 25% prime time and skipping Friday and Saturday. There was more than one advertisement shot when the television ad was made, so perhaps the re-launch will bring about a new ad.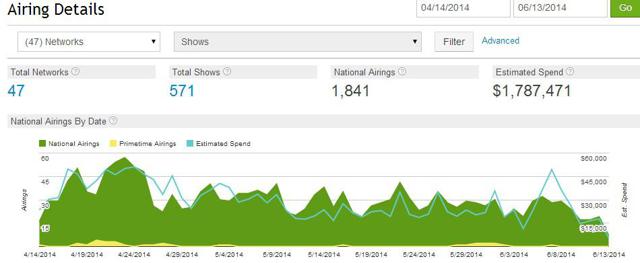 Chart Source - iSpot.tv
Getting down to sales, we saw an expected rise in Belviq prescriptions coming off of a holiday week. Sales of Belviq, according to IMS Health, rose about 23%, following last week's decline of over 10%. This represents a speedy recovery from the short week, and demonstrates growth above and beyond the dip as well. Overall sales were just below 10,000 total prescriptions, and new prescriptions were the source of most of the growth. Refills also saw a nice jump.
The sales pace remains on track for the $100-million mark. Yes, even with a 23% pop week over week, the pace remains the same. We need to remember that this was a recovery week from a dip last week. The good news is that the sales recovered faster than we have seen in the past, as well as to a higher degree. That is very positive. Another aspect of good news is that if sales can now maintain a decent upward trajectory, we could actually see an inflection that points toward $125 million in sales, rather than $100 million. A small caution is that there will be 6 major holidays in the next 30 weeks to contend with.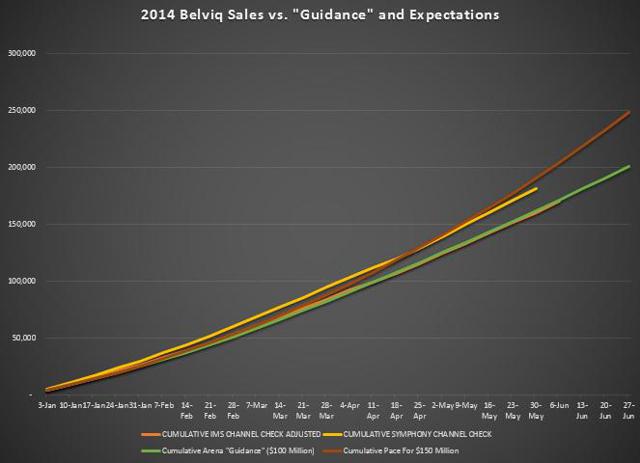 Chart Source - Spencer Osborne
In looking at the data itself, we can see that in order to simply maintain the $100 million sales pace, we would want next week's numbers to be just over 10,000 to stay on pace. In fact, a number a bit over 10,000 each week to close out the quarter would keep the pace at $100 million for the year. It is very reasonable to say that the sales in the next few weeks will begin to point to annual sales that are greater than $100 million. With Eisai adding reps and "re-launching" Belviq, we could be seeing traction that will get the Street's attention soon. As a reader of these articles, you have the heads-up.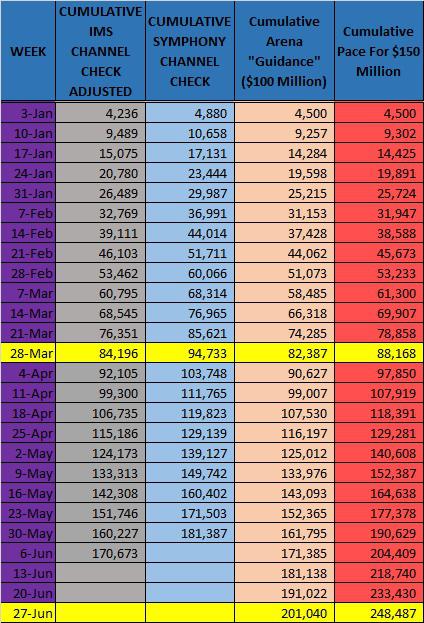 Chart Source - Spencer Osborne
Drilling down into the all-important revenue side of this, we can see a few notable "firsts" with the sales data this week.
Weekly gross sales are above $2 million for the first time
The Arena share of weekly net sales eclipsed $350,000 for the first time
The annualized gross sales pace eclipsed $100 million for the first time
The revenue is looking very good at this juncture. It appears that Belviq gross sales will come in at about $24 to $25 million for the quarter, a nice improvement over the $17 million we saw in Q1. That would put 2014 gross sales at about $41 million, and sales since launch comfortably over $60 million.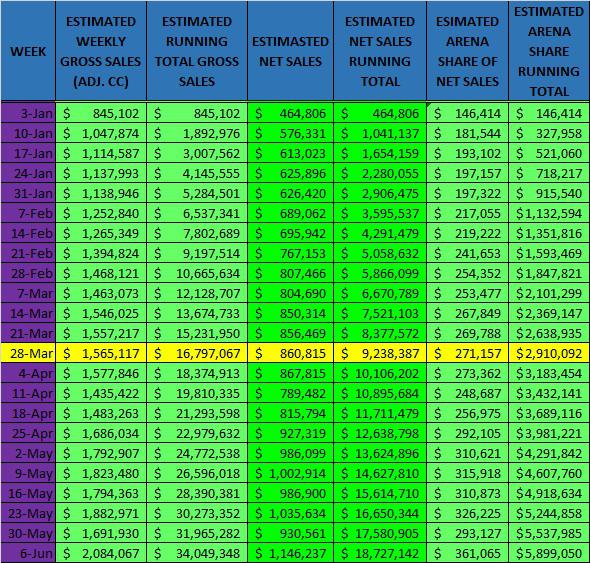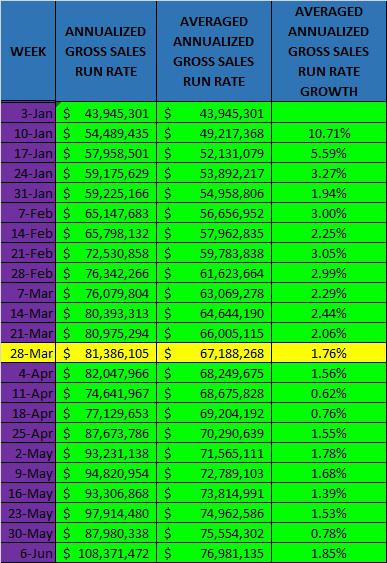 Charts Source - Spencer Osborne
Looking at the quarterly traction, the news is good as well. Week 10 of this quarter is about 50% above week 10 of the previous quarter. Overall, the quarter-over-quarter comparison sits at 46% better this quarter compared to last. A strong finish in the next three weeks would mean that a 50% quarter-over-quarter improvement is very possible. While it is tempting to extrapolate that type of improvement to Q3 and Q4, I caution against being that aggressive. With 2 major holidays in Q3 and 4 in Q4, the growth is likely to see flat spots. Don't get ahead of yourself here.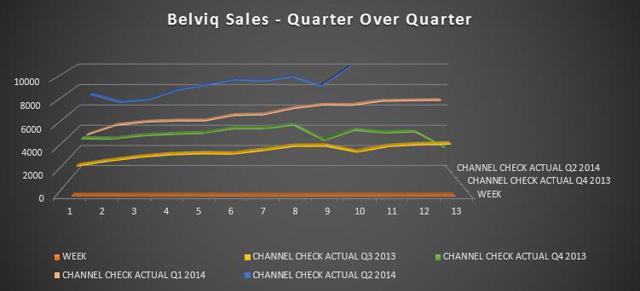 Chart Source - Spencer Osborne
All in all, the progress is nice, but not yet showing a definitive pace above $100 million. I can tell you with reasonable certainty that the next few weeks will demonstrate a pace that gets to a point where the street will notice. This week's fast recovery demonstrates that the advertising done to-date has had an impact on the prescriptions. In the past, it could take two weeks to recover. This time, we saw an instant recovery, plus growth above. That is quite positive. I had outlined for several weeks now that I saw Arena's bottom at about $6. I still feel that this is true. With Orexigen seeing a delay in approval of its drug, Eisai and Arena get some breathing room to make this re-launch something that can excite the street. Even though the equity is up 10% from the bottom, it has room to appreciate more. Those that have been on the sidelines still have opportunity here. Stay Tuned!
Disclosure: The author is long ARNA. The author wrote this article themselves, and it expresses their own opinions. The author is not receiving compensation for it (other than from Seeking Alpha). The author has no business relationship with any company whose stock is mentioned in this article.
Additional disclosure: I have no position in Eisai or Orexigen