By Konstantinos Venetis
With that in mind, we would encourage readers to focus on the following passage from last night's speech - with emphasis added:
"The MPC has rightly stressed that the timing of the first Bank Rate increase is less important than the path thereafter - that is, the degree and pace of increases after they start. In particular, we expect that eventual increases in Bank Rate will be gradual and limited. That is because the economy will face the ongoing challenges of public and private balance sheet repair, a 10% appreciation of sterling over the past year or so, and muted growth in our main export markets."
The Governor implicitly validated the market view of interest rates further out, which at the time he gave his speech, had Bank Rate rising no higher than 2¼% over the next three years.
The U.K. economy has, to-date, evolved more or less according to the script that we set out a year or so ago. First, growth surprised on the upside, as we said it would. Then, productivity failed to respond, as we said it would. So unemployment has fallen sharply, as we said it would. Now the Governor of the Bank of England, although conceding that a small adjustment in Bank Rate may be needed, is doing all that he can to stress that it is financial rather than monetary policy that will do the heavy lifting. His description of the outlook for policy over the next few years, as set out above, captures Fathom's view in a nutshell. The economy, and the household sector in particular, is not ready for a return to a more normal level of interest rates. As we have set out before, even a 200 basis point tightening will push the proportion of mortgage holders who are under stress back to mid-2007 levels.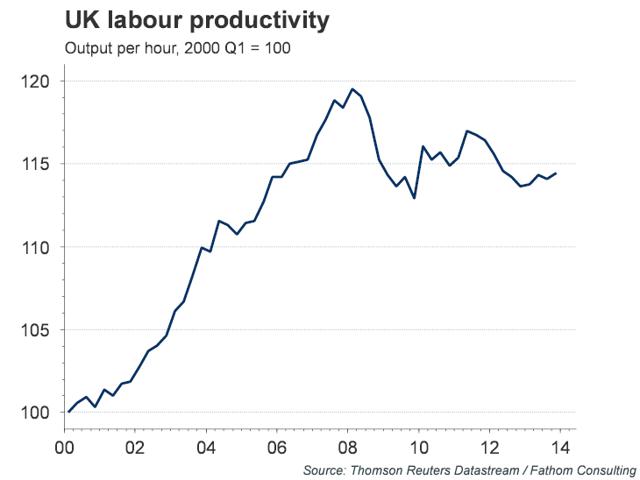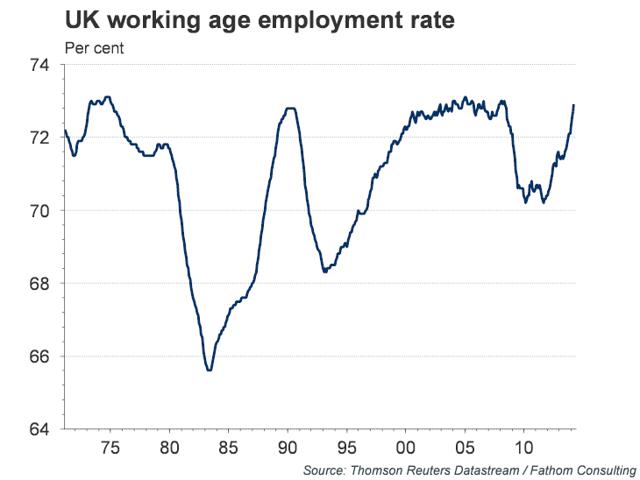 Of course, the "ongoing challenges" of public and private balance sheet repair have done little to hold back growth over the past year or so. The reason is that policymakers, through a combination of mortgage subsidies and near-zero interest rates, have encouraged households to stop worrying about the level of house prices and to take on more debt. Balance sheet repair in the household sector has come to an end. The economy is growing rapidly, and yet firms are only able to raise output by employing additional labour more or less in proportion. Indeed, data released earlier this week showed that the number of hours worked in the U.K. surged by 1.5% in the three months to April. That was almost certainly greater than the increase in output over the same period. So productivity is at best drifting sideways, and probably falling. Rather than encourage existing staff to work longer hours, firms have raised their labour input by recruiting more staff, which means the employment rate is now close to a record high. The output gap has closed, in our view, and that is why we see inflation picking up through this year and moving close to letter-writing territory early next year. In this environment, the Governor is effectively promising negative real rates of interest into the indefinite future.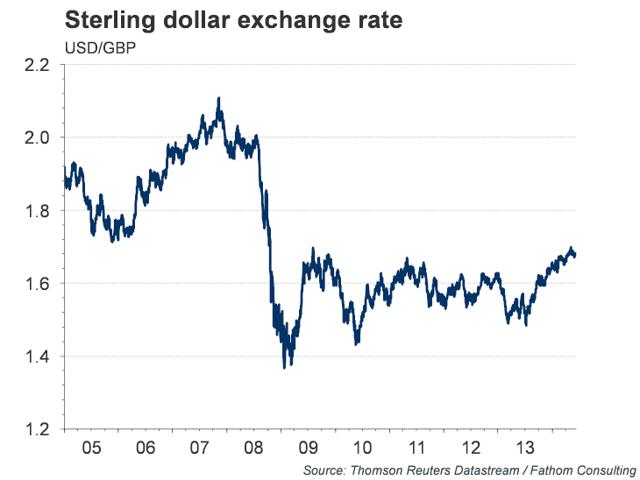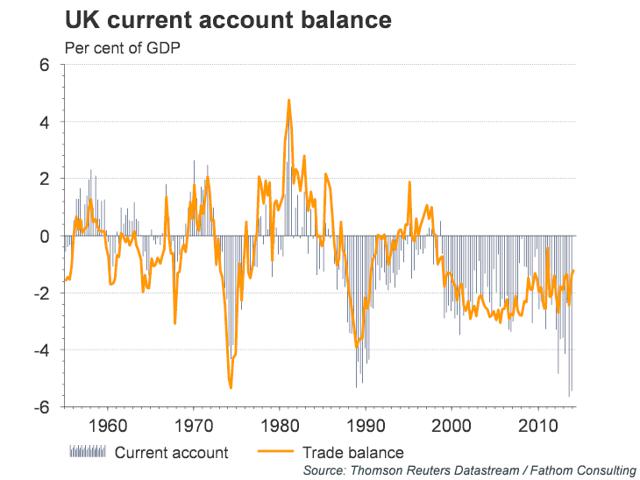 On the morning after the Governor's speech, sterling rose by more than a cent, and by almost 1% against the U.S. dollar. At the time of writing, it is hovering at just under $1.70. That is the level at which we have advised our clients to consider taking profits. Sterling is likely to prove volatile over the next few months, as speculation about the timing of the first interest rate rise continues to mount. Only when the first rate hike is out of the way will markets begin to focus on the shape of the curve further out. Once it is accepted that Bank Rate is set to remain close to historic lows for a number of years to come, despite mounting inflationary pressures, sterling will begin to fall. The size of the U.K.'s current account deficit means that the adjustment, when it comes, could be rapid.
Disclosure: The author has no positions in any stocks mentioned, and no plans to initiate any positions within the next 72 hours.
Business relationship disclosure: Alpha Now at Thomson Reuters is a team of expert analysts that are constantly looking at the financial landscape in order to keep you up to date on the latest movements. This article was written by Konstantinos Venetis, independent commentator and analyst. We did not receive compensation for this article, and we have no business relationship with any company whose stock is mentioned in this article.