The steady decline in shares of Ralph Lauren (NYSE:RL) has had a single, constant precedent in 2014: steadily declining EPS estimates. Followers of the Zacks Rank know this because the stock has earned either a #4 Sell or #5 Strong Sell Rank consistently all year.
I doubt that RL branded fashion has lost much appeal among its affluent devotees. But maybe some competition from Michael Kors (NYSE:KORS) has nibbled away at the franchise. I won't speculate further on the business of RL, suffice to say I have been a KORS investor for over a year now for their global growth opportunities.
Here's a visual on the analyst downward estimate revisions courtesy of the Zacks proprietary Price & Consensus chart. I looked back at the historical Rank from 2013 and there were many months where the stock held the #4 or #5 Rank on either side of its zenith near $190 warning investors that the growth momentum was slowing.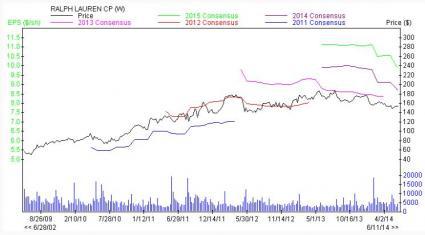 You can see that 2015 EPS estimates were once near $11 and have slipped below $10. To be fair, that still represents 14% growth from the current year which is struggling for 3% growth. What you don't see is the 200-day moving average all the way up near $163 defining the steady downtrend as it slopes lower.
RL may be a value now to some investors at 17.5X next year's $9.92 consensus. But, of course, those estimates are always in danger of coming down further. When they start getting revised higher, the Zacks Rank will tell you. Until then, it's probably best to stay on the sidelines with this gentleman of fashion.
Disclosure: I own shares of KORS for the Zacks Follow the Money Portfolio.
RALPH LAUREN CP: Free Stock Analysis Report (email registration required)
MICHAEL KORS: Free Stock Analysis Report (email registration required)