Introduction
King Digital Entertainment PLC (BATS:KING) is a very misunderstood company. Some people lump all mobile gaming companies into the Zynga basket. Others don't even know that King was profitable before its IPO (and still is) and tell their clients:
"…they're basing the valuation on price times sales because there are no earnings."
The goal of this article is to set the story straight and provide you with the facts you need to make an informed decision about whether or not to invest in King Digital.
1. King Is a Money-Making Machine
King's trailing 12 months (TTM) operating margin is 35.5% vs. -16.8% for Zynga, Inc (NASDAQ:ZNGA). King even bested Activision Blizzard, Inc. (NASDAQ:ATVI), one of the best managed, publicly-traded gaming companies.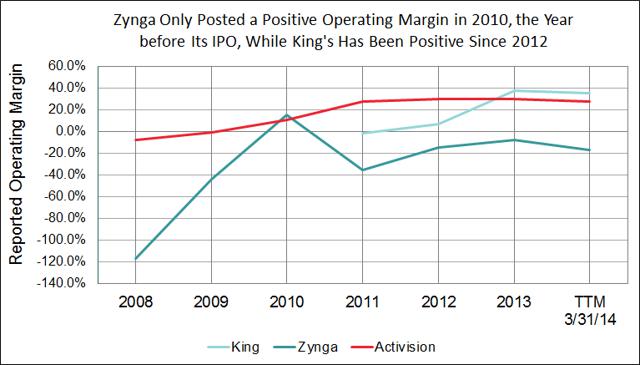 Source: SEC
King's game development philosophy of "fail cheap and fast" avoids expensive flops and keeps its R&D expenses low at 6% of sales vs. nearly double that for Zynga. King's G&A expenses are also less than a third of Zynga's.
Like Activision, King needs to invest little in capital to grow sales. Consequently, its TTM free cash flow (FCF) is over 96% of its cash flow from operations (CFO). Very few companies are this profitable. Activision isn't, though it comes close at 91.3%. Zynga's TTM CFO was negative so its TTM FCF as a percentage of its TTM CFO wasn't meaningful which is why it is missing from the graph below.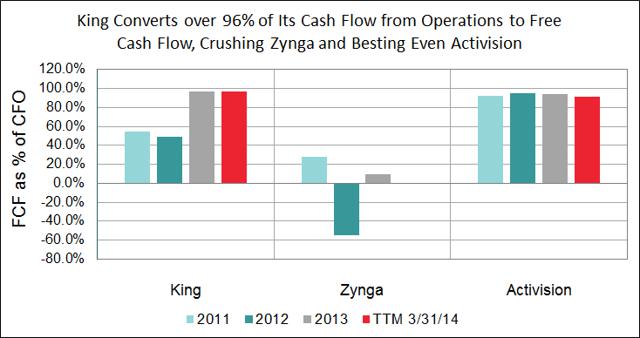 Source: SEC
Even Microsoft Corporation (NASDAQ:MSFT) in 1999, one of its very best years, fell short at 94.2%.
2. King's Sales Are Growing Much More Strongly than Its Peers
During its Q1 2014 conference call, King's CFO Hope Cochran provided 2014 revenue guidance of $2.4 to $2.5 billion. The midpoint of this range represents an increase of 30.0% year-over-year (YoY). By comparison, the average of analysts' expectations for Zynga is $801.6 million, an 8% decline vs. the $873 million in sales reported in its 2013 10-K. Expectations for Activision are modest at just 3% growth YoY.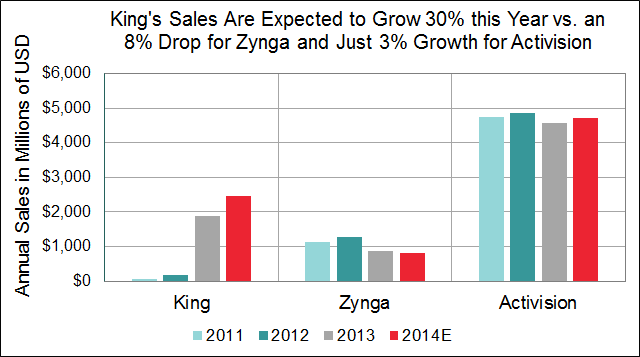 Sources: SEC, Yahoo Finance, King Digital
3. King Is No One-Trick Pony
During its earnings conference call on May 7 and its presentations at the JPMorgan Global Technology, Media and Telecom Conference on May 20 and the Bank of America Merrill Lynch Global Technology Conference on June 4, analysts asked King's representative/s to compare the mobile launch of Farm Heroes Saga (FH) on January 2, 2014, with Candy Crush Saga (CC) on November 14, 2012. All three times, King's people demurred, citing the large difference in the size of its user network when it released these games on mobile. This may have led some to conclude that FH's launch was disappointing relative to CC's. Well, the data are available, so let's look at them.
The data shown are for mobile games only in all countries. The data for Apple's App Store include both the iPhone and the iPad.
Comparative Chronology for Candy Crush vs. Farm Heroes
| | | | |
| --- | --- | --- | --- |
| Apple App Store | Event | Candy Crush Saga | Farm Heroes Saga |
| | Global Mobile Launch | 11/14/2012 | 1/2/2014 |
| | First day in Top 20 Grossing Titles | 11/19/2012 | 1/8/2014 |
| | First Day in Top 10 Grossing Titles | 11/24/2012 | 1/12/2014 |
| Google Play | Event | Candy Crush Saga | Farm Heroes Saga |
| | Global Mobile Launch | 11/20/2012 | 1/3/2014 |
| | First day in Top 20 Grossing Titles | 12/19/2012 | 1/11/2014 |
| | First Day in Top 10 Grossing Titles | 12/25/2012 | 1/14/2014 |
Source: Distimo
The performance of FH in the Apple App Store is nearly identical to CC. Both games first broke into the top 10 grossers ten days after their global launch.
On Google Play, Farm Heroes BEAT Candy Crush. FH broke into the top 10 grossers just 11 days after its global launch vs. 35 days for CC.
Since Farm Heroes was released on mobile in January 2014, it has been one of the top 10 grossing games every month.
Conclusion: Farm Heroes is a hit.
Farm Heroes' rapid rise demonstrates two things:
King's success with Candy Crush is not a fluke.
King's user network of 352 million helped accelerate the rise of Farm Heroes vs. Candy Crush on Google Play.
In addition to FH and CC, King has a third game on the top ten grossing list: Pet Rescue Saga.
4. There Is Considerable Longevity in the Top 10 Grossing Games
Most of the top 10 grossing games are over a year old and some over 2 years old. The table below derives from King's presentation at the Bank of America Merrill Lynch Conference on June 4. The data shown are as of April 2014.
US Apple App Store

US Google Play

Facebook-Worldwide

Rank

Title

Wks. Since Launch

Title

Wks. Since Launch

Title

Wks. Since Launch

1

Clash of Clans

21

Clash of Clans

7

Candy Crush

25

2

Candy Crush

18

Candy Crush

18

Farmville 2

20

3

Game of War - Fire Age

9

Farm Heroes

4

Double Down Casino

50

4

Farm Heroes

4

Hay Day

5

Farm Heroes

13

5

Big Fish Casino

21

Pet Rescue

11

Slotomania

42

6

Hay Day

23

Castle Clash

6

Texas HoldEm Poker

68

7

Boom Beach

2

Slotomania

20

Pet Rescue

18

8

Double Down Casino

26

Brave Frontier

5

High 5 Casino Real Slots

20

9

Pet Rescue

11

Marvel - War of Heroes

19

Double U Casino

27

10

GSN - Casino

30

Jackpot Party Casino

11

Bingo Blitz

43

Average

17

11

33
Source: King Digital
The key takeaways:
In April, King had three games in the top 10 on all three platforms: iOS, Android and internet.
Old games have sticking power. King adds new levels and content to its games every two weeks to keep users engaged.
The top grossing genres are casino games, casual games and war games. King specializes in casual games.
In May, the top 10 titles were unchanged for both the App Store and Google Play. Pet Rescue overtook Supercell's Hay Day and moved up to 4th place on Google Play. King's 3 games maintained their ranks in the App Store.
5. The Top 10 Grossing Ranks Are Increasingly Stable
In 2012, no publisher had more than one game at a time in the top 10 grossing titles in the US App Store. Zynga Poker - Texas HoldEm was the only game in the top 10 all 12 months.
During the last 12 months, 5 games from 4 publishers were in the top 10 grossing each month in the US App Store. And 7 games were in the top 10 grossing for at least 9 consecutive months, ever since they first made the list. Four of these 7 were either King or Supercell games.
In January, King became the first and only company ever to have three games in the top 10 grossing on Google Play in the US.
As the table below shows, it is increasingly difficult for a game to make it into the top 10 grossing. During the last 12 months, less than half as many games made the list as did in 2012 and the number of top 10 publishers fell 43%.
Evolution of the Top 10 Grossing Game Titles for the US App Store
| | | |
| --- | --- | --- |
| Metric | January-December, 2012 | June, 2013 through May, 2014 |
| Games that made the top 10 grossing | 37 | 18 |
| Publishers in the top 10 grossing | 23 | 13 |
| Games in top 10 grossing all 12 months | 1 | 5 |
| Publishers with more than one game in top 10 grossing simultaneously | 0 | 2 |
Source: Distimo. Note: Similar data are not available for Google Play.
Moreover, games from the top publishers now remain longer on the top 10 grossing lists. Two firms dominate: King Digital and Supercell. Both King and Supercell (Clash of Clans, Hay Day and Boom Beach) have three games in the top 10 grossing for the US App Store. King has 3 on Google Play and Supercell has 2.
6. The Moat Keeps Getting Deeper
While two guys in a garage may enjoy a few days of having their game in the top 10 downloads, they are no threat to King's sales as evidenced from the data above on the top 10 grossing games. And, the bar for success keeps getting higher.
Late last year, SuperData estimated that it cost $2.73 in advertising to attract a mobile gamer vs. just $1.96 in average revenue per user. For 99% of game makers, that's a problem. But not for King. Its most recent average revenue per user is $18.02, up from $17.32.
7. King Does Not Compete with Supercell
King makes casual games which are easy to learn and aimed at women 25-55 years old. Supercell makes war and management-based games which take more time to learn. Newzoo surveyed Candy Crush and Clash of Clans players in eight countries late last year and found:
77% of Clash of Clans players were men, while 60% of Candy Crush players were women.
Over half of Clash of Clans players were 21-35 and only 23% were over 35. By comparison, nearly 40% of Candy Crush were over 35.
Not surprisingly, 42% of Clash of Clans players identified themselves as "core" gamers, spending large amounts of time playing action-packed games against others, while 45% of Candy Crush players identified themselves as "casual" gamers who enjoy games but mainly play to pass the time.
Since King's and Supercell's demographics are so different, they don't compete with each other for players.
8. A Decrease in the Monthly Unique Payers Is Not Bad News and an Increase in Monthly Active Users Is Good News
During its Q1 2014 earnings conference call, King's CFO noted that it was experimenting with virtual currency to increase the monetization of its games. Instead of buying one boost say for $0.99, players of some games now have the option of buying a bundle of gold bars for $5. So some players make larger, possibly less frequent purchases.
If a bundle of gold bars lasts through the next month, a player may not need to make a purchase that month. If so, the number of Monthly Unique Payers (MUPs) may decline even though there has been no decrease in the actual number of paying players.
King's Q1 results reflected this. Its Monthly Gross Average Bookings per Paying User (MGABPPU) increased from $17.32 in Q4 2013 to $18.02 in Q1 2014 while its MUPs decreased from 12.2 million to 11.9 million.
Monthly Active Users (MAUs) increased by 73 million or 18% in Q1 vs. Q4. Conversion of these new users at its existing rate (3.4% payers) could increase King's revenues by $45 million:
73 million x 0.034 x $18.02 = $44.7 million
9. King Has Many Avenues for Growth
King's games are played all over the world. Per App Annie, as of May 23, 2014, one or more King games were in the top 10 grossing in 82.4% of the 51 countries covered by Google Play.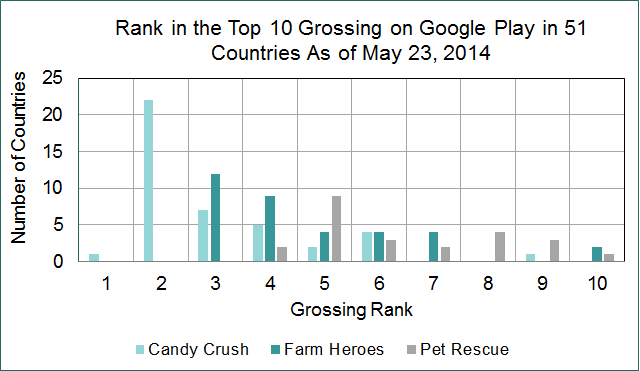 Source: App Annie
The above graph shows that King has ample opportunity to increase sales outside its current strongholds of North America and Western Europe, especially in Asia. Earlier this year, King announced a partnership with Tencent Holdings Ltd. (OTCPK:TCEHY) to market Candy Crush in China this summer. According to Newzoo, Asia will account for 82% of the $6 billion growth in the global game market this year.
Past TV campaigns have increased King's ROI. To drive global sales, last month King announced it was increasing spending on TV ads using its results-driven methodology. King chooses two similar countries, e.g. Germany and Austria, and advertises in one while using the other as a control.
King is a data-driven company. It collects data on every aspect of its games and knows which levels monetize better than others. This allows it to tweak levels to boost income.
10. King Is Very Undervalued by Any Measure
Despite its higher growth rate, operating margin and conversion of CFO to FCF than either Zynga or Activision, King trades at a TTM price-to-sales ratio (P/S) of just 2.4 - a 30% discount to these peers. All data are as of June 12, 2014.
| | | | |
| --- | --- | --- | --- |
| Firm | Market Cap | TTM Sales | Price-to-Sales |
| King | $5.52 billion | $2.285 billion | 2.42 |
| Activision | $15.24 billion | $4.37 billion | 3.49 |
| Zynga | $2.74 billion | $777.7 million | 3.52 |
Sources: Yahoo Finance, SEC
So, on a P/S basis, the weakest company, Zynga, is the most highly valued by the market.
Prior to its IPO in March, I valued King on both an intrinsic (DCF) and relative basis. The key value drivers were:
5-year annual sales growth: 27.3%
Adjusted pre-tax operating margin after 10 years: 33.8%
Sales-to-Capital ratio (reinvestment measure): 3.80
All these assumptions are reasonable.
King's 2014 sales growth target is 30%.
The target adjusted operating margin was set equal to Activision's for 2013 and is 20% lower than King's margin for 2013, so the analysis has King's margin falling over the next 10 years.
And, the sales-to-capital ratio is probably high, given King's low capital spending.
King's estimated intrinsic value was $18.05 billion and its relative value based on P/S was $16.2 billion. These figures suggest King is selling for 31-34% of its value, providing investors with a margin of safety of nearly 70%.
Acknowledgment
The expert assistance of Jay Landsman in obtaining much of the app data is gratefully acknowledged.
Disclosure: The author is long KING. The author wrote this article themselves, and it expresses their own opinions. The author is not receiving compensation for it (other than from Seeking Alpha). The author has no business relationship with any company whose stock is mentioned in this article.
Additional disclosure: The author is short ZNGA.