Right now, the coal market is in the thick of a supply glut that's keeping prices on the low end. But few believe that this will be the case for long. Here are a few reasons to watch coal exchange traded funds in the coming months.
BlackRock's Dan Rice recently suggested that as the world grows we would consume more commodities and the prices for coal could rise from its current $60-$65 per ton to $85 per ton, along with a 300% spike in aggregate share prices of many coal producers, writes Jeff Saut for Minyanville.
Gregory Boyce, CEO of Peabody Energy's (NYSE: BTU), also observed that coal is the world's fastest-growing fuel on demand. This greater demand should coincide with the growing middle class of emerging markets and their demand for more electricity.
La Nina is here, which means that it may well be a winter of extreme temperatures, says AOL News. This may mean unseasonably cold or hot weather around the country – both opportunities for people to fire up the heaters and the air conditioning, stoking coal demand.
Coking coal, or metallurgical coal, may remain at elevated levels for the time being, but an abundance of steel is starting to emerge, reports Greg Hoffman for The Sydney Morning Herald. Coal producers are also becoming more efficient, generating more coal and overcoming infrastructure problems.
Market Vectors Coal ETF (NYSEArca: KOL)
click to enlarge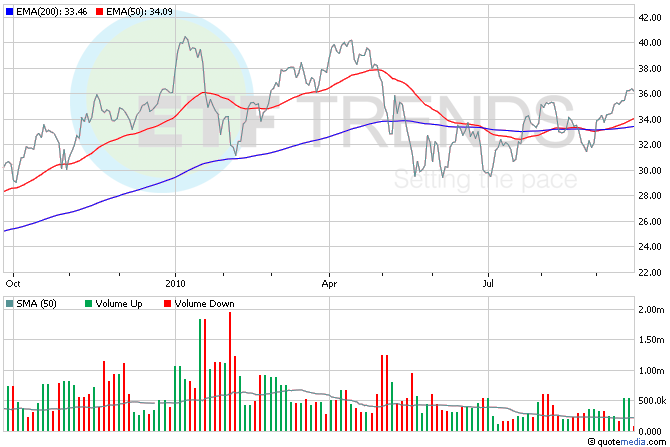 PowerShares Global Coal Portfolio (NASDAQ: PKOL)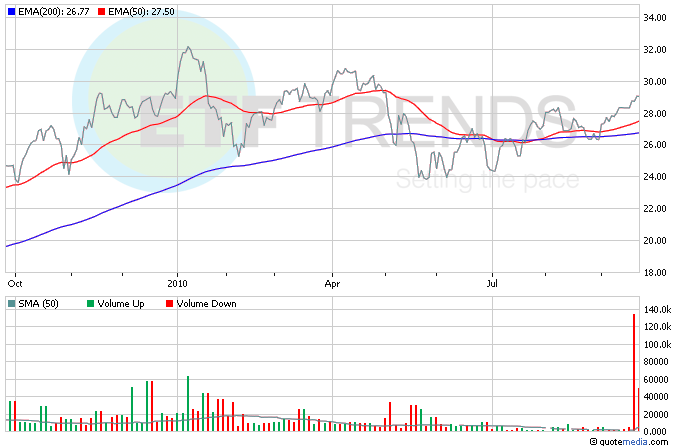 Max Chen contributed to this article.
Disclosure: None