Good companies do not always make good investments. That is an adage all investors should be familiar with. And for any good company, having a strong, recognizable brand name is usually a necessity, but it does not always translate into stock outperformance for its shareholders. Interbrand, a company that is dedicated to understanding the value of brand names, recently released a list of the top 100 global brands. Those brands receiving top 5 accreditation this year are: 1) Coca-Cola (NYSE:KO); 2) IBM; 3) Microsoft (NASDAQ:MSFT); 4) Google (NASDAQ:GOOG); and 5) GE.
However, we found 5 other companies on the top 100 list that rank even better than the top 5 brands in terms of The Applied Finance Group's (AFG's) investment opportunity signal and valuation attractiveness. So why the disconnect between brand strength and stock performance? Brand strength is important and does add to a company's competitive advantage, but there are several other qualities that indicate whether or not shares of a company are likely to outperform (i.e. valuation). GE is a classic example of one of the strongest and most stable brand names of any company in history. But while its brand has remained very strong, shares of GE over the last 10 years have significantly underperformed the overall market (its Economic Margins have also declined over that same time period).

In the chart below we have taken the top 100 global brands provided by Interbrand, and have provided what we believe are 5 attractive and 5 unattractive investment ideas, based on AFG's investment opportunity signal, as well as valuation attractiveness. AFG's investment opportunity signal takes into account the firm's economic profitability, management's wealth creation ability, and valuation. The 5 attractive firms on our list are profitable from an economic standpoint, expected to improve their EMs next year, and are currently trading at a discount to their default intrinsic value. The 5 companies on our unattractive list fail to meet one or more of those criteria and therefore are likely to underperform their sector peers and index benchmarks.
click to enlarge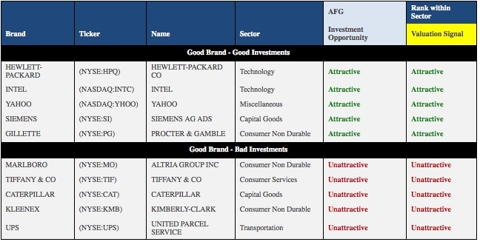 source: www.economicmargin.com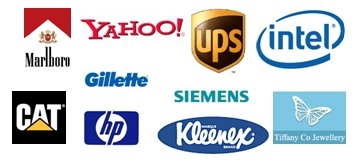 To give you a better idea about how AFG looks at companies, we have provided a visual representation comparing the wealth creation strategies and valuation attractiveness of both an attractive and unattractive company (HPQ & CAT, respectively) from the list.
Let's start with AFG's wealth creation chart. AFG likes to look at how profitable a firm is (Economic Margin Level) and if they can improve that profitability as well as grow their asset base to create wealth. Even though both of our example companies have grown their asset base since 2006, CAT's economic margin levels have declined while HPQ's have increased. Both of these firms are good examples that EM levels are highly correlated with market value as both companies' share prices have gone the way of their EM levels. Since 2006 CAT's share price went from around $79 to about $70 today. On the other hand, HPQ, which has been growing its asset base and improving profitability at the same time, has achieved share price increases from around $29 in 2006 to $39 today.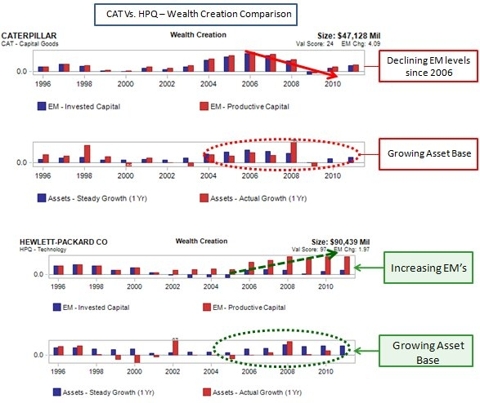 Click to enlarge
After evaluating levels of Economic Margin, one should then focus on the valuation attractiveness of a company. The chart below shows that HPQ is currently trading at a discount to its default intrinsic value, while CAT is trading at a premium. Within the Chart, the red dotted line represents AFG's intrinsic value for the company while the blue bars represent the companies trading range. To identify companies that are expected to outperform, it is important to ensure that AFG's model has tracked the firm well (higher accuracy score) and that the intrinsic value line (red dotted line) sits above the current trading price, meaning that the company has room to run.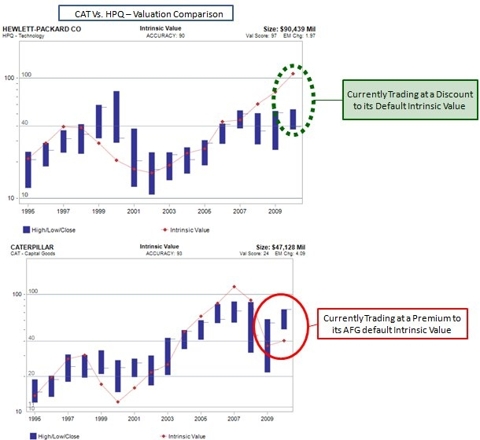 Click to enlarge
If you are a professional investor and are interested in accessing a more extensive list of companies from the list of top 100 global brands to see how we view these companies as investment opportunities, email mghioldi@afgltd.com and I will send you a more complete list ranked by valuation attractiveness and overall investment opportunity.
A brief description of AFG's buy criteria variables:
AFG's Valuation Metric
– Measures the percent to target (deviation between a stock's current trading price and its AFG current default target price). To derive the intrinsic value of a firm, AFG uses its proprietary Valuation Model (modified discounted cash flow model).
Economic Margin
- A corporate performance measurement that addresses the gaps in GAAP, eliminating distortions caused by accounting policies to measure what a company is truly earning above or below their cost of capital.
AFG's Value Universe - Companies in the AFG universe, which have MV/IC at the bottom 50% of the universe and have EPS estimates.
Disclosure: No positions