By Sumit Roy
Commodity markets saw big winners and losers this week.
This week was an eventful one for commodities. On the one hand, energy, gold and silver surged. On the other hand, platinum, palladium and grains plunged. At the same time, stocks— as measured by the S&P 500—edged lower after hitting record highs on Monday. The large-cap index fell by less than 1 percent, bringing its year-to-date gain down to 4.6 percent.
Macroeconomic Highlights

There were a handful of economic releases this week, but none were big market movers. In China, the government said that the country's trade surplus in May totaled $22.6 billion, much larger than the $5.9 billion that was expected. Exports grew by 6.7 percent from a year ago, while imports fell by 1.6 percent.

At the same time, China reported that its Consumer Price Index grew by 2.5 percent year-over-year in May, up from 1.8 percent in April. Also in China, the People's Bank of China cut the reserve requirement ratio for rural banks and select financial firms that loan to consumers. The move is seen as the central bank's effort to stimulate the economy in a targeted way.

In the U.S., the Commerce Department reported that retail sales in the U.S. grew by 0.3 percent in May, below the 0.6 percent increase that was expected. However, April's sales gain was revised higher from 0.1 percent to 0.5 percent.

Finally, the Bureau of Labor Statistics reported that the Producer Price Index in the U.S. slipped by 0.2 percent in May, below the 0.1 percent increase that was expected. The core PPI fell by 0.1 percent, below the 0.1 percent gain that was anticipated. On a year-over-year basis, the headline and core CPI were both up by 2 percent.
Commodity Wrap
| | | |
| --- | --- | --- |
| Commodity | Weekly Return | YTD Return |
| Brent | 4.24% | 2.18% |
| WTI | 3.96% | 8.44% |
| Silver | 3.15% | 0.82% |
| Gold | 1.68% | 5.69% |
| Natural Gas | 0.85% | 12.29% |
| Copper | -0.66% | -10.88% |
| Platinum | -1.05% | 4.93% |
| Corn | -2.61% | 5.92% |
| Soybeans | -2.61% | 8.07% |
| Palladium | -3.07% | 14.41% |
| Wheat | -5.34% | -3.31% |
Gold and silver rebounded this week on the back of the escalating conflict in Iraq. A small geopolitical premium seems to be building in prices; however, just as we saw with the Syria conflict last year, and the Russia-Ukraine situation this year, war typically doesn't lead to a sustainable rise in gold prices.

While there may be room for gold to rally slightly higher from here on the back of Iraq concerns, ultimately, focus will shift to the economy, inflation, the dollar and monetary policy. In that regard, next Tuesday's Consumer Price Index data in the U.S. may be of note.

Economists expect the Bureau of Labor Statistics to report that consumer prices rose by 0.2 percent in May, while core prices (excluding food and energy) are anticipated to have grown the same amount. On a year-over-year basis, the headline and core CPI are expected to be up 2 percent and 1.9 percent, respectively.

Meanwhile, platinum and palladium sagged this week following news that South African producers and unions had reached an agreement to end the 20-week labor strike. Miners may return to work as soon as next week, according to comments made by platinum and palladium firms to Bloomberg.
GOLD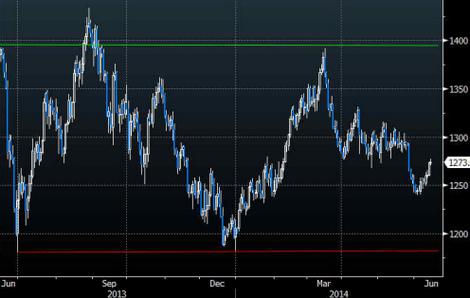 SILVER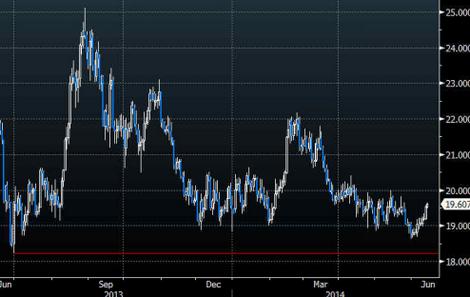 PLATINUM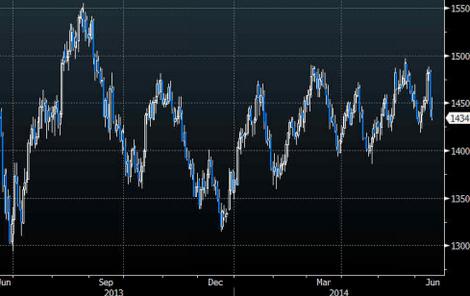 PALLADIUM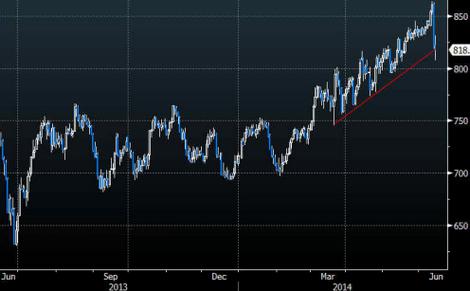 Crude oil was the biggest beneficiary of this week's Iraq instability. Both Brent and WTI rallied to nine-month highs amid fears that Iraq's 3.3 million barrels per day of production could be disrupted (see Al-Qaida Resurgence In Iraq Fuels Major Upside Risk For Oil Prices).

The price outlook for oil is now highly uncertain, with events in Iraq completely dictating day-to-day movements. If the situation deteriorates into an all-out civil war and a large portion of Iraq's output is disrupted, Brent could easily spike to between $125 and $150. A sudden loss of 1 or 2 million barrels per day of supply will be difficult for the oil market to handle.

On the other hand, if the Iraqi government can hold off the militant advance (perhaps aided by the U.S. military), prices may fall back to where they were last week.
BRENT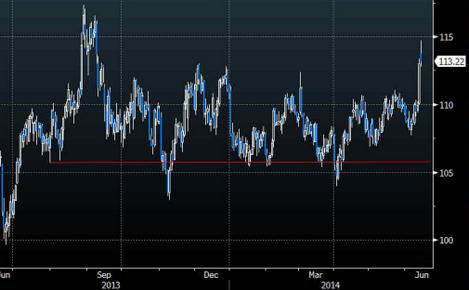 WTI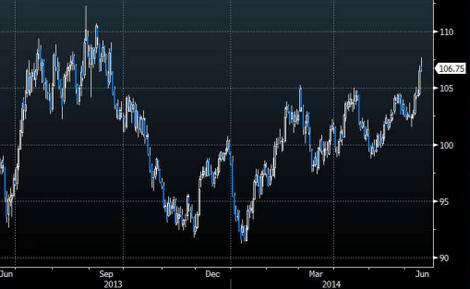 Grains were the worst-performing sector this week after the USDA forecast a record U.S. corn and soybeans harvest this year. The department cut its forecast for wheat output due to drought conditions; however, it projected total global wheat production to rise.

If the USDA's rosy supply outlook comes to fruition, grain prices could fall back to where they were at the beginning of the year—at much lower levels.
CORN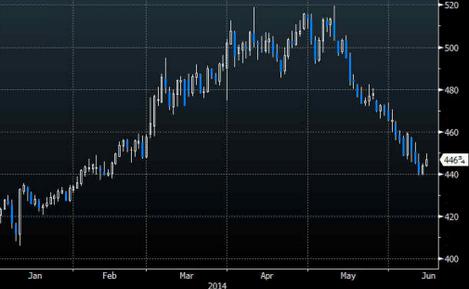 SOYBEANS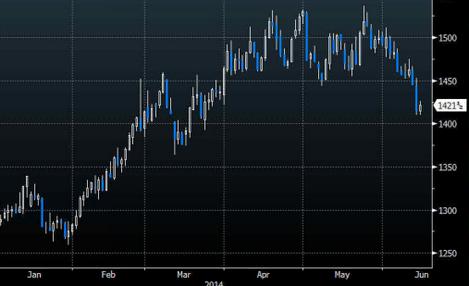 WHEAT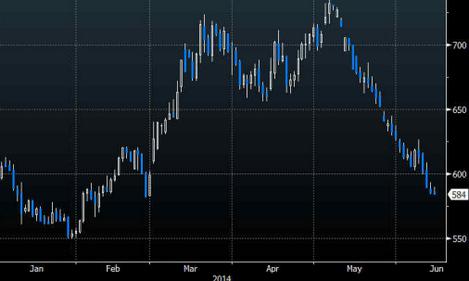 Copper edged down this week as China's investigation of commodity-backed financing deals continued to weigh. Prices are testing the levels near $3/lb, where they bottomed out back in March and April. The red metal must hold here in order to prevent a critical technical breakdown and a sharp move lower.
COPPER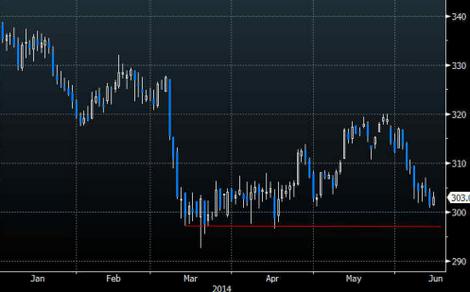 A 5 percent surge in natural gas on Thursday helped prices edge into the green for the week as a whole. Currently, weather patterns are close to seasonal norms across the country; thus, it will be difficult for prices to move sharply in either direction. However, going forward, we see room for significant volatility in prices depending on how the summer weather evolves (see NatGas Surges 5% After Bullish Inventory Data, Eyes Key $4.80 Resistance Level).
NATURAL GAS