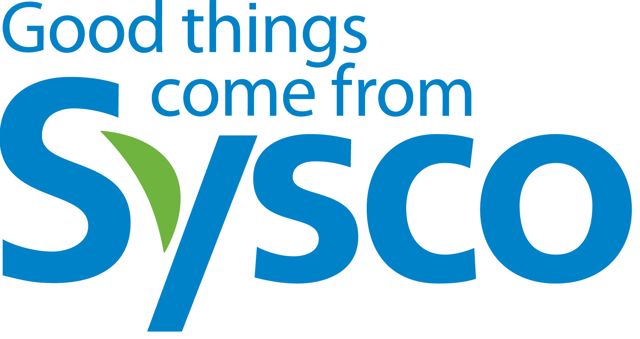 Sysco (NYSE:SYY) provides food and restaurant related items to restaurants, hospitals, nursing homes, schools, colleges, hotels, caterers, and other locations where food is served. The business has nearly 200 distribution facilities throughout the US, Bahamas, Canada, and Ireland.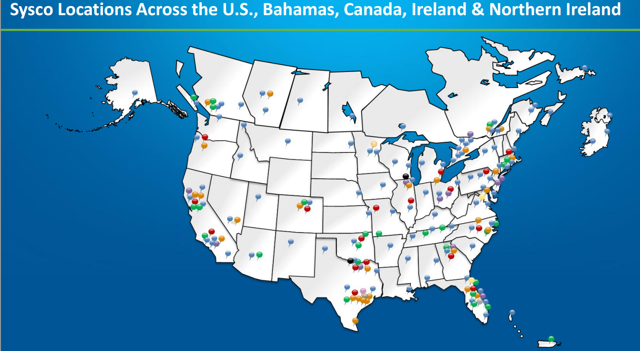 Source: Sysco 2014 CAGNY Presentation
Current Events
Sysco posted sales growth of 3.2% for the 3rd quarter of 2014 versus the same period in 2013. The company has continued to see margins decline due to fierce competition in the commoditized food market.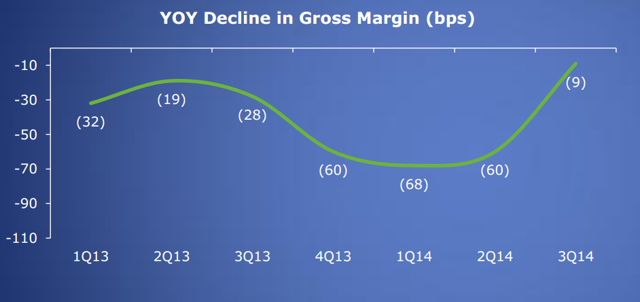 Source: Sysco 3rd Quarter Presentation
The company has around a 17.5% market share in the highly competitive foodservice industry. Sysco is planning to merge with US Foods. If the deal passes the FTC, then Sysco will command around 27% of the foodservices industry in the US. Sysco insists that it bids for its business locally, and the planned merger would create no danger of unfair pricing. Sysco expects the merger to close during the calendar 3rd quarter of 2014.
Source: Sysco Investor Relations
The proposed merger is under scrutiny from the FTC. The deal may violate anti-trust laws as it will create a business far larger than its rivals. The foodservice industry is composed primarily of small regional players. Sysco and US Foods are the largest and second largest players in the industry, respectively. It is debatable whether these two businesses together would represent a monopoly in foodservices. Sysco will argue that competition between firms is not dependent on size and happens on a customer by customer basis. The FTC may take the position that the merger of Sysco and US Foods will create a monopoly for foodservice sales to national scale restaurants and hospitals.
The proposed merger may give Sysco additional pricing power by creating a business that commands over 25% of the foodservices industry. The larger Sysco becomes, the greater economies of scale it can release. By increasing its size, Sysco is hoping to combat its recent history of margin erosion. The company has been growing sales through acquisitions for much of its history.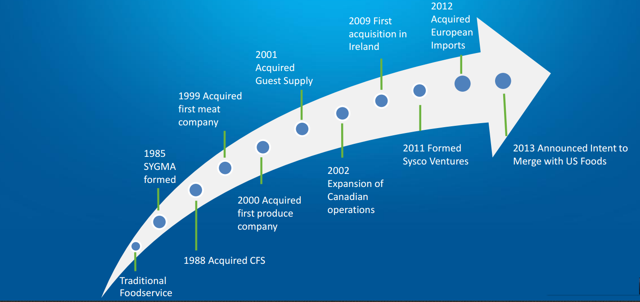 Source: Sysco 2014 CAGNY Presentation
Shareholder Return
Shareholders of Sysco can expect a CAGR of between 6% and 10% going forward from dividends (3%), and organic revenue growth (3% to 7%). The company has a long history of rewarding shareholders through dividend payments with 44 years of consecutive increases. Sysco has been funneling its cash flows into improving its business and acquisitions rather than share repurchases. The company has slightly increased share count over the last several years.
Valuation
Sysco compares favorably to many of its peers in the food service industry based on P/E ratio.
| | | |
| --- | --- | --- |
| Ticker | Company | P/E |
| SYY | Sysco Corp. | 22.80 |
| HAIN | The Hain Celestial Group, Inc. | 32.85 |
| UNFI | United Natural Foods, Inc. | 26.22 |
| CORE | Core-Mark Holding Company, Inc. | 25.12 |
| SPTN | Spartan Stores Inc. | 56.92 |
| CHEF | Chefs' Warehouse Holdings LLC | 28.68 |
| DIT | AMCON Distributing Co. | 12.42 |
Source: Finviz
The company is trading at a slight premium to its 10 year average P/E ratio of around 19. Sysco is also trading above the S&P 500's P/E ratio of 19.30. The company appears to be slightly overvalued at this time.
Consecutive Years of Dividend Increases
Sysco has increased its dividend payment for 44 consecutive years. The business operates in the extremely stable food services industry, which has much to do with its long history of dividend payments.
Why it matters: The Dividend Aristocrats (stocks with 25-plus years of rising dividends) have outperformed the S&P 500 over the last 10 years by 2.88 percentage points per year.
Source: S&P 500 Dividend Aristocrats Factsheet, February 28 2014, page 2
Dividend Yield
Sysco has a dividend yield of 3.14%, which compares favorably to other businesses with 25+ years of dividend payments without a reduction. The company ranks at 27 out of 118 businesses based on this metric.
Why it Matters: Stocks with higher dividend yields have historically outperformed stocks with lower dividend yields. The highest-yielding quintile of stocks outperformed the lowest-yielding quintile by 1.76 percentage points per year from 1928 to 2013.
Source: Dividends: A Review of Historical Returns
Payout Ratio
Sysco has a payout ratio of 68.90%. The company's high payout ratio means the company will not be able to grow dividends faster than overall company growth. Sysco ranks at 96 out of 118 businesses with 25+ years of dividend payments without a reduction based on this metric.
Why it Matters: High-yield, low-payout ratio stocks outperformed high-yield, high-payout ratio stocks by 8.2 percentage points per year from 1990 to 2006.
Source: High Yield, Low Payout by Barefoot, Patel, & Yao, page 3
Long-Term Growth Rate
Sysco has grown revenue per share by 4.77% per year over the last decade. This is about average for businesses with 25+ years of dividend increases without a reduction. Sysco ranks at 60 out of 118 based on long-term growth.
Why it Matters: Growing dividend stocks have outperformed stocks with unchanging dividends by 2.4 percentage points per year from 1972 to 2013.
Source: Rising Dividends Fund, Oppenheimer, page 4
Long-Term Volatility
Sysco has a fairly low long-term standard deviation of 22.28%. The company's low standard deviation is attributable to operating in the slow changing foodservices industry. Sysco ranks at 26 out of 118 businesses with 25+ years of dividend payments without a reduction based on long-term volatility.
Why it Matters: The S&P Low Volatility index outperformed the S&P 500 by 2 percentage points per year for the 20-year period ending September 30, 2011.
Source: Low & Slow Could Win the Race, page 3
Conclusion
Sysco is a hold based on the 8 Rules of Dividend Investing. The company's slowly eroding margins and possibility of the US Foods acquisition falling through leaves Sysco investors with some uncertainty. The company's long history of dividend increases and profitability make the stock a hold at this time.
Disclosure: The author has no positions in any stocks mentioned, and no plans to initiate any positions within the next 72 hours. The author wrote this article themselves, and it expresses their own opinions. The author is not receiving compensation for it (other than from Seeking Alpha). The author has no business relationship with any company whose stock is mentioned in this article.