Spanish Prime Minister José Luis Rodríguez Zapatero's bold declaration that the European debt crisis is over may have gone a bit too far, but most investors agree that the outlook for the beleaguered continent has improved considerably in recent weeks. Many of the European countries least impacted by the crisis are making changes and implementing reforms in order to prevent a similar situation from affecting their economies in the future. Germany, often considered the most stable and promising euro zone economy, recently made changes to its pension system by raising the minimum age up to 67 years for retirement. The nation also recently cut a planned debt issuance by 30% thanks to higher levels of growth and a moderating budget situation, suggesting that the most populous country in the EU has successfully adverted a crisis and is back on its way to growth. In fact, the iShares MSCI Germany Index Fund (NYSEARCA:EWG) is down only about 5% in 2010, thanks to an impressive September rally.
However, things are not going as smoothly across the Rhine for Germany's historic rival. Earlier this summer, France warned that it was going to be a difficult task to keep its AAA credit rating without making some tough budget decisions in the near future. "The objective of keeping the AAA rating is an objective that is a stretch, and it is an objective that, in fact, partly informs the economic policies we want to have," said French Budget Minister Francois Baroin."We must maintain our AAA rating, reduce our debt to avoid being too dependent on the markets, and we must do this for the long term." This plan has proved to be easier said than done due to the often generous benefits offered to many French workers and the hostility shown towards any changes to the status quo.
French President Nicolas Sarkozy recently announced his plan to help rectify this situation by bumping up the minimum retirement age to 62 from 60 and the age for a full pension from 67 to 65. These changes, which are expected to impact millions of French citizens, are estimated to save the government over 70 billion euros and could be matched with over 100 billion euros of cuts or savings in the next three years. Those cost-saving measures would likely include large cuts to the civil sector, according to the BBC. While these moves would help the French government manage its ballooning debt burden, the changes have been met by massive strikes and protests across the country, including more than half a million protesters in Paris yesterday and well over 1.1 million earlier this month.
This events and lack of focus over budgetary issues has put the French economy under the spotlight. For U.S. investors, the main way to play the French economy through exchange traded funds is with the iShares MSCI France Index Fund (NYSEARCA:EWQ), which has seen a rough road back to prosperity over the past few months despite strength in the neighboring BeNeLux, Nordic, and German regions. Although it has posted reasonable gains in summer trading, EWQ has dramatically underperformed all but the worst economies in Europe. In fact, in terms of year to date performance, EWQ has only underperformed the Italian (NYSEARCA:EWI) and Spanish (NYSEARCA:EWP) markets for individual European country funds. EWQ has even dramatically underperformed the iShares fund targeting the UK (NYSEARCA:EWU), which has managed to finally claw its way back into positive territory on the year; the France ETF has lost nearly 10% year-to-date.
French ETF In Focus
EWQ is relatively popular among investors, having amassed over $250 million in assets on average daily trading volume of over 400,000 shares. But this ETF has not kept the pace with the rest of the large economies of Western Europe. The fund invests in 79 securities in total with large weightings going towards the energy sector's Total (NYSE:TOT), banking firm BNP Paribas (OTCQX:BNPQY), and pharma giant Sanofi-Aventis (NYSE:SNY). These three combine to make up close to one-fourth of the total assets, which also contributes to the large cap concentration of the fund; just 10% of the EWQ's assets go towards non-large or giant cap companies.
Unlike most country specific ETFs, EWQ does a pretty good job of splitting up assets by sector; it allocates a reasonable 19% to financials, 18% to industrial materials and 15% to consumer goods. However, the fund is light on technology exposure; only 2.2% of EWQ goes to the hardware and software sectors. Although the fund has experienced weakness over the past 52 weeks, losing 10.2%, it has managed to surge higher in recent weeks as fears over a collapse in the euro have abated. However, this could change very quickly if Paris is unable to push through much needed reforms to the country's budget system and get the country back on track.
click to enlarge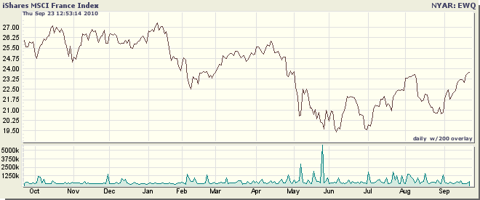 Disclosure: No positions at time of writing.
Disclaimer: ETF Database is not an investment advisor, and any content published by ETF Database does not constitute individual investment advice. The opinions offered herein are not personalized recommendations to buy, sell or hold securities. From time to time, issuers of exchange-traded products mentioned herein may place paid advertisements with ETF Database. All content on ETF Database is produced independently of any advertising relationships.