I don't know about you, but I like to know that I can rely on most of my retirement income for the rest of my life. It is this requirement that has led me to become a dividend income investor. Some DGI'ers have ultra strict rules to invest by.
The stock must be a dividend champion. It has to have a record of increasing dividends for at least 5 consecutive years or longer.
The dividend increase each year must meet or exceed the rate of inflation.
The price fluctuation of a stock is a distant second to the amount of income received by the shareholder.
While I subscribe to each of these strict rules, I suppose I am sort of a DGI'er with lots of flexibility, but controlled flexibility. As a result, most DGI purists would never consider owning a REIT as part of a core holding in a portfolio for retirement. While the level of risk is greater than a stock like Exxon Mobil (NYSE:XOM), there is one REIT that I believe should, and could, be a core holding in every retirement portfolio: Realty Income (NYSE:O).
Simply by virtue of Realty Income's remarkable record of continuous record of dividend payments to shareholders, I am a buyer of its shares at current share pricing.
Keep In Mind That It Is All About Income
Let's not split hairs here. I believe that the size of a portfolio is much less important than how much income I can glean from my portfolio. If my portfolio is $500k today and is paying me $25k per year in income, then if that same portfolio is worth $400k tomorrow, but is still paying me $25k per year in income, then I consider my portfolio a success, period.
When my core holdings can be relied upon to always pay me, no matter what, then I am a successful investor for my future financial security. Along with a well-balanced, diversified portfolio of mega cap, blue chip dividend champions, one of those core holdings will also be one that has proven to be as reliable a source of monthly income as any CD I have ever owned, no matter what the share price has done.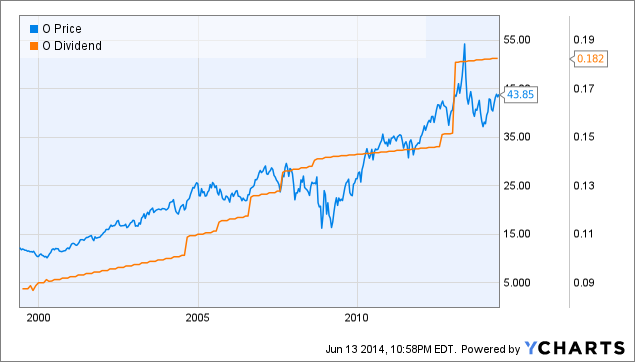 I am showing this chart of O from 1999 through today because it shows the dividend and share price through the tech bubble burst of 2000, the 9/11 horror, right through the financial crisis of the "Great Recession", and housing collapse of 2007-2008. As you can see, nothing has stood in the way of O continually paying MONTHLY dividends, and in most years, although not considered a dividend champion, it has increased its dividend payment.
As a matter of fact, Realty Income has paid monthly dividends for 526 consecutive months (spanning 44 years!), never missing one single payment. The details of this "Monthly Dividend Company" are easy enough to find on its website, but let me take the liberty to toss up a few graphics to illustrate what I mean, and hopefully explain them in layman's terms.

This chart is simple enough, but if you bought $20k of O back in 2003, in just 10 years the dividends paid to you would have been nearly $17k, or over 80% of your initial investment. Notice I am not even talking about the value of the stock itself. It does not matter as much to me.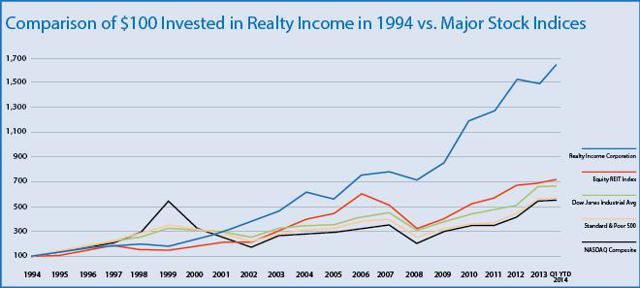 O went public in 1994, and this chart shows what $100 invested in O stock would be worth vs. the major market indices. Nearly 3-4 times that of the Dow, NASDAQ, and the S&P 500. But let's get back to the dividends.
How Does Realty Income Generate Dividends?
Once again from the company website: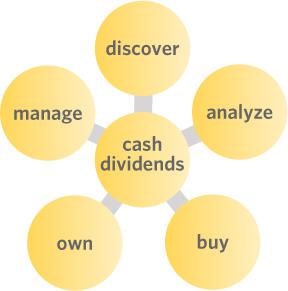 The company discovers properties to buy and own, after a detailed analysis of the location and needs of its primary focus renters. The money from the rent received from this is paid as per the IRS rules pertaining to REITs; a minimum of 90% of net income is paid to shareholders as regular dividends. Shareholders pay their regular tax rate on the dividends, and O pays no taxes.
The essential ingredients of this awesome "dish" are simple enough to list:
Stringent credit underwriting to pre-qualify a tenant's ability to pay rent for 20+ years.
Use a minimum amount of debt to provide maximum flexibility.
Acquire properties with long-term net leases in place
Keep in mind that the quality of O's tenants with the ability to pay rent for 20 or more years without problems is perhaps the most important ingredient. Take a look at the company's list of its largest 15 tenants:

To my eye, not a dog with fleas among them, and this list represents nearly 50% of all revenue.
Of course, if O had thousands upon thousands of unused square footage not producing income, even the list of the best renters in the world could not offset idle space.
That being said, Realty Income has an over 98% occupancy rate!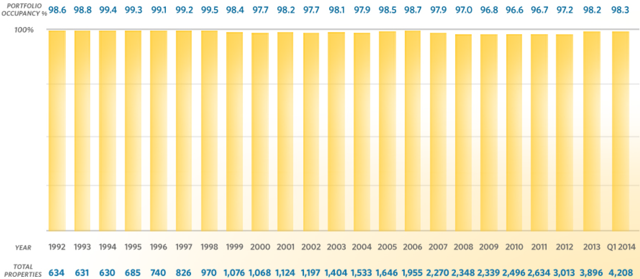 Since 2009 the occupancy rate has increased from 96.6% to 98.3% as of today, even though the number of properties owned by O has grown from 2,339 locations to 4,208 locations.
The more locations the company owns, as it increases its occupancy rate, defines exponential growth; more space, more tenants, more revenue, more earnings.
More earnings means more dividends, and more income for shareholders.
Let's also not forget that the company has room to grow with 73 available properties to rent out as well.
So How Has Realty Income Been Doing?
Financially speaking, and we are always speaking financially when it comes to money, Realty Income continues to blow the lid off of the most important numbers a REIT of its kind can produce. The most important element that defines the true capacity to continue to pay dividends can be found in the company's funds from operations, or FFO. In the case of this real estate company, it uses an adjusted FFO to clarify and crystallize how much dividends are paid.
Recently, some analysts have actually downgraded O because they used net income as the only metric they bothered to look at, and as the company states very clearly:
If net income is the only measure used to assess operating performance and dividend-paying ability for a real estate company, it appears that most of these companies pay out more in dividends than they earn. This is because a very large depreciation expense on a real estate company's income statement is deducted to arrive at net income. The net income calculation also includes gains or losses from the sale of properties, which can cause net income to vary quite a bit and doesn't necessarily reflect the reliability of the cash being generated by the company's assets.
Simply stated, if an investor wants to know if the company can continue paying dividends, as well as increasing them, just look at the adjusted FFO for guidance.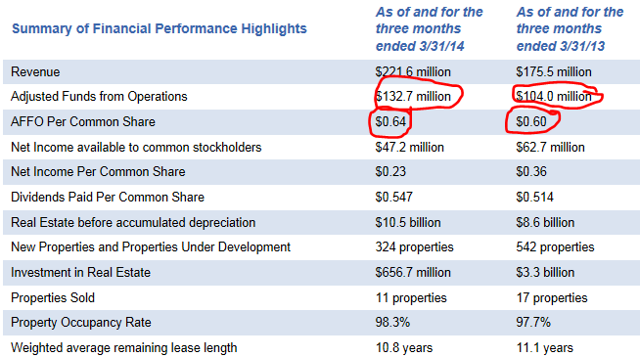 As you can see, I circled the most important numbers for shareholders who seek consistent dividends. Net income was down, but FFO was up by more than 30% and THAT is where the money comes from. Hence the increase in dividends paid from $.514/share last year same quarter, to $.547/share this year same quarter. A roughly 9% increase year over year for the same quarter.
I would argue that any analyst who simply looks at the one number is misleading investors. That probably is the reason why the share price has not dropped very much, and when it has, it has recovered.
Diversification By O Mitigates Some Risks
As with any security, the ultimate risk is the loss of an investment completely. Another risk in the case of O, is that if dividends are cut dramatically, which has not happened in 45 years by the way, shareholders will face a dramatic decrease in income, and it is only fair to point that out, and should always be taken into account by an investor.
That being said, O diversifies its retail tenants into various business sectors. This will help "balance" some of the risk.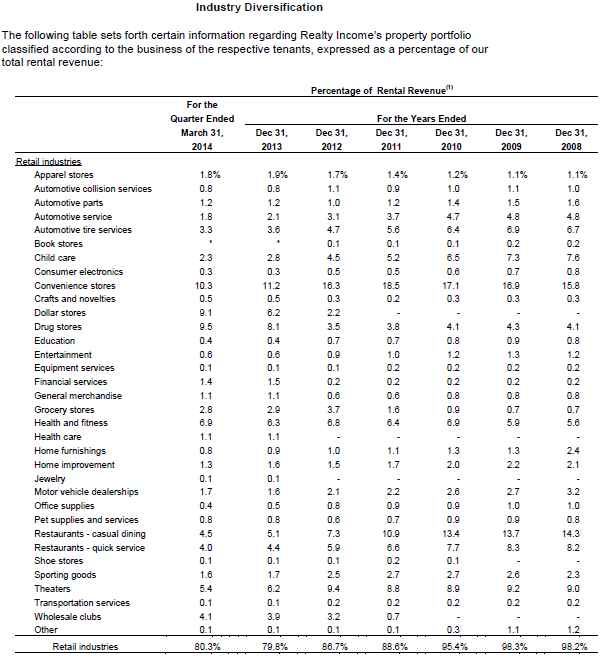 Is there a chance that every business sector suffers at the same time? Of course, but just as any well diversified investment portfolio, the chances of that happening is greatly reduced. As you can see from the chart above, O is about as diversified within its core business as imaginable.
If folks stop buying new cars, will they also stop going to the movies? The enormous number of local community convenience stores make them an essential part of any urban, suburban, or rural area, and continue to flourish, not disappear.
People might stop buying jewelry, but they will still need to buy healthcare products. Ok, you get what I am saying, right?
I own O in my Team Alpha Retirement Portfolios which can be subscribed to if so desired, to follow allocations, buys, sells, and track record for my portfolios, but not right now in our BTDP because it does not fit into the criteria of why the new portfolio was conceived at first. That being said, the share price right now is at $43.85, and based on my very simple approach as to when to buy a stock or add to one already owned, the 52 week high was $46.05 and the 52 week low was $36.58.
The current price is fine to purchase shares now, to put idle money to work, but a better target price by my own personal strategy, would be about $41.50/share. Perhaps the analysts who insist on casting a negative light on Realty income will send the price down a bit further so investors can pick up some shares even cheaper than it is now.
That being said, for a long-term investor, with a dividend income strategy, putting money to work sooner than later is more important than the actual share price on any given day.
Will $2.00/share over a 10 year period really make that big of a difference if the company is paying out $2.19/share in dividends for 2014 already?
The Bottom Line
I would not hesitate buying shares of Realty Income for the long term, right now. I believe I have explained why I own the stock in as easy a way as possible for just about everyone reading this to understand.
I will toss up one last graphic that comes from the first page of the company website, which basically says it all: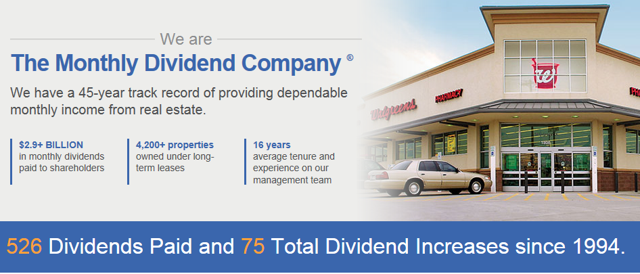 Does anyone still wonder why nearly 60% of all outstanding shares are held by institutions? Realty Income is just about a "buy" all the time, in my book!
Disclaimer: The opinions of this author are not recommendations to either buy or sell any security. Please remember to do your own research prior to making any investment decision.
Disclosure: The author is long O, XOM. The author wrote this article themselves, and it expresses their own opinions. The author is not receiving compensation for it (other than from Seeking Alpha). The author has no business relationship with any company whose stock is mentioned in this article.