The week the Bureau of Labor Statistics (BLS) issued their Job Openings and Labor Turnover Survey (JOLTS) - a report mostly ignored for good reason - it is hard to interpret the good and bad news in the report. Besides this report features chaotic views of data sets which would put most people to sleep.
I will avoid subjecting you to a discussion of the internals of this JOLTS report, but you can [read about it here]. The bottom line is that there was a significant jump in the number of unadjusted private job openings - one of the most predictive elements of JOLTS (see the significant jump of the blue line below). Changes in job openings has led changes in employment cycles since the beginning of this data series.
Seasonally Adjusted Private Jobs Openings from JOLTS (blue line, left axis) compared to BLS Non-farm Private (red line, right axis)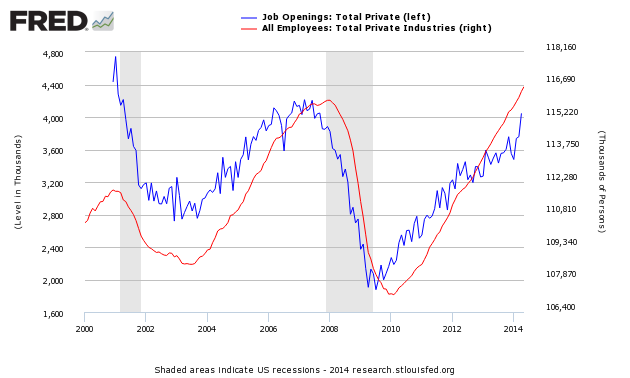 This data series historically is very noisy which likely is a result of data gathering issues and/or seasonal adjustments. Further:
the data (like other BLS labor reports) has significant backward revision
it is a relatively new report and does not have many economic cycles to prove its accuracy.
So starting with potentially a good data set, is it possible to correlate this good news? Most employment indices are rear view mirrors, and do not suggest if employment growth will strengthen or decline in the future. I am only aware of two predictive employment indices - one by the Conference Board and one by Econintersect.
This past Monday, the Conference Board Employment Trends Index™ (ETI) showed employment should continue to strengthen over the next six months. This index is based on eight employment indicators (including job openings in JOLTS). Basically the index uses employment trends to forecast the future.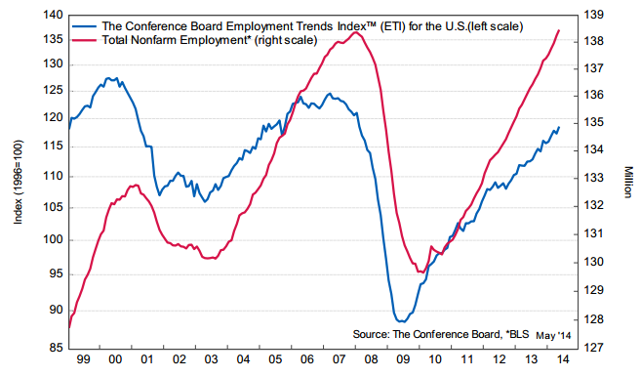 Our Econintersect Employment Index, which uses non-labor and mostly non-monetary economic pulse points, is also forecasting growth. This index is based on a non-monetary version of Okun's Law.
Comparing BLS Non-Farm Employment YoY Improvement (blue line, left axis) with Econintersect Employment Index YoY Improvement (red line, left axis) and The Conference Board ETI YoY Improvement (yellow line, right axis)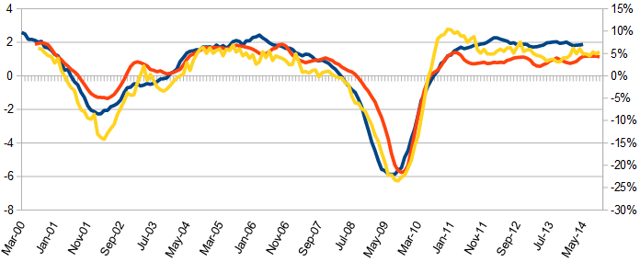 The graph above offsets the Conference Board ETI by 5 months. Econintersect forecast employment strengthening beginning in February (red line) but will weaken again at the end of 2014. Note that:
the rate of growth of the Conference Board's Employment Index and Econintersect Employment Index has been in the same range for the last two years.
Econintersect's index has a slight improving bias for the past 3 years, while the Conference Board's ETI has a slight declining bias.
At this point, the employment forecasting indices are suggesting better employment growth is coming. One might say that this seems incompatible with the continued lowering of economic forecasts for 2014. Employment is a LAGGING indicator, and correlates to economic activity many months ago.
My usual weekly economic wrap is in my instablog.
Disclosure: The author has no positions in any stocks mentioned, and no plans to initiate any positions within the next 72 hours. The author wrote this article themselves, and it expresses their own opinions. The author is not receiving compensation for it. The author has no business relationship with any company whose stock is mentioned in this article.