Overview

The recent uptick in Middle Eastern tumult has the world on edge regarding the globe's oil supply once again. This time the fervor emanates from Iraq. The issue is the United States just supposedly solved the Iraqi dilemma. Didn't the US just wrap up a war in that country? The point being, the Middle East is a tinder box waiting to explode right now and America cannot continue to depend on oil and gas supply from the region any longer. This puts the spotlight on North American supply alternatives and Kinder Morgan (NYSE:KMI), (NYSE:KMP) is in the perfect position to facilitate this process.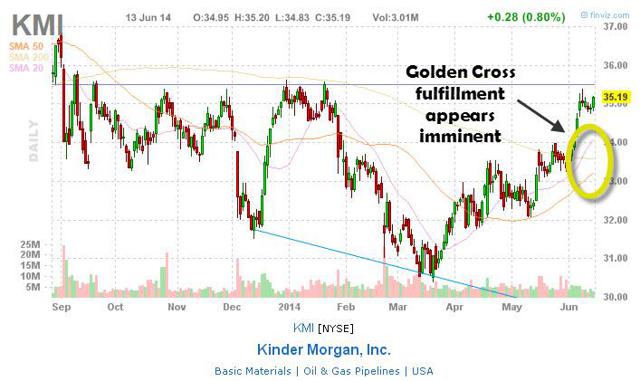 (Source: Finviz.com)
The company has a strong distribution growth history and plenty of pipeline construction projects underway. In the following sections I will make my case as to why now may be the perfect time to start a position. You must strike while the iron is hot.
Middle East Tumult On The Rise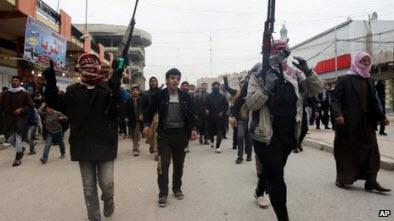 The fast paced takeover of many Iraqi cities by an emerging militant force has been all over the news in recent days. The Iraq government most recently lost control of the strategic city of Falluja, west of Baghdad, say officials and witnesses. According to the latest report from BBC news:
"Al-Qaeda-linked militants now control the south of the city, a security source told the BBC. An Iraqi reporter there says tribesmen allied with al-Qaeda hold the rest of Falluja."
The time has come for the US to get its act together and expedite the process of becoming fully energy independent and Kinder Morgan is well positioned to make that happen. The company has a long history of providing safe and reliable transportation of petrochemicals throughout North America.
Tried and true results
Kinder Morgan has delivered consistent annualized distribution growth for nearly 20 years. KMP's performance has unquestionably been outstanding.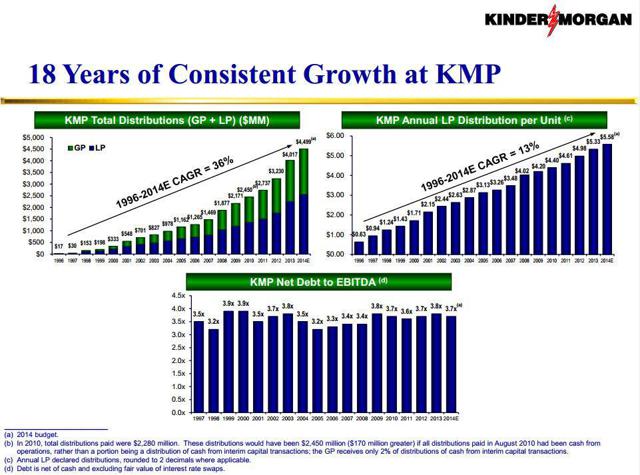 (Source: KinderMorgan.com)
Kinder Morgan has distributed more than $4 billion to shareholders in 2013 and shown consistent growth since 1996. There is no disputing this fact. The company also has an exemplary safety track record regarding its pipelines.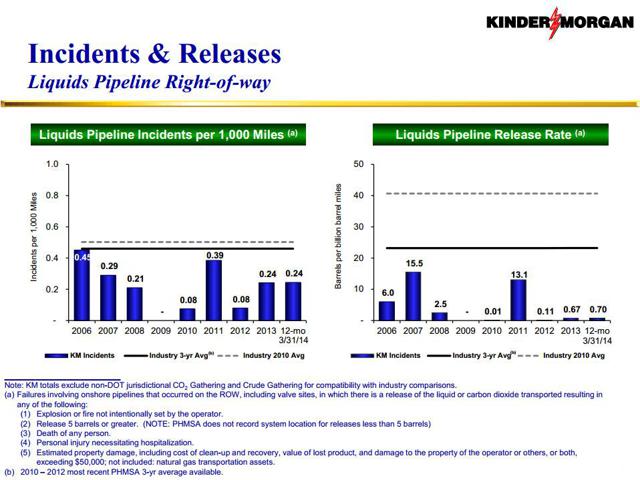 (Source: KinderMorgan.com)
Nonetheless, questions have arisen regarding the company's future prospects. This has, unwittingly or not, created a buying opportunity in the company right now.
The best buy right now
Kinder's recent results have been off the charts. In 2013 alone KMI experienced a nearly 600% increase in net income. Concurrently, KMP's profits increased close to 100%. Nonetheless, the units have underperformed the competition by a wide margin recently as evidenced by the chart below.
(Source: Yahoo.com)
These types of contrarian buying opportunities don't last long. A certain herd mentality exists amongst investors which can lead to exploitable mis-pricings.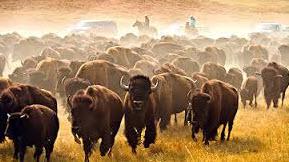 Widespread pessimism about Kinder Morgan's prospects has driven the price so low that it overstates the midstream juggernaut's risks, and understates the prospects for organic growth and continued distribution growth. Identifying and purchasing distressed stocks such as KMI and KMP can lead to above-average gains. This presents an obvious buying opportunity in my opinion.
Kinder Morgan owns the sweet spot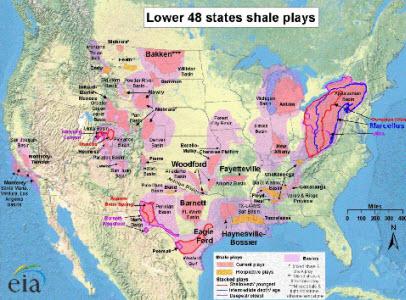 The North American oil and gas renaissance has just begun. New and diverse geographical areas formerly thought to be void of recoverable petrochemicals have been discovered from the Appalachians to the Rockies. There is currently very little or no midstream infrastructure to accommodate the production. This will provide plenty of growth opportunities for years to come for Kinder Morgan.
Unparalleled asset footprint
The company has delivered solid results from pipeline, crude-by-rail, and coal export units. Moreover, the company has done an exemplary job of extracting value from the company's extensive network of pipes, rail terminals, export facilities and ships used to shuttle energy around the U.S. and Canada.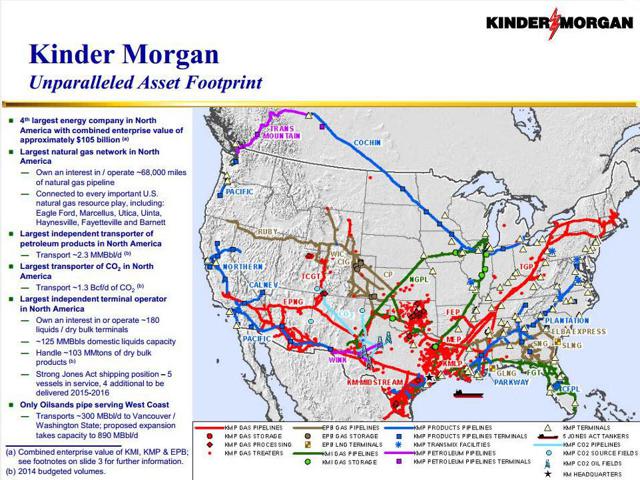 (Source: KinderMorgan.com)
The best is yet to come
There is a tremendous demand for natural gas around the world and in the United States currently. With the advent of new technologies for finding and extracting natural gas, the supply of recoverable resources continues to grow. KMP currently has a highly attractive total return yield of nearly 7% and a target distribution growth rate of 5% for the next three years.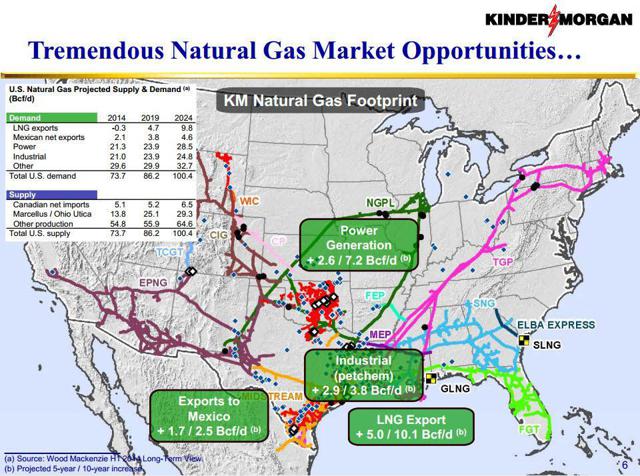 (Source: KinderMorgan.com)
This is directly supported by organic expansion projects of nearly $16 billion expected to come on line over the next 5 years.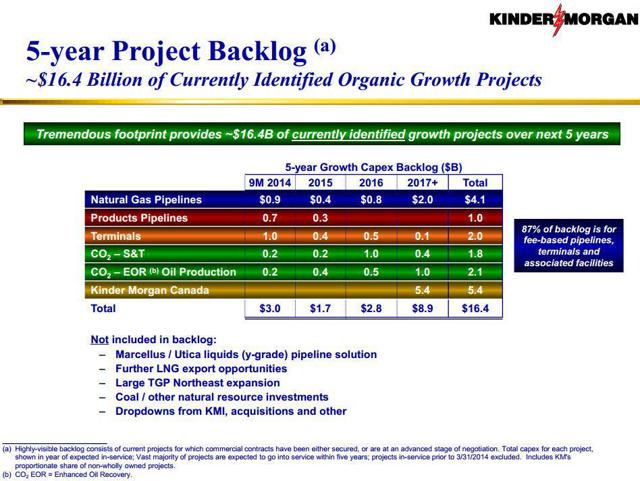 (Source: KinderMorgan.com)
2014 guidance in detail
The company is doing an outstanding job of exceeding growth estimates and recently boosted guidance.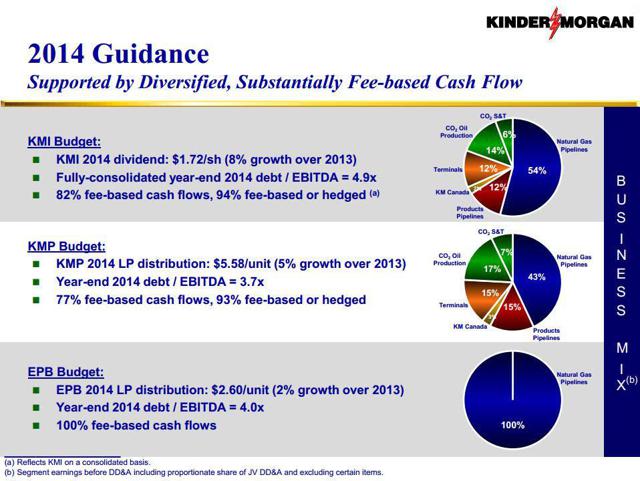 (Source: KinderMorgan.com)
Pipeline segment growth highlights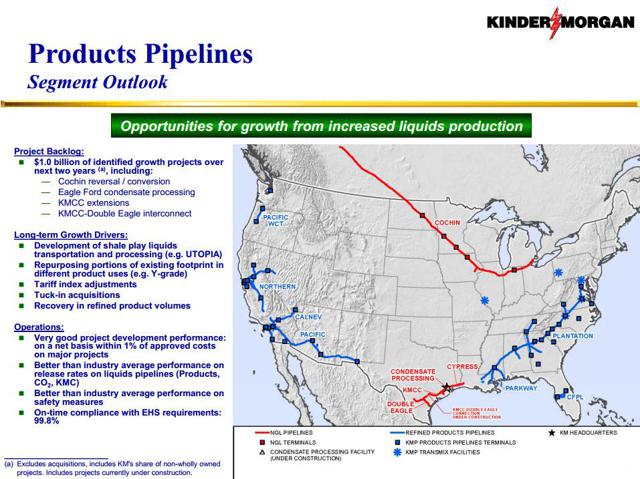 (Source: KinderMorgan.com)
So, as you can see the questions regarding Kinder Morgan's future distribution growth and dividend yield are somewhat misguided. I believe the many investors have taken the 'sell first and ask questions later' approach to the stock creating a buying opportunity, and several recent insider buys underpin my thesis.
Major recent insider buys
Richard Kinder has made a series of high profile insider buys of Kinder Morgan recently. Yet, recently, it was revealed that Fayez Sarofim has stepped up to the plate and made significant open market purchases. Below is a table detailing the recent insider activity. There have been several new buys and no sales.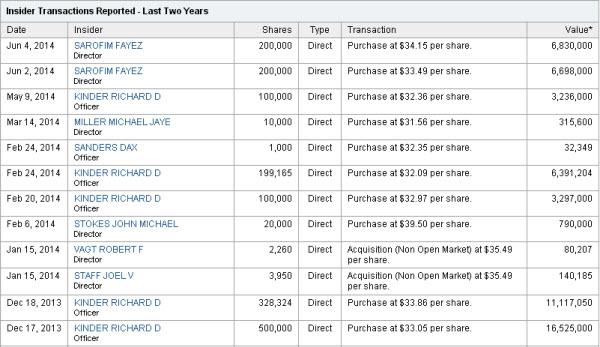 (Source: Yahoo.com)
Any time a company has recent significant insider buys investors stand up and take notice. Insider buys can be a useful indicator. Insiders have exclusive information on the company performance. The logic goes like this, if insiders are risking their own money on the stock, usually they should have good reasons. Furthermore, when several insiders buy the stock at the same time, this adds weight to the indicator. If they are buying the stock, it can mean only one thing, they feel the stock is extremely undervalued. Nonetheless, downside risk for the company still remains.
Downside Risks
Below is a list of the top potential downside risks I see presently.
Regulatory risks related to Products Pipeline FERC / CPUC cases, Natural Gas FERC rate cases, and potential legislative and regulatory changes.
Upstream operator crude oil production volume uncertainty
Commodity price uncertainty
An economic downturn
Rising interest rates - The full-year impact of a 100 basis point increase in floating rates equates to an increase of approximately $53 million in interest expense for KMP.
The distribution coverage ratio is slim. This leaves little room for error.
Conclusion
The controversy over Kinder Morgan's structure and growth prospects has been entirely overblown. The company is well positioned to take advantage of the tremendous growth prospects offered by the revival of the North American oil and gas industry. The company has an unparalleled asset footprint and a well-diversified midstream energy platform that provides stable, fee-based cash flow. Kinder continues to focus on maintaining a strong balance sheet, has an attractive project backlog, an established track record, and is the preeminent midstream industry leader. Nonetheless, always layer into any position over time to reduce risk. The market is at all-time highs as we enter the summer doldrums.
Disclosure: The author has no positions in any stocks mentioned, and no plans to initiate any positions within the next 72 hours. The author wrote this article themselves, and it expresses their own opinions. The author is not receiving compensation for it (other than from Seeking Alpha). The author has no business relationship with any company whose stock is mentioned in this article.