So now we know that at 8 or 9x times 12-months trailing revenue, an internet-related stock can be undervalued.
On June 13, 2014 Priceline (NASDAQ:PCLN) offered to buy OpenTable (NASDAQ:OPEN) for $2.6 billion, about a billion more than the company was worth (in market cap) at the time of the offer. This deal provides one more sign that the huge sell-off in high multiple stocks earlier this year likely found a bottom for a while in May.
This deal also offers a fresh compass for valuing internet-related stocks in terms of "willingness to pay." This acquisition values OPEN at 13.7x 2013 sales, 12.4 trailing 12-month sales, 11.5x expected 2014 sales, and 9.9x expected 2015 sales (actual and expected revenue from "Did Priceline overpay for OpenTable?" and trailing 12-months revenue from Yahoo Finance). I figured this marquee event is a good time to update my valuation tracker for select companies which have sizeable internet-related businesses in absolute or relative terms. In the chart below, I compare the price-to-sales ratios of these companies, sorting them from left to right in ascending order by their latest ratio. Note that I had to manually correct the latest valuation for OpenTable. As a reminder, I use price-to-sales since several of these companies do not have positive earnings.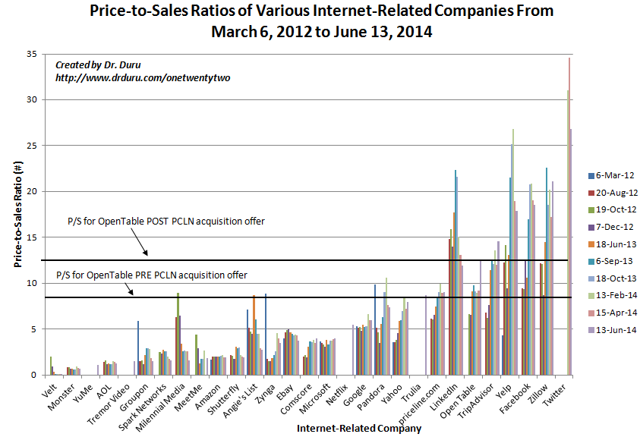 Source: Data from Yahoo Finance
Valuations have declined this year for most of the stocks in this list. Zillow (NASDAQ:Z) delivers the most notable change as its persistent rally, even through the sell-off in high multiple/momentum stocks, has hurdled it past Facebook (NASDAQ:FB) to the #2 position in valuation. Interestingly, OpenTable was valued around the same level as Priceline before the acquisition offer. The stock only moved up one notch to pass LinkedIn (NYSE:LNKD).
It is hard to say whether Priceline overpaid for OpenTable or whether it even matters relative to Priceline's $62B market cap size. Priceline has $6.7B in cash and short-term investments as of March 31, 2014. This is little changed from the previous quarter, but represents a 29% year-over-year increase. So, PCLN has money burning a hole in its pockets, and the OPEN deal is just a little more than a drop in the bucket relative to its ability to generate cash. On the conference call explaining the deal, Priceline noted that it felt comfortable paying cash given its strong balance sheet and ability to access funding from capital markets.
The valuation question is also complicated by what PCLN sees as OpenTable's potential in a synergistic world. The company gave several reasons for the deal, including strategic considerations:
OpenTable is a natural extension for the Priceline Group: both companies are leaders in marketplaces with a proficiency in driving global business and superiority in building multi-screen experiences.
OpenTable extends PCLN into an adjacent business using seamless digital booking experiences for a global customer base.
OpenTable will enhance the consumer experience with the Priceline brand.
OpenTable will drive increased traffic and deepen relationships with partners in travel and dining.
Priceline will focus on three strategic areas post-acquisition:
International expansion
Demand generation
Marketplace innovation, especially in mobile
Priceline explained that OpenTable's business model is very similar to Priceline's in terms of demand generation and operational needs. This deal is not like going from Venus to Mars. The restaurant space is an adjacent business. The two companies have the same customer: travelers are diners, especially transient diners. The deal expands Priceline's addressable market in a healthy way.
Priceline can help OPEN expand and scale internationally, something which has been a challenge to-date. OpenTable is in London and Japan, but Priceline offers a portfolio of expertise in currency and language translation, billing, and demand creation. Priceline likes what OpenTable has started doing with A/B experimentation to drive conversions, and Priceline can help scale that effort. OpenTable has also started a transition from a client-server transaction model to a cloud-based one which Priceline can help accelerate to scale up the business.
The mobile synergies are very intriguing for producing value-added end-to-end experiences. Priceline delivers a lot of tech-savvy travelers to international destinations, travelers who would appreciate the ability to make dining reservations on-line and on-the-go. OPEN has recently experimented with a mobile payments system that offers possibilities for paying dining bills at the table without the help of a waiter/waitress as well as completing the hotel check-out process from a mobile phone.
Interestingly, Priceline clarified twice that the company is not suddenly becoming acquisitive. Its focus remains on organic growth. Priceline also does not see the need to vertically integrate in any particular demand channel. This claim will cool any talk of additional acquisitions by Priceline, but it of course did not stop speculation on what internet/mobile-related companies could be next on the auction block.
Yelp (NYSE:YELP) benefited the most from speculative trades on the potential for future deals. YELP increased 13.8% in value on the day. Its price-to-sales ratio was already high; with a 18.0 ratio it remains well above OPEN's valuation. I bought a single speculative put option on YELP just in the off-chance that this kind of comparison might settle YELP down over time. YELP aside, the above chart shows that there could be a LOT of upside room for many smaller companies if bigger ones come a-knocking with eyes for synergies and unrealized scale. Value is in the eye of the beholder. Stay tuned…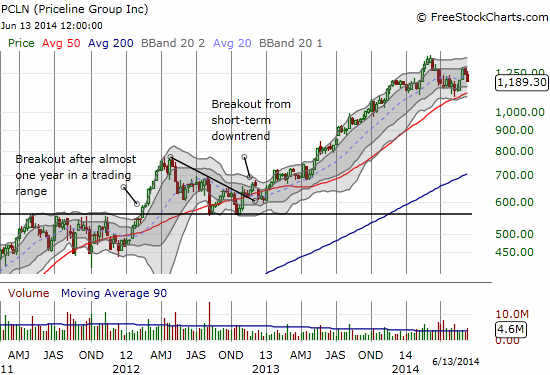 Priceline has experienced an impressive run-up launching from two key breakouts in 2012
Source: FreeStockCharts.com
Be careful out there!
Disclosure: The author is short YELP, P, FB. The author wrote this article themselves, and it expresses their own opinions. The author is not receiving compensation for it (other than from Seeking Alpha). The author has no business relationship with any company whose stock is mentioned in this article.
Additional disclosure: Short YELP and P with put options; short TWTR put spread; long ZNGA, LNKD and AMZN