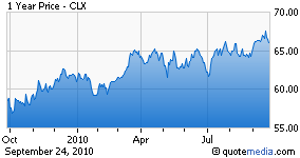 Click to enlargeWhen I set about writing this report on the Clorox Co. (NYSE:CLX), I thought it was going to be short work. This is after all, a dividend aristocrat, a company with strong brand recognition, and comes highly recommended by most analysts. As I delved deeper into the financial reports of this company, my expectations of this being an easy report to write were dashed. A deeper look at the financial reports of this company exposes issues that need a hard second look from any value investor.
Company Background
The Clorox Company started out in 1913 as the Electro-Alkaline Company manufacturing bleach named Clorox. The company went public in 1928 and was renamed the Clorox Chemical Company. It was taken over by Proctor & Gamble (NYSE:PG) in 1957. The FTC considered this monopolistic and filed suit. In 1969 the FTC won and Clorox was an independent company again. Once again independent Clorox began to aggressively follow a path of diversification through acquisition of various businesses. Some of these acquisitions were successful and others were not.
Today, the Clorox Co. is a diversified corporation with businesses in several segments including household and automotive cleaners, foods, pet products, water filtration systems, cosmetics and personal care products, and plastic containers. Well known brands owned by Clorox include:
Brita Water Filtration Systems
Burt's Bees Cosmetics
Glad Storage Bags
Hidden Valley Salad Dressing
Kingsford Charcoal
Formula 409 Cleaners
ArmorAll & STP Automotive Products
SWOT Analysis
Much of the SWOT analysis is based on information provided in the 2010 CLX 10-K report. Other factors as described are a result of my own inferences.
Strengths
· Strong and wide-ranging product mix
· Brands that lead in their market segments and product categories
· Presence of innovative products that point towards a good R&D program
Weaknesses
· The company is heavily leveraged, not exactly cash-rich, and hence financially vulnerable to unforeseen external shocks
· High dependence on the US market which is a mature, saturated, and slow-growing market. The US market accounts for 80% of annual revenue
· Small number of customers account for a large percentage of sales. Five retailers account for 45% of total sales (Wal-Mart alone accounts for 27%)
· Reliance on a small number of suppliers
· Low presence in fast-growing emerging markets where most of Clorox's competitors are already present
Opportunities
· Healthy economic growth in Latin America which is Clorox's strongest market
· Clorox's weak presence in Asia can be converted into a strength through concerted effort to expand in this key geographic area
Threats
· Clorox is one of the smallest household product and food product companies compared to larger competitors like P&G, Unilever, Colgate, and Kraft Foods
· Private label products from many retailers could eat into sales
· Environmental regulations pose a problem for companies like Clorox which generate a significant amount of chemical waste
· Unstable commodity prices and fluctuating dollar value
Financial Analysis
Clorox is one of a very few select companies with a 33-year record of increasing dividends. The company has achieved excellent earnings growth, strong sales growth through good times and bad, a held its own against much larger competitors in many different market segments.
On the other hand, Clorox has a chronically low current ratio, increasing interest payments, ballooning debt since the year 2005, and negative book value. While the company has impressive performance in terms of sales growth and earnings growth, these positives are compromised by the company's less than optimal financial condition. The main worry about Clorox is its ability to weather a severe external shock, i.e. does the company have the cash to throw at a problem if and when it arises.
Clorox has historically shown the ability to deal with marketing and operational issues and to hold its own against competitors. But the first decade of the new century has seen this company's financial picture change radically. From a low debt company, Clorox has been transformed into a highly indebted company without the necessary cash flow to justify continually increasing dividends.
Table 1 shows the increasing indebtedness of the company over the past six years not including notes payable and current maturities of long-term debt.
TABLE 1
YEAR

2005

2006

2007

2008

2009

2010

Accumulated Long-Term Debt ($ Millions)

2122

1966

1462

2720

2151

2125
Table 2 shows the quick ratio since 2006. Since the quick ratio excludes inventory from the current assets, it is a stricter form of the current ratio. Quite clearly, the ability of the company to cover short-term liabilities has deteriorated significantly in the past few years.
TABLE 2
YEAR

2006

2007

2008

2009

2010

Quick Ratio

0.63

0.51

0.52

0.42

0.46
A deeper look into the Cash Flow Statements of the company shed more light onto the financial condition of the company and the way in which it utilizes its cash generated from operations. The financial statements can be easily accessed here. In the table below, the cash available to the company is compared to the allocation of cash for various purposes. An analysis is provided later.
TABLE 3 – Cash Utilization Highlights
Year

2005

2006

2007

2008

2009

2010

Net Cash Provided by Operations

765

522

701

730

738

819

Add: Beginning Cash

232

293

192

182

214

206

Total Cash

997

815

893

912

952

1025

Less: Financial Obligations

Notes & Loans

289

359

156

74

755

421

Long-Term Debt Repayments

2

2

152

500

0

577

Interest Paid

81

132

117

153

161

149

Subtotal

372

493

425

727

916

1147

Less: Capital Expenditures

151

180

147

170

197

203

Cash Available for Other Outlays

474

142

321

15

-161

-325

Less: Dividends Paid

201

173

183

228

258

282

Cash Surplus (Deficit -)

273

-31

138

-213

-419

-607

Less: Treasury Stock Purchased

2279

135

155

868

0

150

Cash Surplus (Deficit -)

-2006

-166

-17

-1081

-419

-757
Table 3 is derived from the cash flow statements and the balance sheet data for the respective years displayed and does not represent the cash flow statements in their entirety. The purpose of the table is to illustrate the cash allocation for legal and financial obligations, required business expenses like capital expenditure, and to then exhibit the discretionary allocations of cash for purposes like dividend payments and stock repurchases.
The cash expended on fulfilling financial obligations like interest payments and debt is not marked in red and shown as a separate group of entries. Likewise, cash allocations for capital expenditures are also shown in black. Discretionary cash outflows are shown in red.
Clearly, Clorox cannot be delinquent in its obligations to repay debt and cover interest payments as they come up – short of carrying out a restructuring of debt. Furthermore, capital expenditure represents a necessary business expense.
When we look at the available cash and the outflows that follow it things start to get interesting. In 2009 and 2010 cash flow from operations plus cash carried forward from the prior period was insufficient to cover both, financial obligations and capital expenditure. By the way, capital expenditures at Clorox have always been a small fraction of cash flow from operations – definitely a good thing. Unfortunately the company's indebtedness negates the advantages of low capital requirements.
Moving on down to the dividends paid line it is clear that in 4 out of 6 years shown the cash flow was not adequate to cover dividend expenses. These dividends were then clearly financed through borrowings. Clorox is protecting its reputation as a dividend stock at the expense of its net worth. Following the 2005 repurchase of shares from Henkel, Clorox has been hobbled by debt. Continuing to pay dividends through debt as well as funding new acquisitions through debt as well hasn't done any good to the company's balance sheet.
To rectify the situation, Clorox has to either suspend dividend payments till the balance sheet is repaired or improve (drastically) cash flows. In many reports I have read, analysts have stated that the company's cash flows are adequate to cover dividends.
This is untrue.
Conclusion
While Clorox's record of dividend payments I commendable, sustainability is open to question. Given the debt overhang that this company faces, financing dividends and stock repurchases year after year with borrowings is probably not a healthy strategy. Clorox is a darling of many investors – so I leave it to readers to make their own conclusions about owning Clorox in its present avatar.
Can Clorox do a BP (NYSE:BP)?
Disclosure: No positions