There has long been an interesting and dynamic relationship between Google (NASDAQ:GOOG) and Samsung (OTC:SSNLF), with the Galaxy line having become the most powerful Android smartphones on the market. While the announcement of the Samsung Z went largely unnoticed by the market, it represents the latest discomfort for Google in this important alliance. The new device runs on the Tizen OS, an open source collaboration between Samsung, Intel (NASDAQ:INTC) and others. Where Google has seemed uncomfortable with the importance Samsung holds within the Android ecosystem, a direct challenge is not likely to be welcomed. Still, it is on the global level that this threat is likely to have the most teeth.
The Supporters
While the significance of the new OS has been a matter of disagreement, the OS itself has gotten a fairly strong endorsement. One reviewer wrote, "Samsung's OS runs really, really well-it seems just as snappy and customizable as Android." While he generally refers to Tizen as an "Android clone," saying its feels much like Android with Touch Wiz, the fact that the system is easy to use and provides a positive experience is critical if it is to gain traction. Other key features that are positives include: the HTML 5 architecture, its portability across device types, and the potential to rapidly ramp up its app offerings. Overall, Tizen seems to at least have the tools to be a success.
The Detractors
On the other side of the argument, Andrew Sheehy, chief analyst for Generator Research said, "As far as a viable alternative to Android, Tizen is dead in the water." He argues that Tizen is too far behind Apple's (NASDAQ:AAPL) iOS and Android to ever gain relevance, and rejects a comment from the Tizen Association that the OS is similarly situated to Android when it was first introduced. You may recall how absurd many analysts viewed Google's attempts to enter the market - it now commands more than 80% of the smartphone universe. Sheehy dismisses the entire exercise:
Samsung will eventually have to accept that it needs to find a way of working either with the existing market structure or around it" with the demise of Tizen, Sheehy said. "For all its technical brilliance, its incredibly fast product development, brand equity and global distribution, Samsung's soft underbelly is software. Software will become increasingly important as the market develops and is where Google is way out in front.
If Google management is as insightful as it has been in the past, it will not be so cavalier.
The Global Perspective
While I agree that it will be a significant challenge for Samsung to penetrate mature markets with a new OS, where iOS and Android are well entrenched, this is not the real threat to Google. Android is the most widely used OS in markets where it serves as a backbone for smartphones with limited functionality. Raymond James analyst Tavis McCourt once pointed out that "there are parts of the world where a smartphone is simply a touch screen with an effective web browser, and in those parts of the world, Android is dominating." This refers to the cheap end of the smartphone market, specifically emerging markets where Android has taken hold. In these areas, users are likely to be indifferent to the OS and Tizen has a chance to hit Google's base.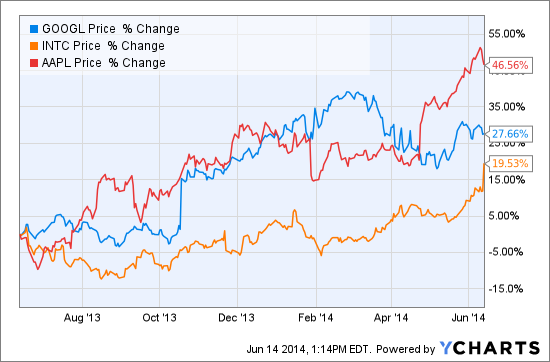 None of this is to suggest that Google is no longer attractive as a portfolio holding. The stock has been fairly flat, and with a P/E above 28, the stocks feels a bit pricey, however, I still view Google as the King of Tech and an important stock to own over the long-term. Ultimately, it is too soon to determine the potential impact Tizen will have on Google, but it should be seen as a legitimate threat that should be monitored. The stock is a core tech holding, but being aware of significant challenges is critical.
Disclosure: The author has no positions in any stocks mentioned, and no plans to initiate any positions within the next 72 hours. The author wrote this article themselves, and it expresses their own opinions. The author is not receiving compensation for it (other than from Seeking Alpha). The author has no business relationship with any company whose stock is mentioned in this article.
Editor's Note: This article discusses one or more securities that do not trade on a major U.S. exchange. Please be aware of the risks associated with these stocks.