The news headlines over the last few weeks have been filled with several notable headlines. Leading among these is the outbreak of sectarian fighting in Iraq, the recent release of U.S. Army soldier Bowe Bergdahl and the stunning primary upset of House Majority Leader Eric Cantor. Underlying each of these newsworthy events are important central lessons that can be applied to investment markets today.
Lessons From Iraq
The war in Iraq from the beginning was controversial. And after a more than eight year occupation that resulted in the loss of thousands of military lives, many American were drained by the conflict and ready to bring it to a conclusion. As a result, the withdrawal of American military forces from Iraq was completed at the end of 2011. And until recently, President Obama was touting this fact in speeches to the public. But following the recent advance of the Jihadist militant group Islamic State in Iraq and Syria (ISIS) that has included the seizure of Mosul and Tikrit along with the stated intent to move toward Baghdad, Americans suddenly find themselves confronted with the idea that forces may need to return to Iraq to stabilize what has been a swiftly evolving sectarian crisis. While the root causes behind the recent developments in Iraq are subject to broad debate, it cannot be denied that this recent turmoil itself has been most disconcerting.
Recent developments in Iraq provide an important lesson for financial markets. The lesson: bringing a long-term challenge to a proper resolution requires ongoing active oversight and cannot be ignored no matter how unpleasant or unpopular dealing with the problem may be. For if such issues are left unchecked and unmonitored, we can find ourselves with an even worse problem than had previously existed.
In regards to financial markets, policy makers actively attacked the problems from the financial crisis with policies that were purported to ensure that markets would be more stable and help prevent a similar outbreak in the future. This included the deployment of vast sums of government treasure and monetary liquidity that helped balloon the national debt in excess of $17 trillion and the Fed's balance sheet to more than $4.3 trillion. But while the global economy was pulled back from the brink, relatively little has been done to curb the behavior of the major financial institutions that drove us to the brink only a few years ago. For example, we have seen the rapid reemergence of more aggressive lending tactics such as covenant lite loans, incremental facilities and second-lien loans. And this is coming at a time when corporate leverage ratios have already risen in excess of pre-crisis levels across many areas of the market as borrows are capitalizing on the desire by financial institutions to satisfy what is seemingly insatiable investor demand for higher yielding investments. And all of this is taking place largely unchecked by those that are assigned to oversee such activities, as policy makers continue to claim to see no signs of bubbles or speculative excess. Unfortunately, problems such as these are now festering and will eventually be seen as clear as day once they finally boil to the surface just as they did starting just seven very short years ago. And by then, it will likely be far more complicated to resolve.
Lessons From The Bowe Bergdahl Prisoner Exchange
On May 31 and at the direction of the White House, United States Army soldier Bowe Bergdahl was released from captivity as part of a prisoner swap for five Taliban detainees being held at Guantanemo Bay. But controversy erupted almost immediately following the prisoner exchange due to concerns about the importance of the Taliban prisoners released, the nature of Bergdahl's disappearance that led to his captivity and whether the exchange was even legal since it was carried out independently by the President alone without advance notice to Congress.
The debate that has been brewing since Bergdahl's release provides another important lesson for financial markets. The lesson: While it is desirable to provide individual leaders with the ability to act decisively during times of extreme crisis, political decisions executed as a result of the active input and collaboration with a variety of participants can help prevent unforeseen problems arising as a result of any final action.
Such has been an issue of concern associated with the Federal Reserve in the years since the financial crisis. The need for decisive and major action during the depths of the crisis in late 2008 and early 2009 were clear, for engaging in extended and collaborative policy debate may have rendered any final action either tardy or impotent as the global economy tumbled over a cliff. But in the years since, what we have been left with is a situation where monetary policy actions totaling in the trillions of dollars have been carried out essentially by a single individual in Ben Bernanke (and Alan Greenspan before him and Janet Yellen today). I do not question his integrity in making these decisions, as I believe Mr. Bernanke is a good man that was acting in what he felt was the best interests of the global economy and its financial markets in the years since the financial crisis. But it has still been Fed policy being decided decisively and effectively unchecked by a single individual, for even if members of his Open Market Committee had a difference of opinion along the way, they were inclined in the end to fall in line with their leader. And these were policy decisions with the stated intent not simply to broadly promote low unemployment and price stability but also to aim at specific areas of the economy such as housing and promoting a "wealth effect". What this effectively has amounted to is monetary policy being used to target isolated areas of the economy that are more the responsibility of fiscal policy that should be decided upon collectively by the legislature and the executive and not solely by the Fed Chair. Only time will tell before we fully know the consequences of these policy actions carried out independently by the Fed, but it has the potential to not end well.
Lessons From Eric Cantor's Primary Defeat
On June 10, Republican House Majority Leader Eric Cantor suffered a shocking defeat in his primary election against Randolph-Macon College professor David Brat. The loss came despite the fact that Cantor had risen to become one of the most powerful politicians in Washington through his fundraising prowess and connections that included some of the largest financial institutions. This marked the first time that the sitting Majority Leader in Congress was defeated in a primary contest since the advent of the position in 1899. While a number of reasons were cited for Cantor's stunning loss, the fact that he had become disconnected with the constituency he was representing in Virginia's seventh district was widely noted among them.
Cantor's defeat provides yet another important lesson for financial markets. The lesson: it is the voice and opinion of the general public that matters most at the end of the day. And when the general public gets mad or upset, they eventually become motivated to carry out change.
While it certainly been nice for the country's leading financial institutions that they have been able to make so much money from the stock market during the ongoing five year bull market, this is not a reality that has been felt by many in the general American public. According to Gallup, only 54% of Americans have any money invested in the stock market as of January 2014, and this includes those that are participating in 401(k) plans.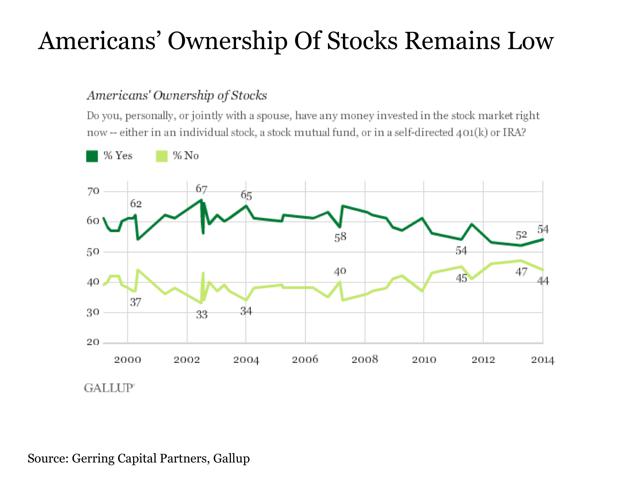 Put differently, nearly one half of all Americans are not invested in the stock market and have not benefited directly at all from the allegedly "wealth effect" creating rise in stocks over the last five years. Moreover, also according to Gallup, only 46% of Americans think investing in the stock market is a good idea versus 50% that think it is a bad idea. In short, many Americans simply do not trust the stock market (NYSEARCA:SPY), and the longer it continues to rise relentlessly as the broader U.S. economy struggles with unevenly sluggish growth, the more this distrust and resentment builds. So although it has been promising to see share prices in the market steadily rise in recent years, if the spoils continue to go to leading financial institutions at the expense or negligence of the broader American public, they may eventually be compelled to vent their frustration at the ballot box or by other means. Thus, policy makers have an incentive to focus more on fostering a market environment that is "right" not only for major financial institutions but also all Americans instead of continuing to support a market that does nothing other than "rise" beyond all comprehension for the benefit of the relative few under the status quo. Otherwise, the voting public may become inclined to take matters into their own hands at the ballot box just as many in the investing public will likely continue to stay away from a market they do not trust.
Bottom Line
The world around us is constantly providing us with lessons that can be applied across a variety of circumstances including investment markets. And the application of these lessons has the potential to make the markets a far more stable and trustworthy place for people in general to reasonably allocate a portion of their hard earned savings for long-term future growth.
Disclosure: This article is for information purposes only. There are risks involved with investing including loss of principal. Gerring Capital Partners makes no explicit or implicit guarantee with respect to performance or the outcome of any investment or projections made. There is no guarantee that the goals of the strategies discussed by Gerring Capital Partners will be met.
Disclosure: The author has no positions in any stocks mentioned, and no plans to initiate any positions within the next 72 hours. The author wrote this article themselves, and it expresses their own opinions. The author is not receiving compensation for it (other than from Seeking Alpha). The author has no business relationship with any company whose stock is mentioned in this article.
Additional disclosure: I am long stocks via the SPLV and XLU as well as selected individual names. I also hold a meaningful allocation to cash a the present time.