U.S. stocks fell yesterday, sending the Standard & Poor's 500 Index to its longest drop in a month, as a deteriorating profit outlook for banks and an increase in jobless claims overshadowed a rally in technology shares. Goldman Sachs (NYSE:GS) and Citigroup (NYSE:C) both fell more than 2% as Bank of America (NYSE:BAC) cut profit projections and former Federal Reserve Chairman Paul Volcker said the U.S. mortgage market is "absolutely broken." Real estate companies in the S&P 500 slumped 2.7% as a group. Apple (NASDAQ:AAPL) rose for the 17th time in 19 days, briefly passing PetroChina to become the world's second-largest company by market value after analysts lifted their forecasts for iPad sales. Red Hat (NYSE:RHT) surged 11% after the largest seller of Linux software reported better than estimated earnings and Nvidia (NASDAQ:NVDA) rallied 4.5% after BMO Capital Markets advised buy shares of the graphics-chip maker.
More peripheral panic early doors in Europe with Irish and Portuguese spreads gapping out to fresh historical highs as there is still widespread confusion about Irish banks debt and investors who don't understand what Ireland is doing with the bank capital structure.
Mining names and basic resources stocks are having a poor day Friday with Kazakhmys leading a gauge of mining shares down 1.2% after UBS lowered its recommendation for Kazakhstan's largest copper producer to "sell" from 'buy.'' The stock dropped 2.7%. Rival Antofagasta (OTC:ANFGF), which was yesterday downgraded to "sell" by Societe Generale (OTCPK:SCGLY) has lost 3.1% while Anglo American has shed 2.5%. UBS analysts also lowered their recommendations for both Anglo and Vedanta Resources (VDNRF.PK) to "neutral" from "buy." Vedanta's shares are trading 1.3% lower.
But stocks have bounced back strongly on the US durable goods report. While headline durable goods orders declined 1.3% in Aug, this was exclusively due to the weak showing of aircraft orders. Orders ex transport increased 2%, almost clawing back the 2.8% decline in July. Cap goods orders ex aircraft (which, over time, will translate into investment in equipment) increased 4.1% after a dismal -5.3% in July. Order data are very volatile, so one month's figures should always be taken with a grain of salt. However, it seems that cap goods orders did not weaken as much as feared. Private investment in equipment will probably continue to support GDP growth for the time being (which is not fitting well into a double-dip scenario).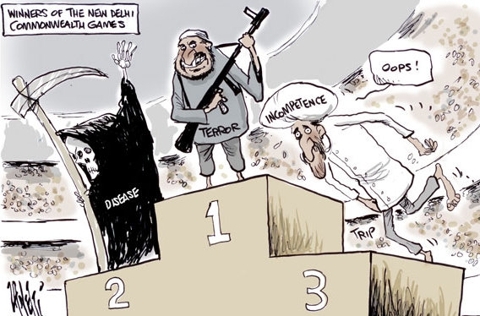 Click to enlarge
Today's Market Moving Stories
The U.S. mortgage market is "absolutely broken" and changing the government's role in housing must be a top priority, said former Federal Reserve Chairman Paul Volcker, an adviser to President Barack Obama. There is "no ready made, practical alternative" to the government's role in the mortgage market through Fannie Mae and Freddie Mac, Volcker said in prepared remarks at a banking conference today in Chicago. Creating a new framework for the private mortgage market "is a matter of first priority," he said. The U.S. financial system has yet to be repaired, he said. "We know parts of it are absolutely broken like the mortgage market," Volcker said at the 13th Annual International Banking Conference held at the Federal Reserve Bank of Chicago.
After reports from Kyodo news that the BoJ had once again intervened on behalf of the MOF, Finance Minister Noda was asked for verification to which he replied "I have no comment". However, he added "Our fundamental view is that excessive fluctuation or disorderly movement in exchange rates have a negative impact on the stability of economic and financial conditions."
Kyodo News reports that Japanese Prime Minister Naoto Kan and US President Barack Obama didn't mention fx market intervention by the Japanese government in their talks on Thursday, but agreed to strengthen the countries' alliance.
Japan's economy minister Banri Kaieda said "The risks [of growing tensions with China] are serious … There has been a very sudden slowdown in areas such as trade with China and tourism."
EU Commission President Jose Manuel Barroso states that the EU must focus on reforms and exit a crisis mind set to strengthen a fragile economic recovery, noting "A degree of cautious optimism has taken root". Asked if Europe has moved beyond all its problems, Barroso replied: "I thought the assessment of Europe was exaggerated … I think the EUR is a strong currency and here to stay".
IMF spokeswoman Caroline Atkinson reiterates that neither Ireland nor Portugal have asked the IMF for funding. She said that Ireland's announced fiscal plans were appropriate, and pointed to Portugal's commitment to tighten its fiscal belt considerably. Asked about volatile bond markets, Atkinson said, "what's important is the fundamental changes we've seen in governments' policies".
The key German Ifo business climate index again surprised on the upside, rising further slightly from 106.7 to 106.8 (Consensus: 106.4). The increase was driven by the current situation component, which rose from 108.2 to 109.7 the highest level since May 2008. In contrast, business expectations were down markedly from 105.2 to 103.9.
What I Think is Happening in Ireland
1) Equity has been wiped out.
2) Subordinated Debt trading at very low prices 25-35cents of face value and Anglo might offer to buy back the remaining amount of Subordinated debt around the current market pricing this mean that Anglo will book a profit as their liabilities are booked at face value and this is a smart way of restructure and recapitalize at the same time.
3) Senior debt will be paid back in full.
4) Government Guaranteed bonds will be paid in full.
But the damage is done. 5y CDS were 500bp bid at one stage on Thursday, but closed around 460bp still 175bp higher than 3 weeks ago – it can't go on much longer. Either the CDS market is right … And we are closer to the end game, or we get some kind of clarity i.e. ECB steps up the SMP buying as "buyer of last resort", Ireland Financial community steps in as huge buyer of Irish bonds or Ireland will call IMF and ask for EFSF (European Financial Stability Fund) support and cease to access funding via the bond market. It is a crazy situation for a country with prefunding until summer 2011 – but the market is very nervous and sceptical towards Ireland and with 85% of bonds held abroad, it is clear what lack of a large and deep domestic market/investor base means.
From Day 1 of the crisis the government has insisted that no Irish bank would default on its debt. When the govt fully nationalised Anglo Irish bank, shareholders were completely wiped out, but govt insisted bondholders would not suffer. Instead, the govt has kept recapitalising Anglo as losses have been realised. This has insulated bondholders from any losses, but has put taxpayers on the line instead. There is widespread public disgust at this and the public now want creditors to share the pain ("we didn't lend Anglo any money, caveat emptor etc.") Objections will intensify as Dec 7 budget approaches. Govt needs to find another €3-4bn in cuts. Media (with some justification) churning out stories that more cuts and tax hikes will be needed so that Anglo bondholders can be rescued at taxpayer's expense. Fear is that govt could be pressured into allowing a default. Unlike in Greece, the Irish govt "are" suffering in the polls – now relegated to third place. The further they fall in the rankings, the greater the chance of a U-turn on the bondholders. Some suggestions over recent days that sub-ordinated bondholders could be asked to take some pain. This would be very risky manoeuvre – it would save only around €1.2bn in taxpayers money, but since bondholders are largely Irish banks and pension funds, fears over the knock-on effects to the rest of the banking system are real. FT articles have been recommending an Anglo default for weeks now. But Peter Sutherland (former EU Commissioner, former Chairman of BP (NYSE:BP), current Chairman of Goldman Sachs (GS) (Ireland)) is due to address a lunch in Dublin today and emphasise the risks of defaulting. Headlines will be ugly and very likely euro negative. As well as the systemic risks, don't forget that Anglo Irish is nationalised now…effectively it "is" Ireland. And a creative (or careless) journalist could easily associate an Anglo default with a sovereign one.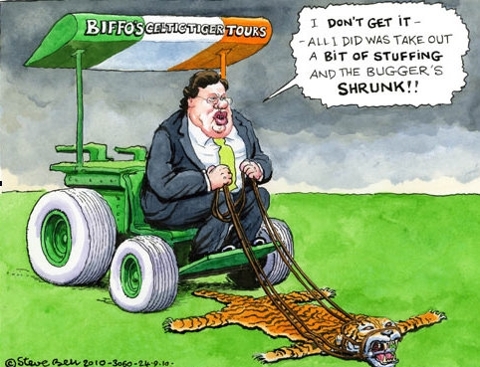 Click to enlarge
Company / Equity News
Oracle Corp. (NASDAQ:ORCL), building on a run of more than 65 acquisitions during the past five years, is looking to purchase semiconductor companies and makers of industry specific software, Chief Executive Officer Larry Ellison said. "You're going to see us buying chip companies," Ellison, said yesterday at Oracle's annual meeting in San Francisco. Acquiring chipmakers would further Oracle's push into computer hardware, initiated in January with its purchase of Sun Microsystems Inc., a server manufacturer. Ellison said he wants to follow the approach of Apple Inc. CEO Steve Jobs by owning more of the intellectual property that underpins computer chips. Apple has bought semiconductor makers to help develop devices such as the iPad and iPhone. Oracle already acquired some chip knowhow from Sun, which makes servers based on its own chip design, Sparc, while also using personal computer chips from Intel Corp. (NASDAQ:INTC) and Advanced Micro Devices Inc (NYSE:AMD). Oracle may buy a semiconductor company with technology for servers, said Doug Freedman, an analyst at Gleacher & Co. in San Francisco. Potential targets include AMD, IBM's (NYSE:IBM) chip division and Nvidia Corp., he said.
Advanced Micro Devices, Intel Corp.'s main competitor in computer processors, said third quarter sales will be less than it had predicted, citing weaker demand for notebook computers in Europe and North America. Sales will decline between 1 percent and 4 percent from the $1.65 billion it recorded in the second quarter, Sunnyvale, California based AMD said today in a statement. In July, the company had said that sales would rise "seasonally" in the third quarter from the preceding three months. The announcement follows a similar forecast reduction by Intel, which cited weaker consumer demand in developed markets. The outlook also mirrors warnings from other chipmakers, including Texas Instruments Inc (NYSE:TXN). AMD, which has been winning market share in notebooks, doesn't have the presence in servers and business machines to offset the drop in consumer spending, said Hans Mosesmann, an analyst at Raymond James & Associates. AMD rose 15 cents to $6.55 in late trading after gaining 14 cents to $6.40 on the New York Stock Exchange. The shares have tumbled 34 percent this year. The company plans to make its full third-quarter report on Oct. 14.
Five months after Apple Inc. kicked off the tablet era with the iPad, Hewlett-Packard Co. (NYSE:HPQ) is trying to shake up the market by giving its tablet away free. Well, not completely free. The 7-inch tablet, measured diagonally, comes packaged with HP's $399 Photosmart eStation and serves as the printer's control screen. Equipped with Wi-Fi, it can be detached and used to download e-books from Barnes & Noble (NYSE:BKS), play digital music, and connect to social media sites such as Facebook, Bloomberg Businessweek reports in its Sept. 27 edition.
Nike Inc. (NYSE:NKE) gained 5% in after hours trading after the world's largest maker of athletic shoes reported first quarter profit of $1.14 a share. Analysts predicted a profit of $1 a share.
But Merck (NYSE:MRK) slumped as much as 5.2% in pre-market trading as European regulators rejected the drugmaker's multiple sclerosis pill cladribine, the German company's most promising new medicine.
Separately, Merck expects to record cost savings of $3.5 billion by 2012 as a result of its merger with Schering-Plough Corp., and hopes to achieve a third of the savings this year, Financial Times Deutschland reported. The remainder of the cost reductions will be spread evenly across the next two years, the newspaper said.
Glaxo (NYSE:GSK) was very volatile in the last 10 minutes of trading Thursday as the European and US drug agencies released their views on Avandia; the EMEA recommended the drug be pulled while the FDS recommended keeping the drug on the market but with more restrictions. The fact the latter kept the drug on the market somewhat mitigates the litigation risk; nevertheless today's ruling is a negative for the stock but much of that seems to be in the price already.
Disclosure: None