Pfizer (NYSE:PFE), one of the premium biopharmaceutical companies, is definitely reaching a saturation point as far as future growth and cash flow is concerned.
Although growth over the past few years has been steady, the company needs to go on an acquisition spree or a structural break up of its businesses is the need of the hour.
Cash Flow Analysis
A 10.2% CAGR growth has been recorded for dividend of Pfizer year over year from 2009. However, the annual rate has declined to 8.3% in 2014 when compared to 11.1% in 2010. The future perspective can be gauged after cash flow analysis. As per consensus revenue estimates, the top line is supposed to go downhill from $51.6B in 2013 to $48.7B in 2016, a decline of -1.9% CAGR .
Pfizer's operating cash flow has seen a marginal rise to 34.4% in 2013 when compared to previous years. It is expected to be trending around 32.7% on an average till 2016. The Capex will hover around $1.4B in the current year and is supposed to be even till 2016. Free Cash flow is presumed to trend from $16.6B in 2013 to $14.6B in 2016.
In 2014, the annual dividend will be $1.04 per share and the estimated dividend spending is supposed to trend at $7.0B. This implies a free cash flow payout ratio of 47% in 2014 which is healthy when compared to actual levels in past 3 years.
With dividend spending supposed to remain the same through 2015 and 2016, Pfizer is forecasted to have about $7.6B-$7.8B excess free cash flow per annum.
With no major acquisition plans around and assuming more than 80% of excess free cash flow is invested on share buyback, the total share count will reduce to 6.3B by 2016. Dividend per share will reach $1.10 by 2016, an increase by 2.8% CAGR when compared to $1.04 in 2014.
Predominantly, the signs are Pfizer's per share dividend growth rate recorded during past few years is no longer sustainable. Pfizer pays a dividend with a yield of 3.2%, which is significantly higher than the market as a whole. Thus the stock may be looked at for long-term steady income potential to offset possible drops in stock price. The company also returns a large portion of profits through buybacks. Even with a conservative 55% payout ratio, this company looks to outperform its competitors. With Pfizer trading at 20x earnings with a strong balance sheet, Pfizer may be worth taking the risk.
Investor Takeaway
Pfizer should seriously pursue cash flow-accretive acquisitions or else make structural changes to its business model internally. The current balance sheet of Pfizer is healthy enough for it to be adventurous and take some brave steps if the opportunity so arises. Recent bid for acquiring AstraZeneca was a good step even though the bid did not fructify. A possible target for Pfizer's consideration would be acquiring other companies like Celgene.
The company's cash flow and dividend prospects definitely make it a good share to buy at the current stock valuation price of ~$30 per share. As mentioned before, however, increased acquisitions will also deter Pfizer from paying out to investors, but this is an obvious give or take with any company especially pharmaceuticals.
Company
Industry
Sector
P/E Ratio (TTM)
17.94
33.54
33.99
P/E High - Last 5 Yrs.
21.78
39.72
41.42
P/E Low - Last 5 Yrs.
15.04
13.19
14.08
Beta
0.69
0.88
0.87
Price to Sales
3.71
4.36
5.02
Price to Book (MRQ)
2.41
6.52
6.38
Price to Tangible Book (MRQ)
--
9.80
9.58
Price to Cash Flow
14.94
25.85
25.28
Price to Free Cash Flow
17.93
6.24
9.72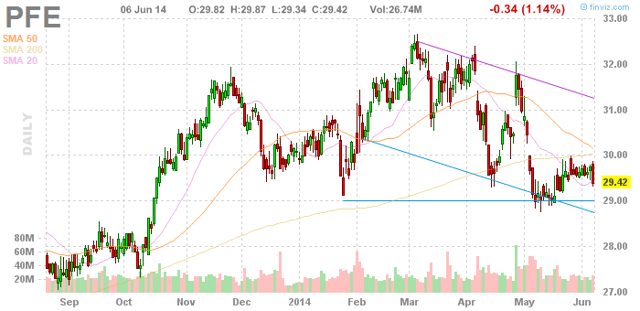 Disclosure: The author has no positions in any stocks mentioned, and no plans to initiate any positions within the next 72 hours. The author wrote this article themselves, and it expresses their own opinions. The author is not receiving compensation for it (other than from Seeking Alpha). The author has no business relationship with any company whose stock is mentioned in this article.