Today, with more brands competing for customers than ever before, it's imperative that companies stay appealing to and connected with their consumers to maintain market share.
Social media has played a massive role in brand appearance and consumer adoption since the first internet-based social media sites appeared in the mid-2000s. Corporate marketing has shifted significantly to exploit this development.
With that in mind, we decided to seek out the five most "liked" companies on Facebook (NASDAQ:FB). They have massive followings and are great at collecting likes and shares, but does their social media presence really help boost sales?
Number 5 on the list is a privately held company, Red Bull, with 44 million likes. The energy drink company has used social media marketing to their advantage by keeping customers up to date on the wild events and feats of physical danger they sponsor to promote the brand. The company has also seen sales nearly triple since 2004, largely due to an increase in marketing.
Disney (NYSE:DIS) ​is number 4 with 48 million likes. This media conglomerate has been the go-to children's entertainment source for nearly 25 years, with millennials and Generation Z being raised on classic movies such asThe Lion King and their widely popular TV programs. Since Facebook's inception in 2004, Disney's stock has also seen a 300% increase.
Next is MTV (NASDAQ:VIAB) with 50 million likes. MTV's boom in popularity in the 1980s was quelled until social media sites allowed the company to promote reality TV shows such as The Jersey Shore. In recent years, the father of the music video has returned profits nicely for its parent Viacom.
Coca-Cola Company (NYSE:KO) seems like a natural addition to the list with its impressive 84 million likes, close to double MTV's likes. The stock reaction reflects that wild jump, as the blue-chip stock has returned almost 100% in the past 5 years alone.
Facebook (FB) obviously had a head-start, and dominates with 150 million likes. There is no surprise here the world's largest social media site by users comes in at number one in likes. The company's success is almost directly tied to its amount of likes, as it increases about proportionally to its total number of users, a key metric for valuing media sites.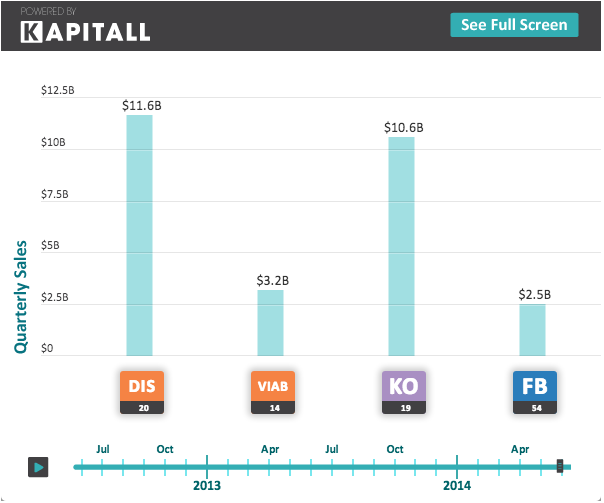 Click here for the full, interactive chart.
There is no doubt that social media sites allow companies a different path to consumer eyeballs and that this way can be extremely effective. However, can these companies keep up their positive social acceptance and sustain increasing profits or is social media a false indicator of success?
1. Walt Disney Co. (DIS): Operates as an entertainment company worldwide. Market cap at $144.49B, most recent closing price at $84.31.
2. Viacom, Inc. (VIAB): Operates as an entertainment content company in the United States and internationally. Market cap at $37.09B, most recent closing price at $86.73.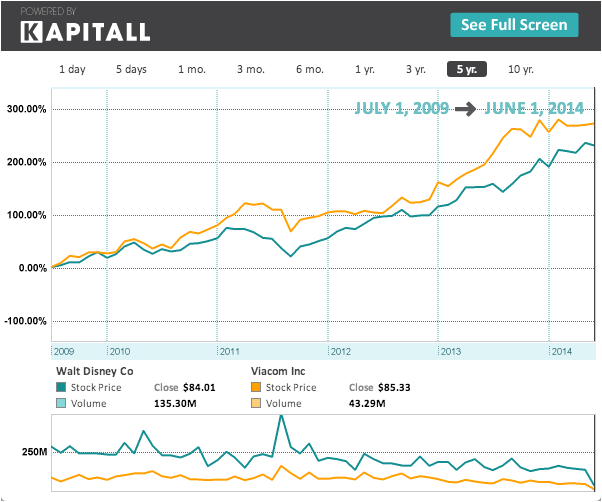 Click here for the full, interactive chart.
3. The Coca-Cola Company (KO): Distributes, and markets nonalcoholic beverages worldwide. Market cap at $178.31B, most recent closing price at $40.56.
4. Facebook, Inc. (FB): Operates as a social networking company worldwide. Market cap at $168.12B, most recent closing price at $65.78.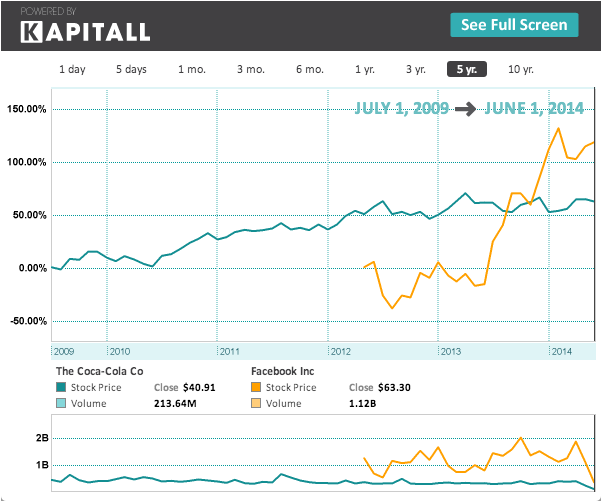 Click here for the full, interactive chart.
Disclosure: The author has no positions in any stocks mentioned, and no plans to initiate any positions within the next 72 hours.
Business relationship disclosure: Kapitall is a team of analysts. This article was written by Robert Citrino, one of our writers. We did not receive compensation for this article (other than from Seeking Alpha), and we have no business relationship with any company whose stock is mentioned in this article.