Halcon Resources Corp. (NYSE:HK) is a US oil and gas E&P company that has its lease holdings in some of the hottest US unconventional oil and gas fields. These include the Bakken/Three Forks, El Halcon - just beyond the tip of the Eagle Ford, The Tuscaloosa Marine Shale, and the Utica/Point Pleasant formations. Halcon Resources Corp. is particularly interesting because it is being run by CEO Floyd Wilson. He is the man who built up Petrohawk Energy in a short amount of time. Then he sold it for $12.1B to BHP Billiton (NYSE:BHP). Halcon Resources is his next venture, which he has nearly identical plans for. Shareholders are hoping for another big win.
With Petrohawk, Wilson was one of the first into the Eagle Ford; and Petrohawk ended up with some excellent leaseholds. Halcon Resources came late to the Bakken this time. However, it was one of the early developers in El Halcon field; and it is among the early developers in the Tuscaloosa Marine Shale (TMS). It will be interesting to see how Floyd Wilson does this time around.
Since Floyd Wilson wasn't able to buy into the Bakken/Three Forks early, he has had to impress people with his (HK's) engineering acumen. Most recently, this has been working fairly well. The table below shows the results of some of the recent technological improvements in the Bakken such as slickwater fracking and the use of more proppant.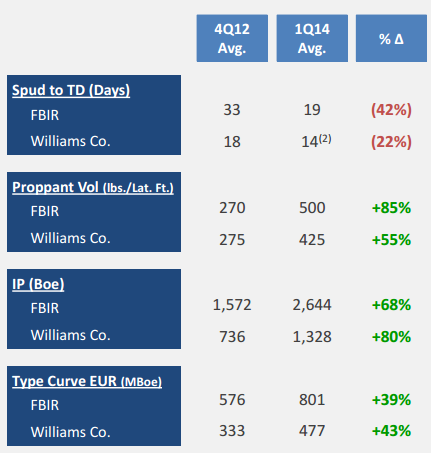 As investors can see, HK has managed to improve the IP rates immensely in the last two years, partially by significantly increasing the amount of proppant HK uses to frack its Bakken wells. It has improved the EURs (expected ultimate recoveries) by roughly 40%. Meanwhile HK has managed to decrease the "Spud to TD (days)" time by 42% in one county and 22% in another county. This is impressive. HK has also managed to save about $1.3B per well in drilling costs by going to a 4 batch pad drilling scheme and walking drill rigs versus single well drilling. In the FBIR this has also resulted in the drill time being cut roughly in half. In 2014 100% of wells will be drilled on multi-well pads. These wells now seem clearly profitable.
More in question is the profitability of the Halcon field and the Tuscaloosa Marine Shale wells. HK has presented the following two well type curves for the TMS.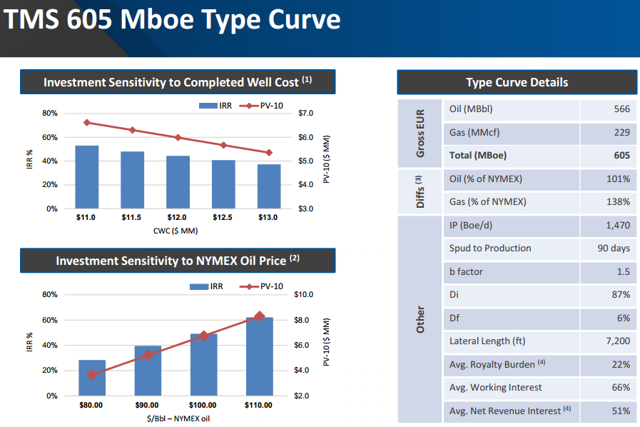 Click to enlarge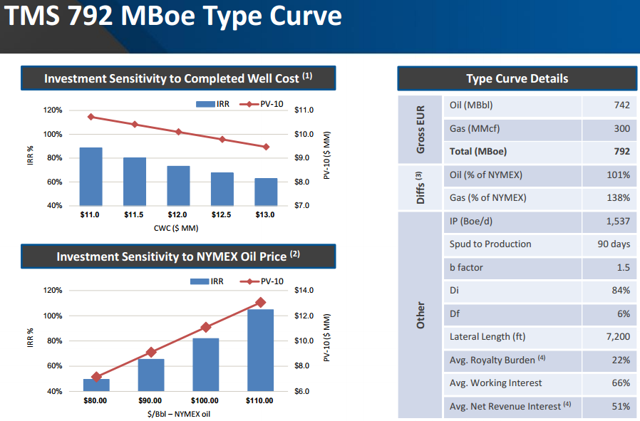 Click to enlarge
I don't think HK can claim to have proved out either of the above two type curves. However, in its June 9, 2014 TMS Operational Update, HK cited a 24 hr. IP rate of 1,548 Boe/d for its Horseshoe Hill 11-22H-1 well (92% working interest) in Wilkinson County, Mississippi. This is approximately consistent with the TMS 792 Mboe type curve. In other words it has an EUR of approximately 792 Mboe.
HK has also drilled the Black Stone 4H-2 (87% WI) in Wilkinson County, Mississippi with a 5,400 foot lateral. Completion operations are expected in June 2014. HK also spudded the Fassman 9H-1 well with a planned 6,030 foot lateral and the SD Smith 1H well with a planned 7,660 foot lateral. Both of these were also in Wilkinson County, Mississippi. HK should soon have more information for investors. I would expect another operational update sometime in July or August 2014.
All told HK plans to spud 10 to 12 operated wells in the TMS with a two rig program in FY2014. Plus HK expects to participate in 15 to 20 non-operated wells in FY2014. Naturally the company will be most interested in the wells for which it is the operator. Investors will probably have the same attitude. HK also announced the signing of a definitive agreement with credit funds and accounts managed by affiliates of Apollo Global Management LLC (NYSE:APO). It will invest $400 million in HK's wholly owned subsidiary, HK TMS LLC. APO will get 150,000 of HK TMS preferred shares at first; and it may acquire another 250,000 preferred shares of HK TMS. The preferred shares will yield 8% per annum.
The company has not done much development in the TMS yet; but HK has about 314,000 net "core" acres in the play. It has only about 100,000 net acres of leaseholds in the El Halcon and only about 134,000 net acres in the Bakken/Three Forks. If HK is to be as successful as it aspires to be, it almost has to make a success of its acreage in the TMS. If investors want to get some idea of how likely this field will be to become highly commercially profitable, they can look at the map below which includes several other developers' recent wells.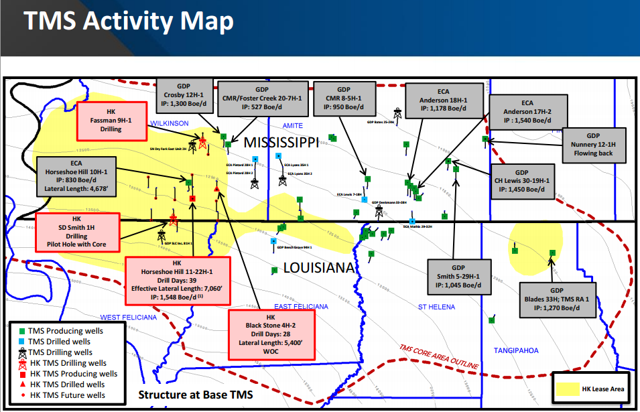 Click to enlarge
The map above is not awe inspiring in its results, especially since wells have to be drilled very deeply. Such wells are expensive. Still my general sense is that HK belongs on the upper end of the results curve. It is proving in the Bakken that it can drill very profitable deep wells; and there is no reason to think that it cannot transfer that technology to the TMS. The well cited above had a total depth of 21,171 feet. Further HK has acquired the rights to develop an oil handling terminal at the Port of Natchez. Then it will be able to ship more easily. Plus it can already get LLS pricing (effectively Brent pricing).
The total clay content in the TMS is higher than most oilmen would want. However, the percent of swelling clays (smectite) is low. In fact it is very similar to the El Halcon field. This makes HK believe it can be very successful in the TMS given time to work out the kinks. I have not yet seen enough data to fully believe this; but I would not disbelieve HK's claims either. The chart below shows the projected well costs -- about $13.3 million per well currently.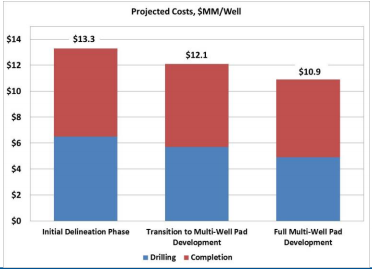 As investors can see, the costs are expected to go down over time as the company moves to pad development from the initial delineation phase. It seems quite plausible that HK could be terrifically successful in this field; but before investors go whole hog into HK, they will want to see consistent results and cost containment.
In that sense the Iraq War III is a blessing for HK. HK is producing 43,000 Boe/d as of June 4, 2014. About 84% of this is oil (or about 36,120 Bopd of production). Since only 27,588 Bopd are hedged for the final 9 months of 2014, HK should have a substantial amount of unhedged oil production during the rest of the year as the amount of oil produced is expected to go up dramatically over the course of 2014. When you consider how fast the overall production is growing (32,807 Boe/d at the end of Q1 2014 PF to about 43,000 Boe/d as of June 4, 2014), you realize there could be a large amount of unhedged oil for the rest of 2014. Many estimate the Iraq War III may push oil prices up by 10% to 20%. This should mean a considerable extra profit for HK, if the spike upward is sustained throughout 2014 (or even for a good part of it). An extra $20/barrel on 10,000 bopd for 7 months amounts to about another $42.6 million in revenues. This is significant revenue; and it would have a very positive impact on HK's earnings. This is about a +4% increase in total estimated revenues for FY2014; and even +2% increase would be a big positive.
All told, things are looking up for HK. It is not a robustly healthy company yet; but it is making progress. Investors will want to watch future developments for HK closely; but with the Iraq War III to help results, HK is a stock many will want to at least nibble on.
Before doing so, investors should be aware that there will likely be dilution of its stock in the near future. In its May 2014 meeting, the shareholders approved an increase in the amount of common stock from 670 million shares to 1.34 billion shares. There seems little doubt that HK intends to use at least some of this extra allotment to raise money. Hence there will be dilution.
The two year chart of HK provides some technical direction for this trade.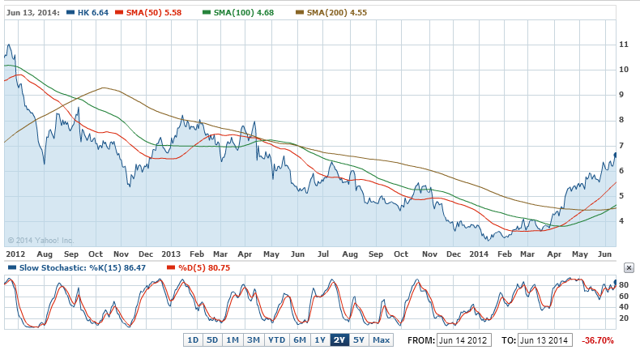 Click to enlarge
The slow stochastic sub chart shows that HK is at overbought levels. The main chart shows that HK has been in a steep uptrend since late March 2014. This uptrend looks a bit overextended. However, the news has almost all been good lately. Until we see some negative news from HK, there is no reason to think the stock cannot continue to go up in the near term, especially with the recent spike in oil prices due to the Iraq War III. This is especially important because HK has a Quick Ratio (mrq) of 0.47x and an Interest Coverage Ratio (mrq) of 0.83x. This means it will have trouble paying its bills without selling more of its assets (as it has been doing). The oil spike due to the Iraq War III could do a lot to close the debt servicing gap for HK; and this makes HK a much better buy. Even though it has a total debt/total capital ratio (mrq) of 71.91%, it may be at least a low buy with the positive recent news and the Iraq War III generated oil spike. CAPS rates it three stars (a hold). The average analyst rates it 2.6 (a high hold). I think the above data move it slightly higher to a low buy.
However, investors should pay close attention to the economy. A bad performing world and US economy could send oil prices down even in the face of the Iraq War III. Plus some of the recent up move has almost certainly been due to short covering. The short interest was 23.50% of the float as of May 30, 2014. Investors don't want to be on the wrong side of a significant move downward, if the economy weakens significantly. On the other hand, if you are a trader, you may wish to get in quickly to ride what is left of the oil price spike (and hence an HK price spike) upward as a trade. The high short interest could make HK's stock price rise very quickly indeed.
NOTE: Some of the fundamental financial information above is from Yahoo Finance and TD Ameritrade.
Good Luck Trading.
Disclosure: The author has no positions in any stocks mentioned, but may initiate a long position in HK over the next 72 hours. The author wrote this article themselves, and it expresses their own opinions. The author is not receiving compensation for it (other than from Seeking Alpha). The author has no business relationship with any company whose stock is mentioned in this article.