Most of the Russell 1000 large-cap stocks pay dividends. In fact, 698 of them pay some dividends, 581 companies have a yield greater of 1%; 329 companies have a yield greater of 2%; 168 companies have a yield greater of 3%, and 74 companies have a yield greater of 4%.
A Ranking system sorts stocks from best to worst based on a set of weighted factors. Portfolio123 has a powerful ranking system which allows the user to create complex formulas according to many different criteria. They also have highly useful several groups of pre-built ranking systems, I used one of them the "All-Stars: Greenblatt" in this article. The ranking system is based on investing principles of the well-known investor Joel Greenblatt.
The "All-Stars: Greenblatt" ranking system is taking into account just two factors; Return on Capital and Earnings Yield (E/P) in equal proportions.
In order to find out how such a ranking formula would have performed during the last 15 years, I ran a back-test, which is available by the Portfolio123's screener. For the back-test, I took all the 7,014 stocks in the Portfolio123's database. The back-test results are shown in the chart below. For the back-test, I divided the 7,014 companies into twenty groups according to their ranking. The chart clearly shows that the average annual return has a very significant positive correlation to the "All-Stars: Greenblatt" rank. The highest ranked group with the ranking score of 95-100, which is shown by the light blue column in the chart, has given by far the best return, an average annual return of about 20%, while the average annual return of the Russell 1000 index during the same period was about 3.2% (the red column at the left part of the chart). Also, the second and the third group (scored: 85-90 and 90-95) have given superior returns. This brings me to the conclusion that the ranking system is very useful.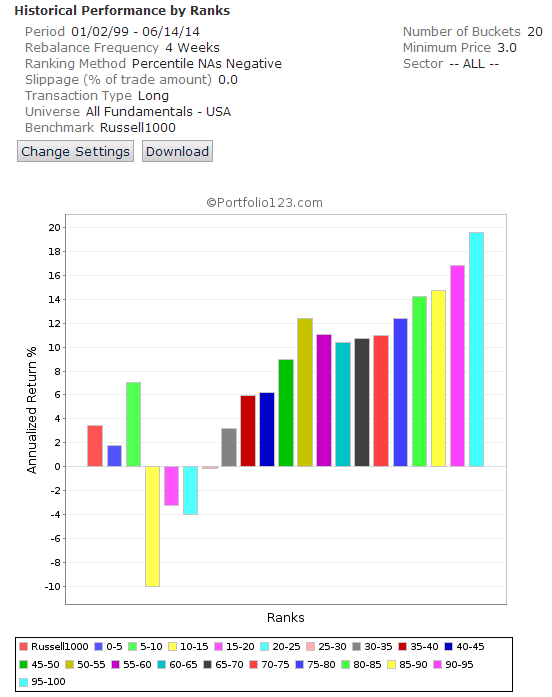 After running "All-Stars: Greenblatt" ranking system on all Russell 1000 stocks that pay a dividend with higher than 4% yield, on June 15, I discovered the twenty best stocks, which are shown in the table below. In this article, I will focus on the second stock of the list Altria Group Inc. (NYSE:MO).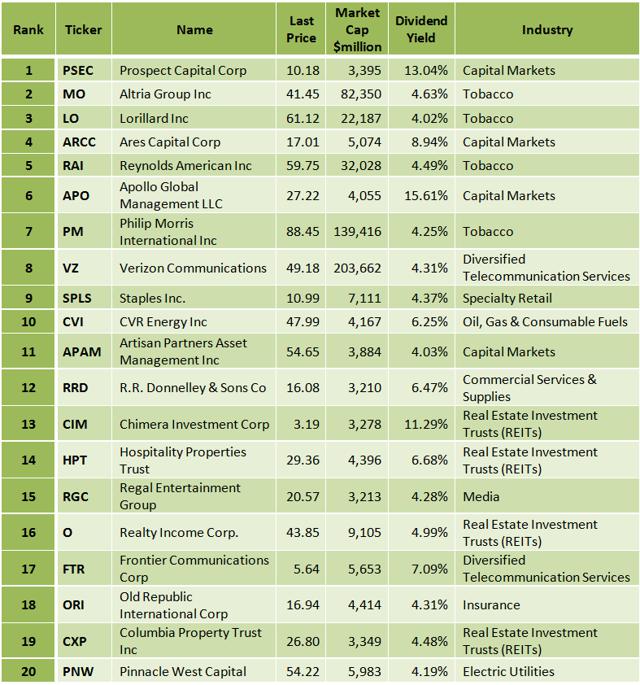 Source: Portfolio123
The Company
Altria Group, Inc. is the largest U.S. cigarette manufacturer. The company manufactures and sells cigarettes, smokeless products, and wine in the United States and internationally. Its cigarette brands include Marlboro, Virginia Slims, Parliament, Benson & Hedges, Basic, and L&M. Altria was founded in 1919 and is headquartered in Richmond, Virginia.
Valuation Metrics
The table below presents the valuation metrics of MO, the data were taken from Yahoo Finance and finviz.com.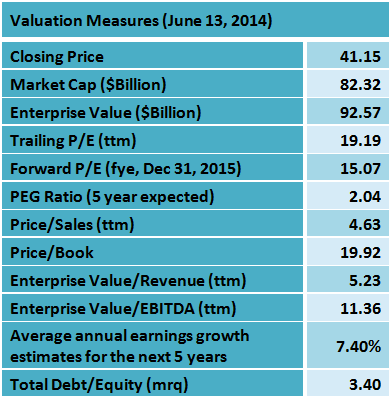 MO's valuation metrics are moderately good; the forward P/E is pretty low at 15.07, and the Enterprise Value/EBITDA ratio is low at 11.36, but the debt to equity is very high at 3.40.
Latest Quarter Results
On April 24, Altria reported its first-quarter 2014 financial results, which were in line with expectations.
First-Quarter Highlights
Altria's 2014 first-quarter reported diluted earnings per share decreased 14.5% to $0.59, as comparisons were affected by special items.
Altria's 2014 first-quarter adjusted diluted EPS, which excludes the impact of special items, increased 5.6% to $0.57.
Altria revises its 2014 full-year reported diluted EPS guidance from a range of $2.51 to $2.58 to a range of $2.53 to $2.60.
Altria reaffirms its 2014 full-year adjusted diluted EPS guidance to be in a range of $2.52 to $2.59, representing a growth rate of 6% to 9% from an adjusted diluted EPS base of $2.38 in 2013.
In the report, Marty Barrington, Chairman and Chief Executive Officer of Altria said:
During the first quarter, Altria grew adjusted diluted EPS by 5.6% behind the strength of our core tobacco businesses and their leading premium brands. Our smokeable and smokeless products segments grew their adjusted operating companies income and expanded margins. We also continued to make disciplined investments to grow new income streams with innovative products.
Dividend and Share Repurchase
Altria expects to continue to return a large amount of cash to shareholders in the form of dividends by maintaining a dividend payout ratio target of approximately 80% of its adjusted diluted EPS. The forward annual dividend yield is high at 4.63% and the payout ratio is at 87%. The annual rate of dividend growth over the past three years was at 7.2%, over the past five years was at 1.4%, and over the past ten years was negative at -3.8%. The ten-year figure is misleading because of PM spinoff in 2008 and KRFT spinoff in 2007.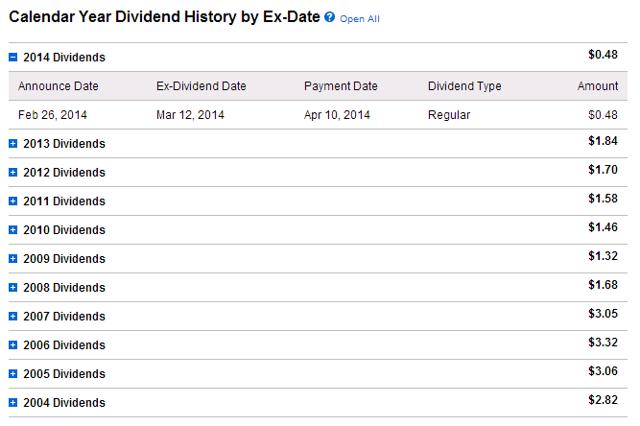 Source: Charles Schwab
During the first quarter of 2014, Altria repurchased approximately 7.5 million shares of its common stock at an average price of $35.98 for a total cost of approximately $272 million. Altria has approximately $185 million remaining in the current $1 billion program, which it expects to complete by the end of the third quarter of 2014.
Competitors
A comparison of key fundamental data between Altria and its competitors is shown in the table below.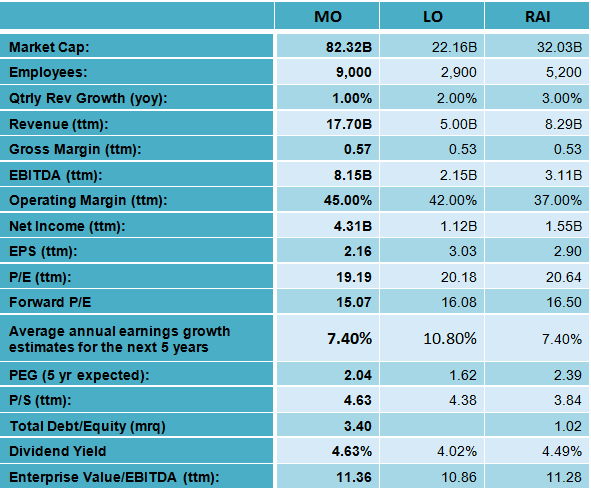 There is not a big difference between Altria's valuation metrics and those of its competitors. However, Altria has the highest dividend yield among the stocks in the group.
Technical Analysis
The charts below give some technical analysis information.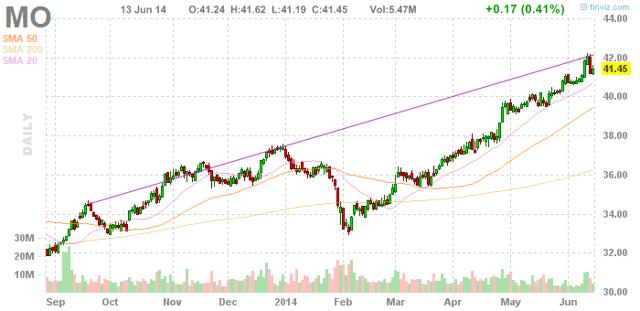 Chart: finviz.com
The MO stock price is 1.99% above its 20-day simple moving average, 5.26% above its 50-day simple moving average and 14.29% above its 200-day simple moving average. That indicates a short-term, mid-term, and a long-term uptrend.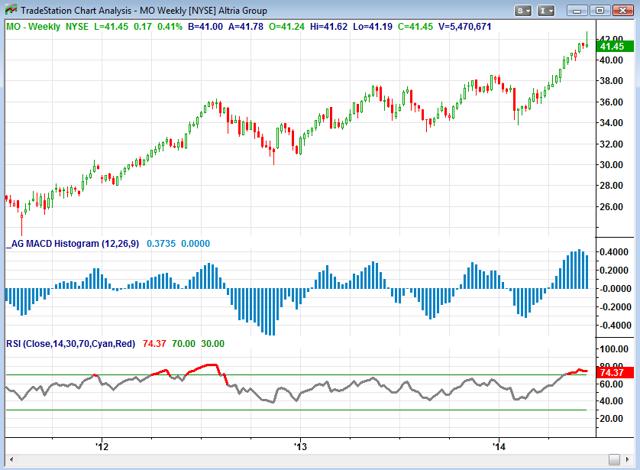 Chart: TradeStation Group, Inc.
The weekly MACD histogram, a particularly valuable indicator by technicians, is at 0.3735 and descending which is a neutral signal (a rising MACD histogram and crossing the zero line from below is considered an extremely bullish signal). The RSI oscillator is at 74.37 which indicate overbought conditions.
Analyst Opinion
Analysts' opinion is divided, among the eleven analysts covering the stock, two rate it as a strong buy, two rate it as a buy, and seven analysts rate it as a hold.
Major Developments
On April 01, Altria announced that its subsidiary, Nu Mark LLC, has completed the acquisition of the e-vapor business of Green Smoke, Inc. and its affiliates. The transaction is valued at approximately $110 million in cash and up to $20 million in incentive payments. Green Smoke sells premium products, which include both rechargeable and disposable e-cigarettes, and reported revenues of $40 million in 2013. According to Altria, during the first quarter of 2014, Altria and its companies continued to invest in innovative products to grow new income streams. In June, Nu Mark LLC will begin its rolling national launch of MarkTen e-cigarettes. Although the market for electronic cigarettes is small, about $1 billion in 2013 - compared to overall spending on tobacco products of $100 billion, it is growing fast. Although Altria was last of the top-three tobacco companies to enter the e-vapor business, I believe that the company will gain market share in this field due to its strong distribution channels.
Conclusion
Altria has moderately good valuation metrics and solid earnings growth prospects, and it increased its 2014 full-year EPS guidance. The company is generating strong cash flow and it returns value to its shareholders by very rich dividend payments and by stock buyback. In my opinion, although MO's stock is not a bargain right now, it should be included in a diversified large cap dividend stocks portfolio.
Disclosure: The author has no positions in any stocks mentioned, and no plans to initiate any positions within the next 72 hours. The author wrote this article themselves, and it expresses their own opinions. The author is not receiving compensation for it (other than from Seeking Alpha). The author has no business relationship with any company whose stock is mentioned in this article.