The weight of the sizable gain since mid-May - and really since mid-April - finally proved to be more than the market could bear last week. Though it was a small loss, the first weekly loss in the past four is just enough to cast a shadow of doubt on whether or not stocks can actually justify their values at these lofty levels. The answer is a work in progress, but it's not an encouraging one so far.
We'll look at the near-term and long-term odds for the market in a moment, right after a quick run-down of last week's and this week's economic undertows.
Economic Calendar
It wasn't an overly eventful week last week in terms of economic data, but we got a couple of important data nuggets.
One of the biggies was retail sales for May, which were positive, but not as robust as expected. Experts were looking for a 0.7% increase in overall retail consumption, and a 0.4% rise in retail sales sans autos. Instead, we only got a 0.3% uptick in overall retail spending, and we only saw 0.1% more consumer spending last month when taking automobiles out of the equation.
Retail Sales, Year-Over-Year Change Chart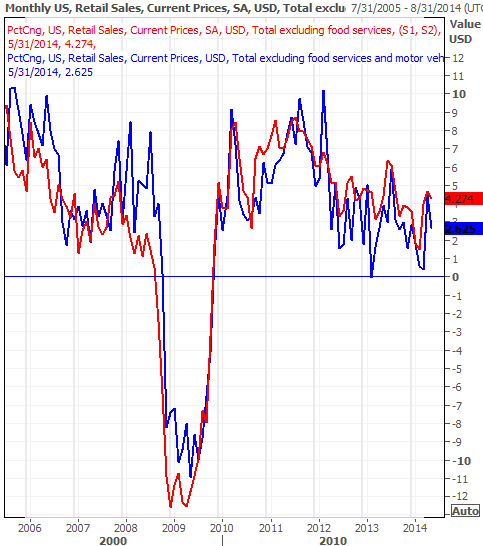 Source: Thomson Reuters
The other semi-important number we heard last week was May's producer price inflation rate.
In April we saw alarming surges in producer and consumer inflation rates, with the former hitting an annualized pace of 2.15% and the latter reaching a multi-month high of 1.95%. While both levels are tolerable, if inflation rates were to continue to rise at that pace, we could run into trouble real fast. Well, though we only have half the story so far with last month's producer inflation figures being unveiled on Friday, it looks as if the inflation surge has been capped. The producer price inflation edged down to 2.0% last month.
We're not completely out of the woods yet - there's a smidgen of a chance consumer inflation could roll in higher for May when we get the official figure on Tuesday. It's not a huge risk at this point though.
Economic Calendar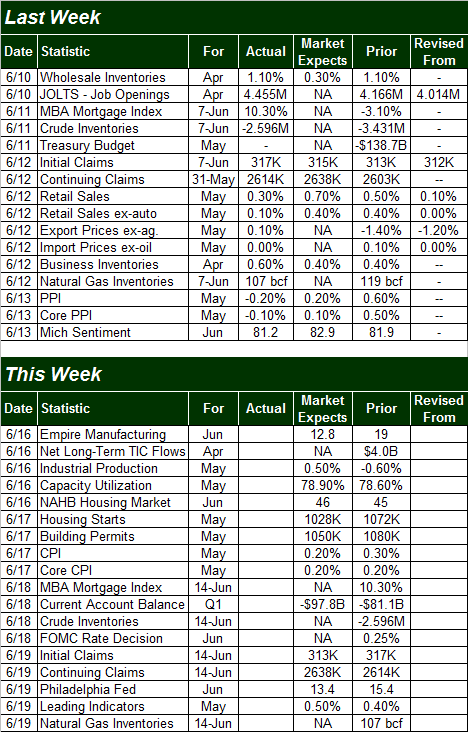 Source: Briefing.com
This week is going to be pretty loaded, with the fireworks starting as early as Monday with May's capacity utilization and industrial productivity numbers. Tuesday's housing starts and building permits data kick off a couple of weeks' worth of real estate and construction data. And, as was already noted, we'll also get consumer inflation figures for May on Tuesday.
Real Estate Trends Chart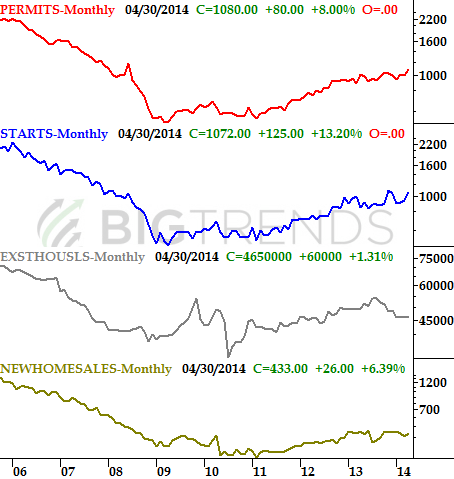 Source: Census Bureau and National Association of Realtors
Stock Market Index Analysis
Before embracing any technical cues the charts gave us last week, one warning is in order - take everything with a grain of salt, because more than anything right now, stocks are trapped in that vexing no-man's land where they're too overbought to go higher but too well-supported to move any lower. A light breeze in the right or wrong direction could change everything - for better or worse - in an instant. Just stay nimble. With that being said…
While the bears failed to get a firm grip last week - ending the week with a small bounce on Friday - it's premature to say we're back in a bullish mode. In fact, when we take a close look at the weekly chart of the NASDAQ Composite (COMP) (NASDAQ:QQQ) we see a couple of red flags that when seen at the same time should be alarming.
The first red flag is the way the NASDAQ's volatility index, the VXN, has already tested a key floor at 12.70. Though it's yet to start making higher highs, this is where it is most likely to start doing so. At the same time, though the last four weeks were bullish ones after the composite pushed up and off the key 200-day moving average line, it hadn't been truly tested in the weekly timeframe until last week when it bumped into its upper 26-week Bollinger band. Granted, the NASDAQ has gently bumped into and guided the upper 26-week band upward for the better part of 2013, but there's no evidence we'll see that gradual bullish effort this time around. This encounter with the upper Bollinger band could end up beginning a pullback.
NASDAQ Composite & VXN - Weekly Chart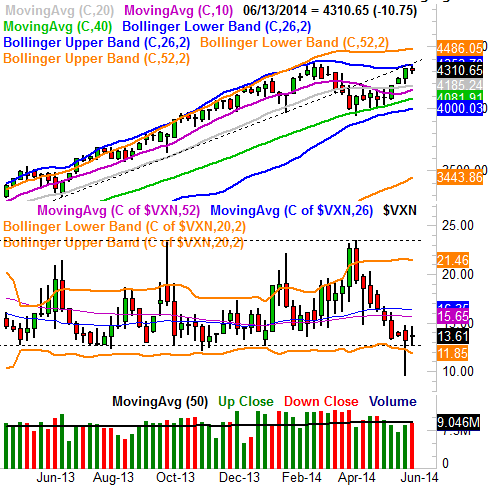 All charts created with TradeStation.
Not a lot changes when we zoom into a daily chart of the NASDAQ Composite, though in this timeframe we can just see how overextended the composite got last week. We can also see there's a swath of support around 4180, should things turn sour.
NASDAQ Composite & VXN - Daily Chart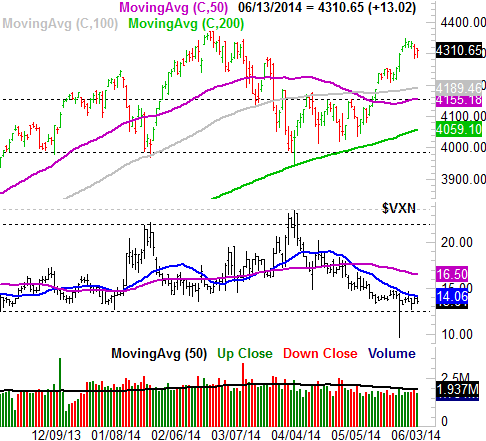 Not a lot changes when we switch views to the weekly chart of the S&P 500 (SPX) (NYSEARCA:SPY). We blew past the ceiling at 1900 three weeks ago, and last week's lull was largely an expected break. We've yet to see any signs of impending doom here. In fact, the S&P 500 could slide all the way back to the floor around 1900 without technically snapping the uptrend. You could even make the case that there's a key support level currently around 1862, where there's a rising support line extending all the way back to early 2013. That's also where the 100-day moving average line (gray) is right now.
S&P 500 & VIX - Weekly Chart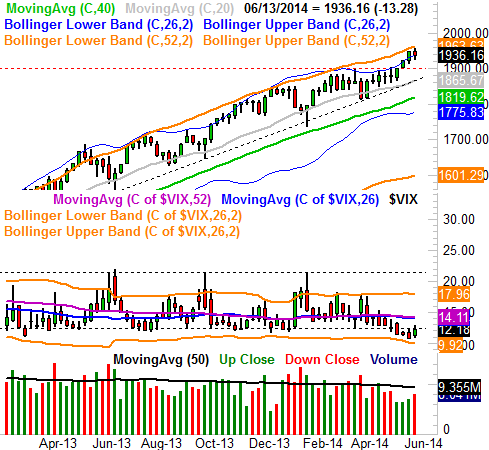 The daily chart of the S&P 500 basically tells us the same things the daily chart of the NASDAQ did… while stocks may be overbought in the bigger picture, they've yet to pull under any critical support areas. For the S&P 500, the aforementioned 1900 is one of those lines, but the 20-day moving average line at 1918 is also a key support line. Indeed, there's a whole zone of technical support all the way down to 1885. Until it's broken, the S&P 500 remains in the hunt for more summertime bullishness.
S&P 500 & VIX - Daily Chart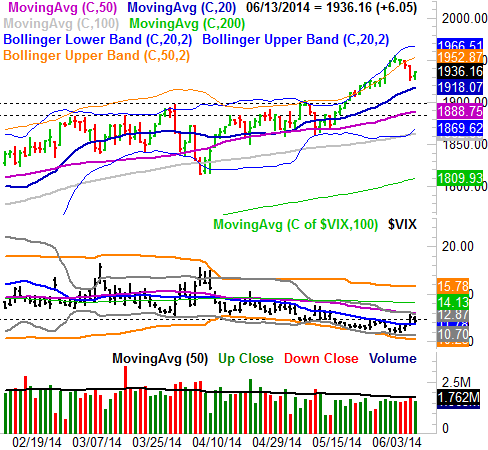 The consensus, therefore, is one of waiting for the bulls or the bears to make a more meaningful move in the broad market (NYSEARCA:DIA) (NYSEARCA:IWM). While several more things need to fall into place before the rally is on firm footing again, such a possibility is still on the table. Conversely, until the S&P 500's volatility index, the CBOE Volatility Index (VIX) (NYSEARCA:VXX), starts to form a new uptrend above its ceiling at 12.9 (and that's assuming the S&P 500 finally starts to break down under its floors), almost needless to say, this is going to be a pivotal week.
Disclosure: The author has no positions in any stocks mentioned, and no plans to initiate any positions within the next 72 hours. The author wrote this article themselves, and it expresses their own opinions. The author is not receiving compensation for it. The author has no business relationship with any company whose stock is mentioned in this article.