Last week marked a key turning point for chip giant Intel (NASDAQ:INTC). The company came out Thursday afternoon and raised its revenue forecast for both Q2 and the full year. A forecast raise like this was something the bulls have been wanting for a couple of years. Intel shares spiked to a new yearly high on the news, and now the company needs to follow this up with a dividend raise. Today, I'll discuss the latest Intel news and what needs to be next.
Forecast raise:
Intel came out and raised its revenue midpoint for the Q2 period from $13.0 billion to $13.7 billion. The company also narrowed its range in either direction from $500 million to $300 million, which makes sense since the quarter is almost over. Intel should obviously have a much better idea of where things are headed, so the guidance should be more precise. Intel raised its Q2 gross margin forecast from 63% to 64%. The company also raised its R&D plus MG&A spending by $100 million, mostly due to revenue and profit dependent items. Intel raised its expected tax rate from 27% to 28% due to more profits in higher tax jurisdictions.
For the full year, the company raised its guidance in stride. The company now expects "some" revenue growth, as opposed to the previous guidance for "approximately flat" revenues. The company also believes its gross margin forecast will come in higher than expected. Intel also raised its operating expense forecast and effective tax rate forecast. More guidance and commentary will be provided at the July earnings report.
This forecast raise was something the Intel bull crowd was looking for at both the January and April reports. That camp saw Intel's original 2014 forecast back in November 2013 as disappointing, and was hoping that Intel sandbagged its guidance. Intel noted stronger than expected demand for business PCs, which most point to as the upgrade cycle with support for Windows XP ending. It will be interesting to see what Intel has to say about the consumer as well.
Analysts quick to react:
Intel could have waited until the Q2 report to raise its yearly forecast. Had the company done that, it would have reported a blowout Q2 period. Management obviously decided to break the good news early, something we haven't seen in a number of years. Over the past couple of years, Intel was known for lowering its revenue forecast, not raising it.
As a result, analysts needed to adjust their estimates. Going into Thursday, the average Q2 revenue estimate was for $13.02 billion, which was about 1.6% growth from last year's period. Analysts were also looking for EPS of $0.47, as opposed to $0.39 in the prior year period. Current estimates, as of Sunday, call for $13.56 billion and $0.51. You may realize that the current number is still a bit under Intel's midpoint. I don't think that is a case of analysts not believing Intel. I think it is more due to the fact that not all analysts have changed their estimates yet. By the time we get to earnings, I would be very surprised if the analyst average is not much closer to or even above Intel's midpoint.
The full-year numbers are a little more tough to analyze, as the phrase "some revenue growth" is a little vague. Technically, 0.1% year-over-year growth is "some", but 2% growth is as well. Intel provides numerical guidance for quarterly periods, but not for the year, so the yearly guidance is open to interpretation.
Going into Thursday, analysts were looking for 2014 revenues of $53.06 billion, roughly 0.7% growth from 2013. Analysts were looking for "some" revenue growth, which meant that the street was basically expecting a guidance raise at some point. As of Thursday, analysts were looking for $1.89 in EPS this year, the same figure Intel achieved last year. As of Sunday, analysts were looking for $54.28 billion, which represents 3% yearly growth. In my book, that's more than just "some" revenue growth, so we'll see if analysts turn out to be overly optimistic. Intel could also change its wording a bit at the Q2 report. In terms of EPS, analysts are now looking for $1.99, a dime rise over last year.
As you can most likely expect, a lot of analysts followed through with rating and price target hikes. I won't discuss all of them, but you can view a list here. A lot of price targets were raised into the high $20s or low $30s, with one going to $40. However, we still have that one large bear over at Goldman Sachs, which only raised its price target from $17 to $18. If that analyst turns out to be right, it would mean Intel shares need to fall about 40% from current levels. That's a little bearish, wouldn't you say?
Time to follow up:
One of the areas where investors are most frustrated with Intel is the dividend. It has been nearly two years since the dividend was last raised in 2012. Intel has continued on with the $0.225 per quarter, or $0.90 per year payout, while other large cap tech names have continued to raise their dividends. Intel did have the highest annual yield in US large cap tech for a while, but that lead was lost on Friday to Cisco Systems (NASDAQ:CSCO).
After Q1, I analyzed the prospects for a dividend raise this year. Intel has a payout target of 40% of its free cash flow, and in 2013, the company paid out 44.50%. In the past three years, Intel has paid out more than 40%, with 2012 reaching a high of 55.36%. So if Intel's free cash flow stayed the same in 2014 as it was in 2013, the company would be likely to pay out closer to 45% this year, given the share count has risen so more dollars would be paid out.
Intel reported a large drop in Q1 free cash flow this year, as seen in the 10-Q filing. Net income was down and so were the "adjustments", but the company also spent more on capital expenditures. Free cash flow was down roughly $1.3 billion from the prior year period. Even if Intel in Q2 through Q4 this year has the same free cash flow as last year's comparable period, it would mean that the payout rate would rise a bit this year. Basically, a $1 billion or so drop in free cash flow would put the dividend at around a 50% payout clip.
Now that Intel has raised its forecast, the company should produce more net income. That hopefully will translate into more operating cash flow, and since Intel reiterated its capex forecast, more free cash flow as well. That being said, I think that Intel needs to follow up with a dividend raise this year. I'm not even calling for a Microsoft (NASDAQ:MSFT) like raise in the 20% area or even an Apple (NASDAQ:AAPL) like 8% raise. One penny would be fine, and that's 4.44%. Intel investors have held through a couple of tough years, but Intel's turnaround is now officially here. With revenues expected to grow this year, I think it is time to reward investors.
One penny for each of the last two dividend payments of the year would also set up Intel for perhaps a bigger raise next year when things really are expected to improve. Additionally, an extra penny would only be about $100 million extra in dividend payments this year. With a company that has around $10 billion in cash and investments that can be used domestically, Intel has the financial flexibility to do this. Additionally, if free cash flow does improve a bit the rest of the year, this wouldn't be asking for a 55% or 60% payout rate. A payout rate in the mid to high 40% area would be fine. Intel usually declares a dividend in the last ten days of July, so that could be a time to watch. Intel may also announce a larger capital return plan before then, and I'll cover that in my next article.
Shorts could continue to flee:
About a month ago, I detailed a key psychological shift for Intel in regards to short interest. At that point, Intel's short interest had declined by more than 25% from its peak reached in October 2013. The end of April 2014 update showed Intel's short interest at its lowest point since October 2012. Well, in May, the short covering continued, as you can see in the chart below.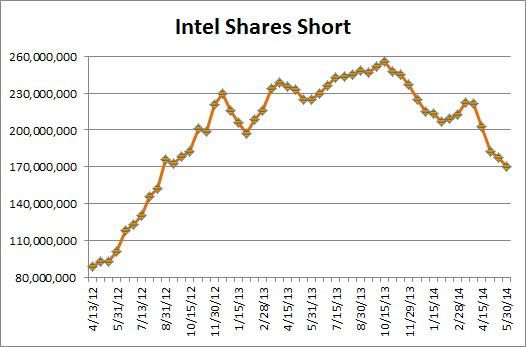 During the month of May, another roughly 12.365 million shares short were covered. The latest short interest update now shows just over 170 million shares short for Intel. At this point, more than 85 million shares have been covered since the peak, basically 1 in every 3 shares short. Intel's short interest is now at its lowest point since the middle of August update in 2012. Intel still remains the most shorted name when compared to large cap tech peers, but short interest is coming down in a big way. It will be interesting to see what happens with short interest in June now that Intel has raised its forecast.
Final thoughts:
Intel came through with a guidance raise last week, something investors have been waiting for since 2012. It was a couple of disappointing years for the chip giant, but the turnaround is starting to materialize in a big way. With XP support ending, it appears that businesses are upgrading, and that's good for Intel. This should take some of the pressure off Intel's mobile push into tablets and smartphones. Analysts were quick to react with a lot of price target and estimate hikes.
Now though, Intel needs to follow up and reward its investors. While the stock jumped on the news, it is time for Intel to raise the dividend for the first time since 2012. This doesn't have to be a massive raise, as one penny will do for now. A dividend raise will get income investors interested in Intel again, and would be another strong signal from the company that the business is trending in the right way.
Disclosure: The author has no positions in any stocks mentioned, and no plans to initiate any positions within the next 72 hours. The author wrote this article themselves, and it expresses their own opinions. The author is not receiving compensation for it (other than from Seeking Alpha). The author has no business relationship with any company whose stock is mentioned in this article.
Additional disclosure: Investors are always reminded that before making any investment, you should do your own proper due diligence on any name directly or indirectly mentioned in this article. Investors should also consider seeking advice from a broker or financial adviser before making any investment decisions. Any material in this article should be considered general information, and not relied on as a formal investment recommendation.