Foresight Energy LP (NYSE:FELP), a coal producer operating in the Illinois Basin, plans to raise $350.0 million in its upcoming IPO.
The St. Louis, Missouri-based firm will offer 17.5 million shares at an expected price range of $19-$21 per share. If the IPO can find the midpoint of that range at $20 per share, FELP will command a market value of $2.6 billion.
FELP filed on February 2, 2012.
Lead Underwriters: Barclays Capital Inc.; Citigroup Global Markets Inc.; Morgan Stanley & Co. LLC
Underwriters: Credit Agricole Securities Inc.; Deutsche Bank Securities Inc.; Goldman, Sachs & Co; J.P. Morgan Securities LLC; PNC Capital Markets LLC; Stifel Nicolaus & Company, Incorporated; The Huntington Investment Company
Summary: Spinoff of Foresight Reserves, Controlling Nearly 3B Tons Of Coal
FELP, a spinoff of coal mine developer and operator Foresight Reserves, is a bituminous thermal coal producer operating in the Illinois Basin, a fast-growing coal producing region.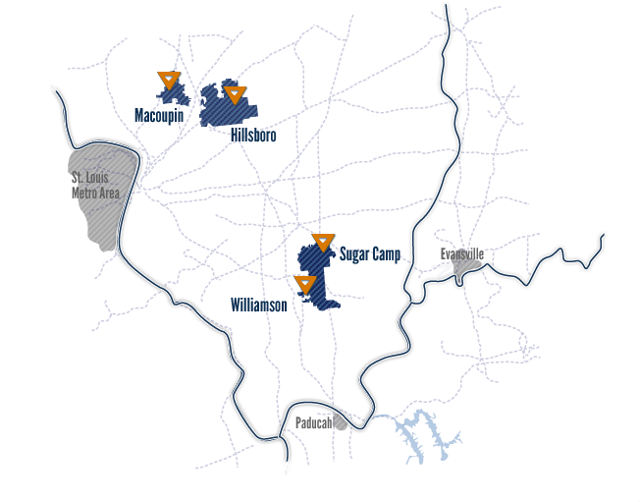 Click to enlarge
(Source)
The firm controls more than three billion tons of coal, making it among the U.S.'s largest reserve holders. These reserves are mostly in the form of three contiguous regions of thermal coal, making them ideal for FELP's three longwall mines.
FELP hopes to have a fourth longwall in full operation by the end of June 2014, and has submitted permits for two more longwalls; the firm believes that its current reserves may be able to support up to nine longwalls in the future.
FELP produced 18.0 million tons of coal in 2013, and states its full productive capacity at 32.7 million tons of high Btu coal per year. These figures should rise as the firm completes more longwalls, and FELP estimates that future productive capacity would be 67.2 million tons per year if it completes all nine longwalls.
Valuation
FELP offers the following figures in its S-1 balance sheet for the three months ended March 31, 2014:
Revenue: $242,723,000.00
Net Income: $31,916,000.00
Total Assets: $1,782,576,000.00
Total Liabilities: $1,901,068,000.00
Stockholders' Equity: ($118,492,000.00)
Business: Taking Advantage of Coal For Scrubbed Power Plants
FELP hopes to take advantage of the increasing demand for high Btu, high sulfur coal for scrubbed power plants.
As scrubber technology in coal-burning power plants has improved and pollution regulations have tightened, scrubbed power plants have become much more common.
Scrubbed power plants typically purchase coal, based on its heat content and delivered cost, making the Illinois Basin's coal an extremely attractive option for plants in the Eastern United States.
FELP competes with numerous other coal production firms operating in the Illinois basin. Major competitors include Alliance Resource Partners (NASDAQ:ARLP), Peabody Energy (BTU), Hallador Energy (NASDAQ:HNRG), Armstrong Coal, and Murray Coal.
It should be noted that FELP is significantly indebted. As of March 31, 2014, the firm's total long-term indebtedness stood at approximately $1.56 billion.
Experienced Management
President and CEO Michael J. Beyer has over 30 years of experience in coal and other energy-related businesses. He previously served as President of AEP Coal, Inc., Vice President of Business Development at Enron Corp., and Senior Vice President and Manager of the Natural Resource Department at PNC Bank.
Mr. Beyer holds an MBA from Duquesne University and an undergraduate degree in Mining Engineering from Pennsylvania State University.
Conclusion: Investors Should Hold Off
We are positive on this IPO in the proposed range.
The long-term outlook for coal companies is not strong, given continuing efforts to develop cleaner power sources and accompanying regulation.
However, FELP could still have many successes ahead, particularly given rising demand for the Illinois Basin's coal in scrubbed power plants. In addition, the company seems to appreciate the need to quickly exploit its reserves: FELP has invested over $2.0 billion into the construction of efficient longwall mining operations and supporting transportation infrastructure since its inception, and continues to open new longwall operations.
While FELP boasts strong, experienced management, we're concerned by the firm's high levels of debt.
Disclosure: The author has no positions in any stocks mentioned, but may initiate a long position in FELP over the next 72 hours. The author wrote this article themselves, and it expresses their own opinions. The author is not receiving compensation for it (other than from Seeking Alpha). The author has no business relationship with any company whose stock is mentioned in this article.