Since the start of 2013, one of the biggest names in the momentum club has been Tesla Motors (NASDAQ:TSLA). The electric car maker had one of the most spectacular stock price rises, with a high level of volatility. The bull camp sees a company with a tremendous amount of potential, while the bears look at a stock that is extremely expensive. The debate will continue to rage on.
However, Tesla has been stuck in neutral as of late. A key technical level was hit in late March, and since then, the stock is essentially flat. Trading volumes have collapsed, and so it appears interest in Tesla is waning. Today, I'll look at the current state of Tesla, and what could be done to wake up a sleepy stock.
50-day crossover proved important:
If you go back to January 2014, you may remember one of my prior Tesla articles where I asked if a major short squeeze was coming. Shortly after that article was published, Tesla announced a Q4 delivery number that was much higher than expected. Shares took off, and this was the start of the rally that pushed shares to their current all-time high of $265.
The start of that rally also was key in terms of the stock's technicals. As I've discussed in the past, and you can see again in the chart below, the stock essentially bounced off the 50-day moving average with that January surprise.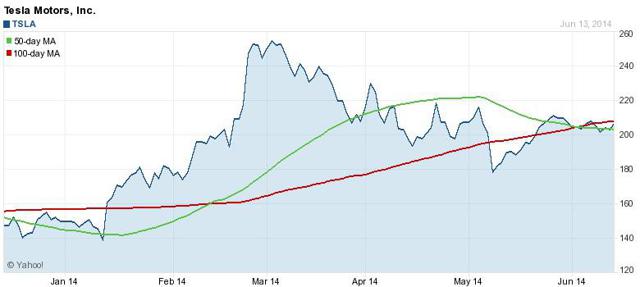 (Source: Yahoo! Finance)
Tesla shares remained above the 50-day MA for a little more than two months. It was in late March that shares finally dipped below the 50-day, as seen above. Well, on March 27th, Tesla closed at $207.32. Crossing that moving average has been rather important. Even though shares have bounced higher and lower at times, they closed last Friday at $206.42. Since shares crossed below that key technical level, they have basically been flat. Recently, the 50-day moving average has crossed below the 100-day moving average, and the stock currently sits between those two averages.
Volume has dropped significantly:
One of the reasons I stated that interest in Tesla is down a bit is that volume has dropped off a cliff recently. In the table below, I've compared average daily volume so far in 2014 against the same periods in 2013. Volume data is from Yahoo! Finance.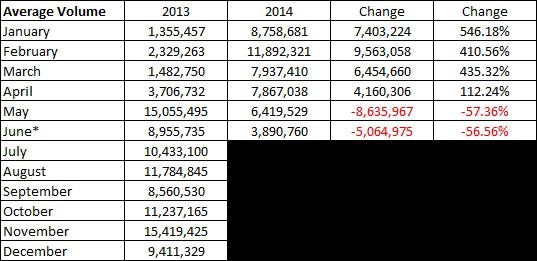 *The above June 2013 number is for the entire month. For the first 10 trading days of June in 2013, average volume was 9,878,460 shares. As compared to the first 10 trading days in June 2013, volume is down by 60.61% in the 2014 period.
The volume jump in the first quarter of 2014 was even more staggering when you consider how much higher share prices were. Usually, you would think volume would decline with a much higher priced stock. It wasn't until April and May of 2013 when Tesla interest jumped and the name really became interesting.
But in the second quarter of 2014, things have certainly changed. Not only has volume not risen at rates comparable to the first quarter increases, but now we are seeing huge declines in volume. Volume in the first 10 trading days of June this year is down more than 60% over last year's period. Yes, share prices are more than double above where they were at this time last year. But volume has only cracked 4 million shares three times so far this month, and one day actually saw volume just barely above 2.8 million shares. Interest in Tesla has certainly dropped significantly, and it is not just because we are getting into the summer doldrums.
Where estimates stand now:
I wanted to discuss estimates a little here as they have changed slightly since my previous article on Tesla. In the table below, you can see how estimates have changed since Tesla reported Q1 results, which was about a week before my latest article.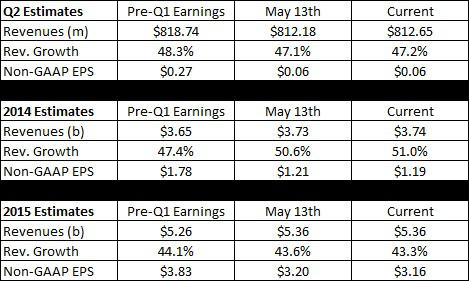 (Source: Tesla estimates page on Yahoo! Finance)
For the current Q2 period, we've seen a very small increase in revenue estimates since my latest article. The Q2 revenue number is still a few million below where estimates were going into the Q1 report. Analysts are still expecting a small non-GAAP profit in Q2. Remember, Tesla's operating expense forecast was a bit high, so the company only expects to be marginally profitable in Q2 on a non-GAAP basis.
For the full year, we've seen 2014 revenue estimates edge up, with 2015 revenue estimates staying the same. The key here is that 2014 and 2015 non-GAAP EPS estimates have continued to trickle down. Those that were hoping for Tesla to really improve its profitability are going to have to wait a bit. Expenses are running at a higher rate than many were looking for, and Tesla's share count is rising by the quarter. Tesla had a $0.78 non-GAAP profit per share in 2013, so analysts are still looking for a sizable increase in EPS, just not as much as they were a few months ago.
An update on short interest:
One part of the Tesla bull case is in regards to a major short squeeze. Tesla has been a heavily shorted stock in recent years, although as you can see in the chart below, short interest is off its recent highs.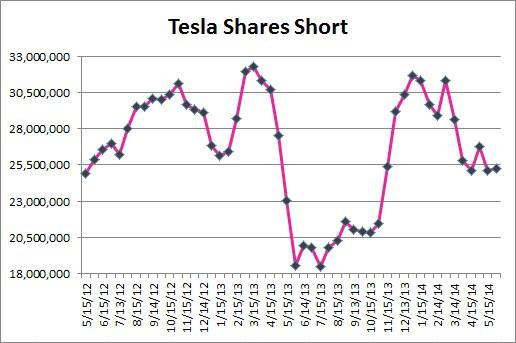 At the end of May short interest update, more than 25 million shares were short. That number still represents more than 21.5% of the outstanding share count and more than 29.6% of the float. Just like the stock, Tesla's short interest has been mostly flat in the last month or two. However, a major short squeeze is still possible, and it becomes even more possible with volume this low. The end of May update on short interest showed Tesla's days to cover ratio at a new 52-week high. The days to cover ratio measures how many days it would take all short positions to be covered, given the average trading volume over a period. With volume running at less than 4 million shares currently, I expect another jump in the days to cover ratio at the next short interest update.
What could be next:
While volume has not been great as of late, Tesla has been in the news recently. The company had its annual meeting, at which it was stated that a decision on the gigafactory site won't be made until the end of the year. The company previously stated it would break ground in June, and the prep work could be done in multiple states. With the gigafactory being such a large part of Tesla's future, the lack of clarity on a site decision may be a short-term disappointment for investors. Any news on the gigafactory would be welcomed, and could help to push shares higher.
The other major piece of news recently was that Tesla announced it would open up its patents, a move some think is brilliant. Tesla hopes to develop a standard form in the electric vehicle industry, and this could be the next shot at the gasoline powered car. As the contributor in the article linked above states, this outside of the box thinking is what got Tesla to where it is today. Why stop now?
Perhaps Tesla needs some good news to wake up this sleepy stock. News on the gigafactory would fit the bill, but as discussed above, that probably won't happen anytime soon. Good news on Q2 deliveries could replicate what happened in January, but with a lot of vehicles in transit, I don't think that will happen. Remember, a large share of Tesla's 2014 deliveries, revenues, and non-GAAP earnings are expected to come in the second half of this year. With earnings not coming for another month and a half or so, news on Tesla's growth may be hard to come by.
There are three items that I think could get this stock going again. The first would be some sort of deal with BMW, as the two companies recently met. The second item could be a decent share purchase from a Tesla executive when Tesla is not in a quiet period. If for instance, Elon Musk came out and bought more shares, I think the stock would rally a bit. Finally, I think a key bear analyst becoming a bit more positive would help. Tesla is currently below its average and median price targets. There are a few analysts with price targets under where Tesla trades currently, so some positive comments from one of them could turn the tide a bit.
Final thoughts:
Tesla has been stuck in neutral lately, with shares being flat since the stock broke below the 50-day in late March. Volume has also plunged recently, which could make the short squeeze thesis possible again. Estimates haven't really budged in the last month, as we are unlikely to see any key financial numbers until the Q2 report. Tesla announced it is opening up its patents, but more news on the gigafactory may not come for months. Tesla needs something to wake up this sleepy stock, and today, I discussed some possibilities for that. Until then, I don't see this stock moving too much, but I still do see the long-term potential of this name. I'd be a buyer if shares get closer to the 200-day moving average, which currently is around $183.
Disclosure: The author has no positions in any stocks mentioned, and no plans to initiate any positions within the next 72 hours. The author wrote this article themselves, and it expresses their own opinions. The author is not receiving compensation for it (other than from Seeking Alpha). The author has no business relationship with any company whose stock is mentioned in this article.
Additional disclosure: Investors are always reminded that before making any investment, you should do your own proper due diligence on any name directly or indirectly mentioned in this article. Investors should also consider seeking advice from a broker or financial adviser before making any investment decisions. Any material in this article should be considered general information, and not relied on as a formal investment recommendation.