On June 19, 2014 BlackBerry (NASDAQ:BBRY) will report its Q1 2015 results. I am speculating that after many murky reports with shipments to end users exceeding those recognized in sales - a sad reflection of a weak set of accounting policies that should have been cleaned up long ago - this will be a clean quarter. By clean, I mean sales of devices to end users will be more or less equal to those recognized as revenues. It will be about time.
In its last quarter, BlackBerry turned in a $423 million loss despite 56.7% margins primarily because it recognized so few devices in revenues - only 1.3 million of the roughly 3.4 million sold through to end users made it into the income statement.
The balance had been previously recognized, a hangover from the days when BlackBerry like Apple recognized revenues when devices were shipped to carriers and not when those carriers' customers actually bought them.
This quarter, if carrier inventory has been kept under control, we may just have a quarter where BlackBerry can show an income statement that bears some resemblance to what is happening in the market for its products. I am going to assume that is the case.
My forecast for the quarter is for 3.4 million people to buy a BlackBerry smartphone. That is equal to the previous quarter but a reversal of a steady decline that seems to have been going on for an endless time. I see my forecast as a bullish call on the stock.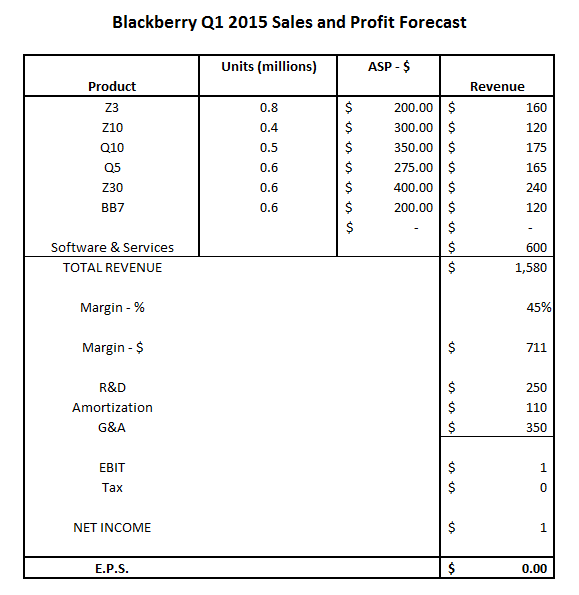 Source: Michael Blair analysis and estimates
The strength I see in the quarter has roots in the new Z3 launched in Indonesia which reportedly received a warm welcome. At an average selling price net to BlackBerry it likely contributes no more than $160 per unit of revenue and at a 10% profit margin, only $16 per unit to income. I don't have any solid information on costs but it is actually at the higher-priced end of a plethora of devices that are competing for cost conscious customers in Asia.
The more conventional BB10 models are selling quite well in markets like Toronto where BlackBerry reportedly outsells the iPhone, and I still see more BlackBerry smartphones than anything else when I am in the financial district around Bay Street and King. A lot of them are BB7 units like the BlackBerry Bold 9900 I still use and will likely keep using until either the BlackBerry Classic makes it into the market or BlackBerry releases BBM for Windows OS phones, at which point I will dust off my Lumia 1020 which I love but won't use without that so-very-useful BBM application.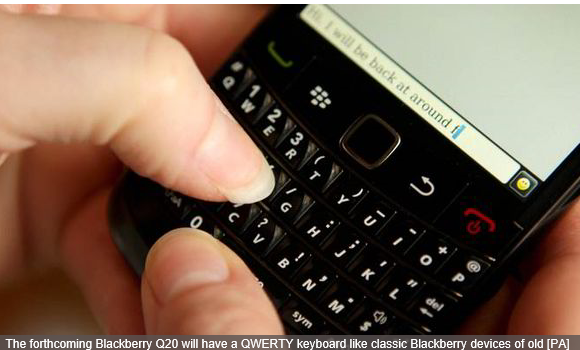 Source: Sunday Express
If BlackBerry can recognize 3.4 million smartphone sales in the quarter, and in parallel benefit from some stabilization in the declining software and services segment, BlackBerry could post a break-even quarter, more or less. If it does, and it is a big "IF", the naysayers will turn tail pretty quickly and we will see some serious speculation about a comeback.
I have doubled up on long calls on the name, not betting the farm but taking a big enough position to be interesting if the results come close to my forecast.
This is a risky stock and should only be considered by those willing to lose their entire investment. That would include me.
Disclosure: The author is long BBRY. The author wrote this article themselves, and it expresses their own opinions. The author is not receiving compensation for it (other than from Seeking Alpha). The author has no business relationship with any company whose stock is mentioned in this article.