Priceline (NASDAQ:PCLN) is the best positioned company in the online travel industry and will continue to be for many years. It provides discounted rates to customers for hotels, flights, and car rentals. By negotiating these discounted prices, PCLN creates value for its shareholders. PCLN operates in over 200 countries throughout the Americas, Europe, Asia, the Middle East, and Africa. The stock has handsomely rewarded investors ever since growth exploded after the 2008 financial crisis. It reached an all-time high in March at $1,378.
PCLN is currently undervalued at $1,189 and has tons of potential to grow. Having strategically positioned itself as the leader in the online travel and reservation industry, the company shows no signs of slowing down, barring competition from Google (NASDAQ:GOOGL). Further, the online travel industry is experiencing astounding growth, using technological advances in the past decade to provide affordability and convenience to people's lives. PCLN has extremely high margins relative to its competitors and almost no debt.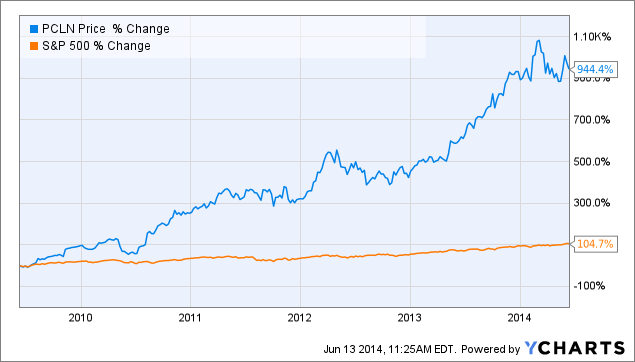 Business Overview
Simply put, PCLN connects travel suppliers to the travelers themselves. In terms of a business model, this is as simple as it gets. The company owns several other online travel agencies, including booking.com, kayak.com, Agoda.com and rentalcars.com to name a few. Additionally, unique to PCLN is the "Name Your Own Price" feature, or a type of reverse auction. This allows any user to submit a bid for a hotel or airline ticket. The feature benefits both the traveler and the travel supplier. For example, an airline may have extra seats available on a certain flight. Any discount on these extra seats is certainly better than no revenue at all. Therefore, travelers may submit their bids for these extra seats at a discounted price. The traveler pays a much cheaper price than anticipated, and the airline fills all the seats. Although PCLN's competitors have attempted to copy this feature, PCLN utilizes it much more effectively. This is just one of many ways PCLN separates itself as the leader in its industry.
PCLN has been aggressively expanding into international markets, and these markets have been vital to the company's success. With a saturated U.S market, Priceline has been able to find growth opportunities in other countries and this will serve as the major catalyst for share appreciation. The following data illustrate the importance of PCLN's international presence in the last two years.

Click to enlarge
Source: PCLN 10Q for 1st quarter 2014
Major takeaways from this data:
Gross bookings have nearly doubled, fueled mostly by an almost doubling of international gross bookings. Notice that domestic bookings only increased by approximately 30% from the first quarter of 2012 to this past quarter.
Total international bookings increased from 81% of total gross bookings in the first quarter of 2012 to 86% in the first quarter of 2014.
Year-over-year growth in international bookings have greatly exceeded year-over-year growth in domestic bookings. This has been the major catalyst for revenue growth in the past few years and will continue to be so.
In an interview with the Wall Street Journal, CEO Darren Huston explains the importance of PCLN's international presence and why it will serve to grow PCLN's business in the future.
"Travel overall is a trillion-dollar industry. It's a very, very big pie. A lot of travel happens offline, but a good percentage of that trillion dollars is happening online, and increasingly so.

If you look at a place like the U.S, it's one of the more mature markets, where as much as half the business will get transacted online. If you go to countries like China or (other) emerging markets, maybe 10% of the business is happening online."
Clearly, international bookings are the most important source for PCLN's revenues. If Huston is right in saying that, for example, only 10% of the Chinese travel market happens online, then PCLN still has ample room for growth. PCLN bears will note that international revenues will slow down, and although this is true, I still see strong growth prospects internationally for the foreseeable future.
Relative Valuation
Compared to its competitors, PCLN is the most attractive investment as displayed by the following data (Source: Yahoo! Finance).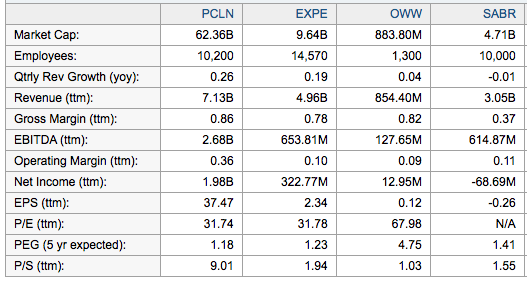 PCLN is clearly the largest player in its industry with a market capitalization of nearly $63 billion. Its gross margins and operating margins are greater than any other competitor, illustrating its relative efficiency. Notice that the gross margins among PCLN, Expedia Inc. (NASDAQ:EXPE), and Orbitz Worldwide, Inc. (NYSE:OWW) are similar, but the operating margins are drastically different. This gives PCLN a significant competitive advantage. Although the company's P/E and P/S are greater than most of its competitors, PCLN's enormous growth compensates investors for paying a premium on each dollar of earnings. Analysts expect these ratios to normalize over time.
Perhaps the most important metric when comparing PCLN to its competitors is Return on Invested Capital (NASDAQ:ROIC). This metric is calculated as Net Operating Profits Less Taxes / Invested Capital. It represents a company's efficiency in allocating capital to profitable investments. Whenever ROIC > Weighted Average Cost of Capital (OTC:WACC), the company is creating value.

Click to enlarge
Source: Morningstar Inc.
PCLN is creating enormous value for shareholders with an ROIC of over 28% in the last twelve months. It can also covers it interest payments over 29 times! Clearly, PCLN's profitability and ability to create value extends above and beyond its competitors. I have provided a profitability comparison to Orbitz. Notice that Orbitz has actually been destroying value since 2004 since its ROIC numbers are negative.

Click to enlarge
Source: Morningstar Inc.
Cash Flow Statement
PCLN has a fortress balance sheet and generates significant operating cash flow. During the fiscal year ending December 2013, PCLN reported over $2.3 billion in operating cash. This is more than enough to cover its interest payments. The total amount of long-term debt on PCLN's balance sheet is $1.7 billion. Consequently, there is very little default risk, decreasing the firm's vulnerability to economic or industry shocks. The company is very well positioned to withstand a rainy day. This represents a competitive advantage relative to its competitors and the company's ability to create value for shareholders.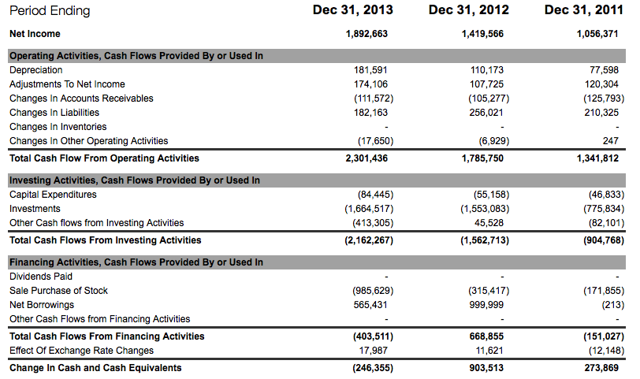 Click to enlarge
Source: Yahoo! Finance
Valuation and Target Price
I have provided three scenarios and a subsequent discounted cash flow analysis for each scenario. In the pessimistic scenario, increased competition and a successful entry into the market from Google depress margins and spread out revenues among the leading companies providing online travel services. The target price for this scenario is approximately $542, less than half its current price. However, I think that given PCLN's strengths, this is the least likely scenario. Note: All numbers are in millions.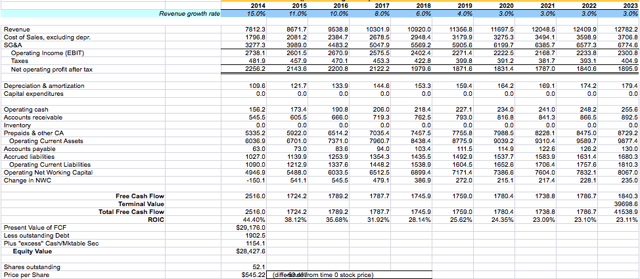 Click to enlarge
The base line scenario forecasts a price of nearly $1,300, or about a 9% increase above the current price. In this scenario, PCLN is able to ward off most of its competitors. However, the online travel industry inevitably becomes saturated in domestic markets, and growth slows in several foreign markets. I believe that this is the most likely scenario, although I believe that the optimistic scenario is not too far behind.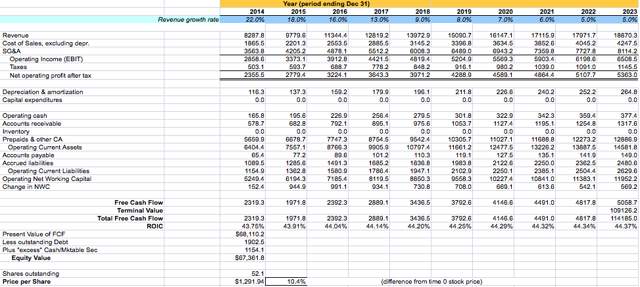 Click to enlarge
In the optimistic scenario, PCLN maintains it incredible ROIC numbers by focusing on creating value for shareholders and searching for new growth opportunities. PCLN is at the forefront in the online travel industry and continues to dominate the market for a very long time. GOOGL poses little threat, as loyal customers continue to use PCLN's easy-to-use services. Margins and revenue growth rates continue to outperform PCLN's competitors and exceed expectations. Notice how revenues grow in the double digits until 2020. The price target for this scenario is $1,970.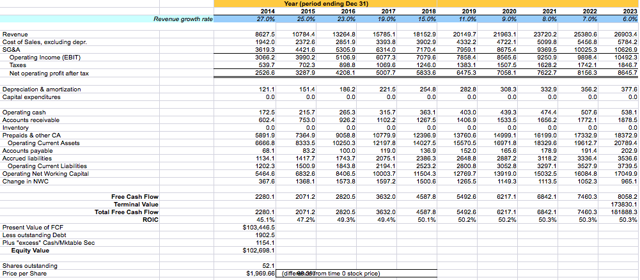 Click to enlarge
Based on these scenarios and the likelihood of these scenarios becoming a reality, my price target for PCLN is $1,500 by next year. This represents 26% upside from its current price of $1,189.
| | | | |
| --- | --- | --- | --- |
| | Valuation | Probability | Probability Weighted Value |
| Optimistic Case | $ 1,969.66 | 40% | $ 787.86 |
| Baseline Case | $ 1,291.94 | 50% | $ 645.97 |
| Pessimistic Case | $ 542.22 | 10% | $ 54.22 |
| Target Price | | | $ 1,488.05 |
Risks and Concerns
Certainly, there exists risk in any investment, and PCLN is no different. PCLN's stock is extremely volatile, having doubled in the last year. The stock seemingly moves up or down by more than 1% on a daily basis. For example, PCLN fell 3% on news that it would be acquiring OpenTable (NASDAQ:OPEN) for $2.6 billion. According to Google Finance, the stock has a beta of 1.83, representing 83% higher volatility than the entire market. Although I am bullish on this company, I understand that a strong argument can be made for why the stock will underperform.
PCLN's biggest risk is the possibility of GOOGL entering the online travel industry. GOOGL has already launched its Hotel Finder business and even acquired ITA Software, currently the online travel software subsidiary that allows consumers to search for the cheapest hotel accommodations and flights. Consequently, consumers are all able to perform all of their online travel needs through GOOGL. While GOOGL is not yet a top competitor in the industry, its simple design may allow it to gain significant market share.
In addition to the GOOGL threat, overall competition may depress PCLN's outstanding margins and saturate the faster growing markets, including Europe and Asia.
In the same interview with the Wall Street Journal, Huston commented on potential competition.
"You just have to start becoming comfortable with the concept of competition. Almost any of your partners has some degree to which they cooperate with you and which they compete with you. It's the reality of technology.

We've grown from being very small to now being quite scaled. More often than not we're having to invent the next idea versus finding it somewhere around us. Once you get to a certain scale, the expectation of the consumer also is that you're going to plow new ground."
Here, it seems to me that Huston understands the threat of new competition and is focusing his attention on inventing new ways to create value for shareholders in the wake of increasingly saturated markets. For example, time will tell as to whether or not PCLN's recent acquisition of OpenTable is a new way for creating shareholder value.
Conclusion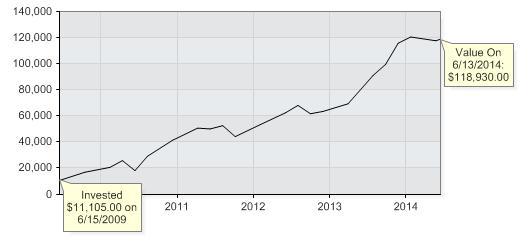 Source: PCLN Investor Relations
Proper independent due diligence should be performed before making any investment. A 100 share investment in 2009 would have been increased from $11,105 to $118,930, or 971%. PCLN is the leader in the online travel industry and will continue to generate ample cash flow. The company still has plenty of growth opportunities outside the United States and recently upgraded its online restaurant booking efforts. However, the company's inherent risks and competitors should be taken into consideration. An investment in this company should be for the long term, and I believe that investors will be generously rewarded for many years to come.
Disclosure: The author has no positions in any stocks mentioned, and no plans to initiate any positions within the next 72 hours. The author wrote this article themselves, and it expresses their own opinions. The author is not receiving compensation for it (other than from Seeking Alpha). The author has no business relationship with any company whose stock is mentioned in this article.