Last Thursday morning, Sycamore Partners made a splash in the retail apparel market by revealing, through an SEC filing, a 9.9% stake in Express (NYSE:EXPR). The significant ownership stake indicates that it is now moving for a takeover, however, one has yet to be officially announced. Sycamore believes that the struggling mall-based retailer can be turned around. Sycamore is a private equity firm that specializes in consumer and retail investments. They have found value in several struggling retailers in the past, and have taken large companies such as Hot Topic and Talbots private to restore their respective businesses. Shares of Express have subsequently skyrocketed and the upside isn't there anymore. With the market's positive reaction, it is worth looking into the prospects of another Sycamore investment, Aeropostale (NYSE:ARO).
About Aeropostale
Aeropostale, Inc., (Aeropostale) is a mall-based, specialty retailer of casual apparel and accessories, principally targeting 14 to 17 year-old young women and men through its Aeropostale stores and 4 to 12 year-old kids through its P.S. from Aeropostale stores. As of May 3, 2014, it operated 931 Aéropostale stores, consisting of 854 stores in all 50 states and Puerto Rico, 77 stores in Canada, as well as 150 P.S. from Aéropostale stores in 31 states and Puerto Rico. In addition, pursuant to various licensing agreements, its licensees operated 120 Aéropostale locations and one Aéropostale and P.S. from Aéropostale combination location in the Middle East, Asia, Europe and Latin America as of May 3, 2014.
The consumer shift to e-commerce, combined with the recent recession, has compressed margins of brick and mortar retailers, and has led to significant losses across the board. Consumers are more educated, and can quickly glean whether a price is competitive, or not. The retailers hurt most by this secular trend have been mall-based retailers. Traffic in malls has declined tremendously, but their high rents have not subsided. Sales at ARO have declined each year since 2011, losses mounted, and the stock is trading at just 10% of its all-time high, in 2010.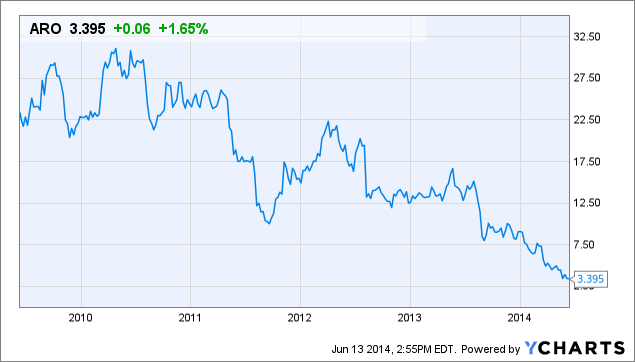 Financing From Sycamore Partners
In light of their struggles, Aeropostale turned to private equity in order to secure funds for a turnaround. On May 27th, Aeropostale finalized an agreement to secure $150 million in secured credit facilities from Sycamore Partners. Previously, in October of 2013, Sycamore acquired an 8% equity stake when it was trading in the high $8 range.
As previously announced on March 13, 2014, the senior secured credit facilities with affiliates of Sycamore Partners consist of a five-year $100 million term loan facility and a ten-year $50 million term loan facility that includes a sourcing arrangement with MGF Sourcing, also an affiliate of Sycamore Partners. Aeropostale has issued convertible preferred stock to Sycamore Partners, giving Sycamore the right to acquire up to 5% of the Company's common stock at an exercise price of $7.25.

Source: 10Q
Sycamore has put its money and management on the line, betting on a turnaround. Sycamore has plenty of experience turning around struggling retailers, and will certainly provide advice to ARO. Specifically, Stefan Kaluzny, a managing director and co-founder of Sycamore Partners, was added to the board to facilitate its restoration.
Moreover, Sycamore has pledged a substantial amount of capital to the turnaround. If the company ultimately goes under, Sycamore would likely lose a considerable portion of their investment since much of the financing is collateralized by inventory and receivables, which would be written down considerably in a liquidation. Further, Sycamore was also given the ability to convert the preferred stock into common stock at an exercise price of $7.25. The previous investment in October also represents a considerable sum of capital Sycamore has bet on a turnaround for ARO. Sycamore's interests are certainly aligned with Aeropostale's.
Recent Struggles
For the fiscal year of 2013, ARO reported sales of $2.09 billion which is a 12.3% decline from fiscal 2012. Sales further fell in the first quarter of 2014, falling 12.5% compared to the same period last year. The other alarming sign, that has led to this massive selloff, is that gross margins have fallen from 22.4% in Q1 of 2013 to 17.8% in Q1 of 2014. Decreasing sales along with compressing margins is startling to investors.
Losses Are Narrower Than Many Realize
Management has outlined a bold plan to ultimately save $30-$35 million per year and $5-$10 million in 2014 alone. The plan, which is significantly underway, is to close 125 stores, mostly in malls, and focus on off-mall locations, e-commerce, and international licensing. So far, ARO has closed 88 stores, as of its most recent quarterly filing.
Implementing the restructuring plan results in considerable charges such as asset impairments, severance charges, and paying penalties from terminating leases. Management has guided that overall, the plan will cost anywhere from $40-$65 million. In Q1 of 2014, ARO has already realized $35 million of these costs. Their overall loss in the quarter was $76 million, so this represents nearly half of their losses.
Further, clearing out this inventory through promotional activity reduced gross margins by .7% which doesn't sound like much. However, with sales in the quarter of $395.8 million, that results in a reduction of gross profit of $2.7 million. When those losses are coupled with the other restructuring charges of $35 million, the losses for the quarter narrow to around $38 million.
Income Statement Scenario
For a retailer that is experiencing declining sales, it still boasted an impressive $2.09 billion in revenue for fiscal 2013. With that impressive revenue figure, small margin improvements can drive a lot of growth to the bottom line. With the analyst expectations so low, ARO currently only trades at a price to sales of .127. With that miniscule trading multiple, upside is certainly present if management can staunch their losses.
I have created a proforma with assumptions that are not too optimistic, to determine if it is possible for ARO to become profitable, once again. Among my assumptions are:
Revenue for stores closing is 75% of the average store.
Comparable-store sales would decline 3% for the rest of this year and would grow 2.5% in 2015 and 3% in 2016.
Margins would expand 5.9% for the rest of 2014, 5% in 2015, and 1% in 2016. (This would return them to just 29% by 2016 which is far below the 37% in 2011).
Restructuring charges would be at the top of management's range.
SG&A would be reduced 5% in 2014, 2% in 2015, and 1% in 2016.
Income tax benefits remain stable. (They could increase easily with losses in 2014 and 2015).
Under this scenario, ARO would return back to profitability in 2016, and would generate $61 million in net income or $0.79 per share.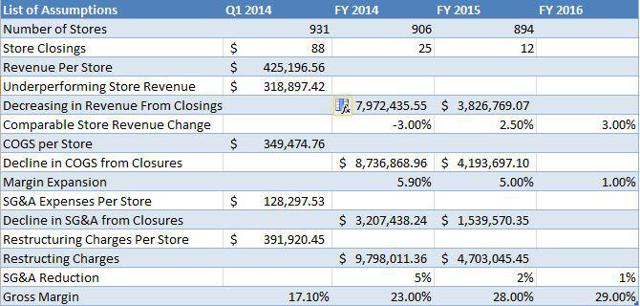 Positive Catalysts for Margin Expansion
Expecting gross margins to improve by this degree is not an outlandish assumption. The store closures are compressing margins, and the backing of Sycamore will allow them to have a larger selection of vendors, as their risk of default was mitigated.
Further, they have reached several partnerships that will allow them to carry unique products and differentiate themselves. Earlier this year, they reached an agreement with Warner Brothers to carry a Pretty Little Liars collection. This collection will drive traffic to their stores, and reduce their dependence on promotional activity.
Another boon is that the U.S. economy is beginning to pick, which will help margins for all retailers. Additionally, the recent legislation forcing websites, like Amazon, to charge a sales tax, will shift some consumers back to brick and mortar stores, as the prices are now comparable.
Moreover, short interest stands at a staggering 33.81% of float. Any positive signs, such as margin expansion or strong sales, could trigger a short squeeze.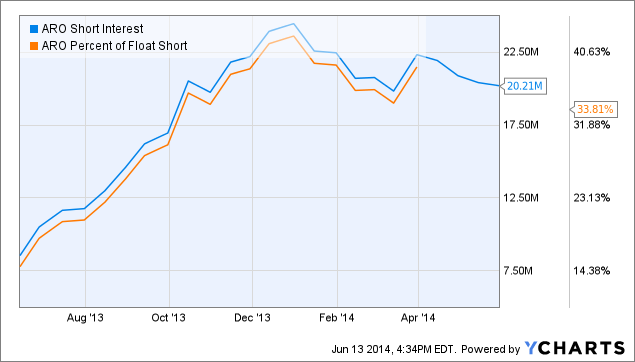 Conclusion
Aeropostale is a retailer that has been left for dead by Wall Street. The expectations are so low for this retailer that it provides an asymmetric risk/reward opportunity. With such a large base of sales, a reasonable margin expansion could propel this company back into the black. Sycamore Partner's influx of capital and expertise certainly gives ARO a chance to turn its business around and reward contrarians willing to take a risk.
"I will tell you how to become rich. Close the doors. Be fearful when others are greedy. Be greedy when others are fearful." -Warren Buffett.
Disclosure: The author has no positions in any stocks mentioned, but may initiate a long position in ARO over the next 72 hours. The author wrote this article themselves, and it expresses their own opinions. The author is not receiving compensation for it (other than from Seeking Alpha). The author has no business relationship with any company whose stock is mentioned in this article.