Big troubles are on the horizon for Citigroup (NYSE:C) and Bank of America (NYSE:BAC). Just last week Bloomberg reported that Bank of America is facing a serious confrontation with the U.S. Department of Justice over soured mortgage-backed securities. While Bank of America offered $12 billion to resolve the haunting mortgage issue once and for all, the Department of Justice made it clear that it won't let the bank off the hook so easily this time. Bloomberg reported:
The U.S. Justice Department is seeking about $17 billion from Bank of America Corp. to settle probes into its handling of mortgages ahead of the financial crisis, the New York Times reported.

Talks stalled on June 9 after the firm offered more than $12 billion to resolve the investigations, the newspaper said, citing people briefed on the matter. The department was yesterday moving to put the finishing touches on a civil complaint against the bank that would accuse it of selling mortgage investments that led to billions of dollars in losses, the Times said. The suit isn't imminent, it said.

Bank of America, the second-biggest U.S. lender, is among at least eight banks under investigation by the Justice Department and state attorneys general for misleading investors about the quality of bonds backed by mortgages amid a drop in housing prices. Many of the loans in question were inherited by Bank of America when it purchased subprime lender Countrywide Financial Corp. and Merrill Lynch & Co., people familiar with the matter told Bloomberg News in April.
I have subsequently argued, that Bank of America investors should prepare themselves for short-term selling pressure as the increasingly tough stance of the Department of Justice would likely pressure the bank to compromise on a higher settlement. Bank of America's share price actually did trade weaker on the news and shares are down about 3% since negotation talks broke down.
In my latest Bank of America article I also pointed out, that the Department of Justice is increasingly playing hardball and determined to really hurt the banks for their misdeeds during the financial crisis. While Bank of America has been taking the heat so far, settlement troubles apparently are about to rub off on Citigroup.
Bloomberg ran a piece on Saturday illustrating that the Department of Justice is now seeking $10 billion in order to end its probe into Citigroup's mortgage bond selling practice. Bloomberg reported:
The U.S. Justice Department has asked Citigroup Inc. for more than $10 billion to settle a probe into the lender's sale of mortgage-backed bonds before the 2008 financial crisis, a person familiar with the negotiations said.

Prosecutors broke off talks with Citigroup on June 9 and are preparing to sue the New York-based bank after it offered less than $4 billion to resolve the matter, said the person, who asked not to be named because the discussions are confidential. The Justice Department could file a lawsuit as early as next week, according to the person, who also said the bank's offer included about $1 billion in cash and the rest in consumer relief.
Settlement negotiations between Bank of America and the DOJ also broke down last week and the prospect of an impending lawsuit is certainly everything else but appealing. Bank of America investors, unnerved by years of persistent lawsuits, settlements and litigation costs, are likely to react more sensitively to the news than Citigroup shareholders. However, Citigroup will feel the pinch, too, if the DOJ pushes forward and escalates. And it increasingly looks like it.
Associate Attorney General Tony West is leading the charge against the banks and, I have to say, I believe the DOJ indeed has a good chance to win in court and extract meaningfully higher amounts out of the banks' coffers. Bank of America, at least until settlement negotiations broke down, offered the DOJ $12 billion: You don't put $12 billion (in the case of Bank of America) or $4 billion (in the case of Citigroup) on the Attorney General's table when you consider yourself to have a clean slate.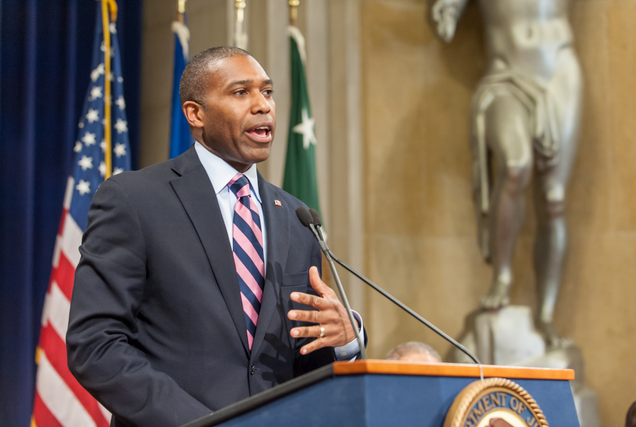 (Source: Wikimedia Commons, Associate Attorney General Tony West)
In other words, I think the DOJ seems to think it has a pretty solid case by turning down the banks' offers, and that does not bode well for either Bank of America or Citigroup. I believe the banks will have to offer somewhere around 90% of the requested amounts in order to avoid being taken to court, and ultimately, to the cleaners.
Though settlement negotiations have stalled, both banks still have the opportunity to increase their settlement offers, and I believe they will up their offers.
Chart situation
The news about an impending lawsuit certainly didn't do Citigroup's share price any good. Shares were down 1.4% on Friday in the latest display of trading weakness.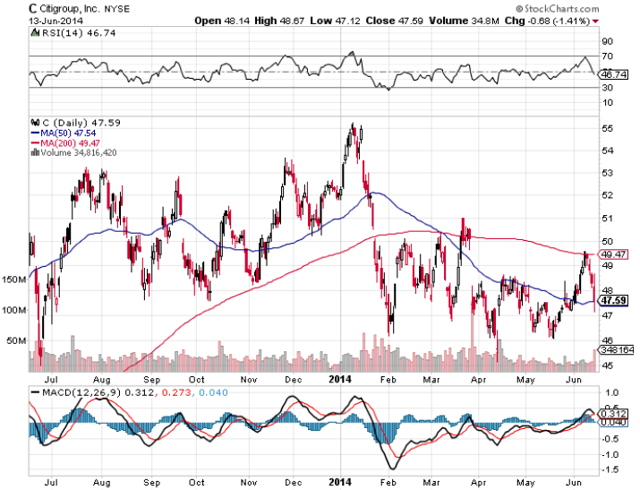 (Source: StockCharts.com)
Bottom line
Citigroup and Bank of America would want to avoid a costly and public court battle with the Department of Justice by all means. Especially in the case of Citigroup, the bank will need to step up its game: The bank's $4 billion settlement offer is more than 60% below the amount the DOJ requested while Bank of America's $12 billion offer is only 30% lower. In other words: I think the Associate Attorney General is much more incentivized to sue Citigroup.
Though a higher settlement or a lengthy and expensive court battle will certainly have a negative short-term effect on Citigroup's and Bank of America's share price, both outcomes will not materially affect the companies' long-term earnings prospects. If Citigroup shares sell off when a settlement/lawsuit is being announced, I think this would make for an extraordinary, contrarian purchase opportunity. Both Citigroup and Bank of America are still cheap at a discount to book value of 28% and 25% respectively. Long-term oriented investors might consider the shares of both banks on pullbacks driven by an increase in short-term uncertainty. Long-term Buy.
Disclosure: The author is long BAC. The author wrote this article themselves, and it expresses their own opinions. The author is not receiving compensation for it (other than from Seeking Alpha). The author has no business relationship with any company whose stock is mentioned in this article.