Analysts are wrong about Apple (NASDAQ:AAPL), particularly on the revenue side, because Wall Street analysts are trained to forecast steady numbers. All is well when forecasts are stable. Revenue forecasts and margin trends should not "stand out". Anomalies in sales and earnings that "break the trend" are anathema. This is why we're getting a miserly 6.7% consensus 2015 revenue growth (CapitalIQ). Stalling net income over the past 2 financial years has made analysts afraid to forecast stronger growth expectations.

Click to enlarge
The level of growth (from both the iPhone 6 and new product categories) has not yet been fully appreciated by the market. In my conservative estimates below, I forecast 16% yoy revenue and EPS growth for FY 2015, and expect trading multiples to expand.
Nature of smartphones is an altogether different beast
Allow me to dwell on the bigger picture and put aside the fears/pressures of competitive tension for a moment.
What the sector is geared to right now is the full impact of an emerging market growth phase, one which there are multiple levers working to drive continued growth.
The burgeoning EM middle class consumer. The rise of the young and tech savvy demographic in Asia. These are tailwinds that drive the entire consumer electronics sector. Unlike traditional consumer electronics, though, the combination of the elevation of design and the quick obsolescence of computing devices (think Moore's law, but transcend it across the global consuming public's consciousness) has captured public imagination on a global scale far quicker and more effectively than any product that has come before it.
This captures the essence and the beauty of the business model. With its "fashion-like" and trend-setting dynamics, along with the intrinsic need to upgrade to the newest, most specced-out model, consumers who can afford it are turning the business into one which enjoys annuity like streams of cash flow. It's also why smartphones have a much shorter replacement cycle when matched up against traditional consumer electronics. It's not just the lever of additional growth from secular demographic trends that we're talking about now, but also the stability of the existing customer base.
That's why Apple's market cap is what it is. And that's why the "law of large numbers" that many tout doesn't apply here. There are simply very few precedent companies that have managed to crack it and capture scale on such an unparalleled global level. Apple's "large numbers" simply reflect a company that has established scale and global presence on an unprecedented level.
But where does competition come in?
Economic theory teaches us that there are no sustainable excess profits to be generated. Where returns on capital are oversized, competitors come in to stake out market share, driving profits down until the industry reaches an equilibrium where there are only normal profits to be made.
We've seen that to an extent in the nascent smartphone industry which Apple created, with Samsung taking the lion's portion of global market share. This is the key reason why multiples traded down, why we've seen short interest build up, why the bears are where they are. To wit, concerns about the evolutionary phase of products have indeed been legitimate; what gives me comfort, though, is Apple having withstood the test of competition and posting numbers that defy the innovative lull of the past few years. Brand power has clearly not diminished.
Where Android has failed, also, is in penetrating the premium high-end segment, where margins are the richest. That domain lies solely with Apple at the moment, and it certainly shows no signs in relinquishing that. Whether it be the damp launch of Samsung's most recent S5 flagship, or surveys highlighting iOS's lead in smartphone loyalty, Apple has managed to stem market share loss despite its lack of a large screen. What we've essentially seen is that Samsung has effectively cannibalized its own products, with the multitude of launches and variants ironically helping to differentiate Apple from the pack.
Let's put it this way, no other company commands attention like this.
The iPhone
It's a foregone conclusion by now that the pent-up demand for iPhone 6 is immense. We are going to see blowout numbers. The network effects from this pickup in growth will only continue to build even deeper moats around its ecosystem.
I expect iPhone unit growth to achieve at least 20% in 2015 (where the full impact of the iPhone 6 is captured). This is definitely not an iterative "S" year. New unit growth should comfortably exceed 30k units. I expect ASPs to increase with the new form factor justifying premium prices, with the mix of newer models offsetting lower prices for the 4S and 5S.

Click to enlarge
The iPad
We're likely still in the midst of what is a considerable shift in the computing landscape - there remains a huge addressable market in the overall computing space in tablets. With consumer preference having clearly leaned towards tablets versus PCs, they remain highly disruptive. Where the consumer goes, enterprise follows. Businesses are still very much in the nascent stages of tablet adoption. And management clearly agrees. Cook has highlighted numerous times and spelt out the opportunity set in tablets during Apple's quarterly earnings calls - so much so it is willing to cannibalize the Mac range.
Gartner forecasts tablet sector growth for 2015 at 23.2%. For conservatism, I model a slower growth profile. Prices for the iPad range are forecasted to slide down as the mix of Minis ramp up.

Click to enlarge
The other segments
The only segment which sees meaningful growth would be in iTunes, where the compound effects of continued network and platform growth help boost the entire iOS ecosystem. I forecast Macs to continue plodding along given iPods continue their recent pace of decline, while I forecast accessories to plod along its historical trends. The Beats acquisition (along with its higher gross margin profile) would clearly be additive for the Accessories segment as well.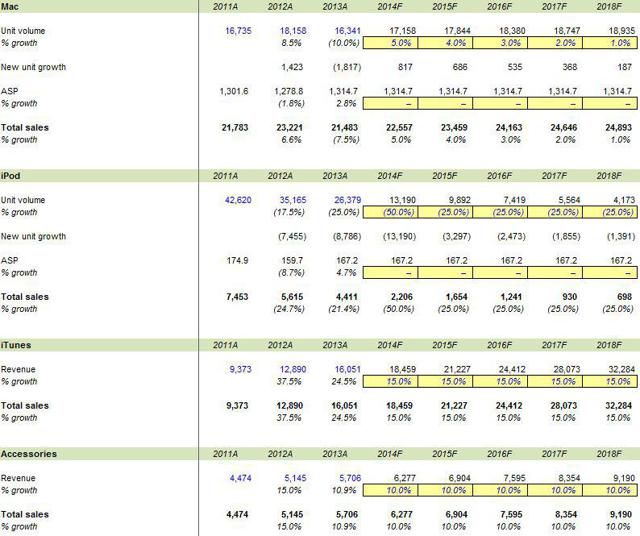 Click to enlarge
New product categories and R&D
It's a virtuous cycle, where the underlying stability of its platform-centric models and the moats they've built provides the company with profit growth, along with reinvestment potential, while giving time for the innovation engine to ramp up. That, along with its very huge and exponential R&D spend hints that the product pipeline is fully at work.
It's also fair to say that markets are not pricing in full, the possibility of innovation and new product segments. Apple's historical track record in carving out entire new market segments that end up in itself being the equivalent of entire Fortune 100 companies is something I would not necessarily dismiss offhand. The iWatch. The Internet of Things. Mobile payments and commerce. Automobiles. Home automation. And whatever other secret sauce is cooking up in its labs. Opportunities abound.
To be conservative, I have not modeled in "new product categories". It's a big unknown, and one I'm not willing to throw darts at when it's apparent that the professionals get it wrong when forecasting even just existing products lines. Suffice to say, though, that we have reasonable assumptions on the number of units Apple expects to ship and what we can realistically expect of ASPs. These are all pure upside on top of my estimates.
Margins
There's some debate about gross margins - based on previous cycles, the introduction of a new form factor typically brings about a higher BOM. That said, the higher network mix of iPhones should be accretive to overall margins.

Click to enlarge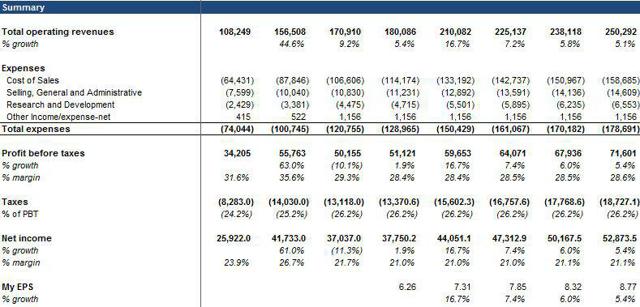 Click to enlarge
Valuation
So there you have it. My forecasted numbers without having built in numbers for the iWatch and new product categories.
Despite share prices having seen a huge uplift post the revision of growth expectations, my earlier thesis still stands. Further upside from both the iPhone 6 and new product lines have not been fully appreciated by the market. Assuming forward PEG stays the same, I expect to see a multiple uplift as growth expectations catch up to my own forecasts. In the interim, the cash flow engine and potential further stock buybacks cannot be ignored. These should allow for value-oriented investors to form a base for share prices.
As the overall market wises up to growth, I believe 2015 P/E can revert to 16.7x even off a discounted PEG - I have my internal estimates of share price set at $110.
Disclosure: The author is long AAPL. The author wrote this article themselves, and it expresses their own opinions. The author is not receiving compensation for it (other than from Seeking Alpha). The author has no business relationship with any company whose stock is mentioned in this article.