Alpha Natural Resources (ANR) is among the leading U.S. coal companies. The company has exposure to both thermal and met coal markets. Increasing coal-fired electricity generation and decreasing stockpiles at power producers are likely to support the thermal coal market in the near term. However, the met coal market is likely to remain weak in the near term due to excess met coal supply, and will keep ANR's earnings under pressure. In response to weak industry conditions, U.S. coal companies, including ANR, have been working to improve their cost structures and preserve cash to survive through the difficult conditions.
The met coal market has remained soft in the recent past due to excess coal supply. Also, lower met coal demand from China and excess supply from Australia has limited the met coal price recovery; in fact, the met coal benchmark price for 2Q2014 dropped to $120 million, the lowest since 2007. The met coal benchmark price is expected to stay weak in the near term as the market remains oversupplied despite the recent supply cuts announced by companies, including ANR, Arch Coal (ACI) and Walter Energy (NYSE:WLT). ANR lowered its met coal shipment guidance for 2014 from 16-20 million tons to 15-18 million tons. ACI also lowered its met coal volume guidance by 1.2 million for 2014.
The following chart shows the drop in met coal prices in recent quarters.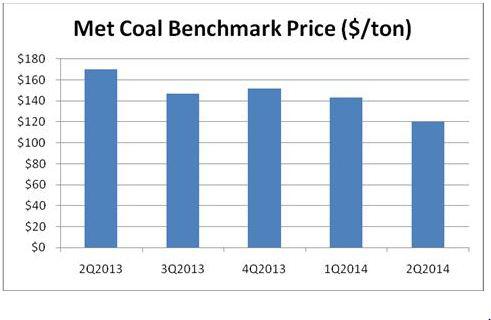 The met coal market is believed to be 15-20 million tons above the demand-supply equilibrium, according to ANR's CEO, whereas the recent global met coal supply cuts are approximated to be 10 million tons, which will start going offline in the next few quarters. As the recent supply cuts are less than the levels required to address the concerns of met coal oversupply, more supply cuts need to be undertaken to rationalize the market and trigger a recovery in met coal prices.
Financial Performance and Liquidity
ANR's financial performance in recent quarters was being adversely affected by the ongoing tough industry conditions. In 1Q2014, the company reported an adjusted EBITDA of $39.1 million, missing consensus estimates of $62 million. Reported loss per share for the quarter came out to be $0.25, better than consensus estimates of $0.57, mainly driven by a $250 million pretax gain on the sale of shale assets. In the challenging industry conditions, the company has been working to improve its cost structure. ANR's cost of sales in the East continues to drop and averaged $64.73 per ton in 1Q2014, better than the company's midpoint guidance range of $67 per ton. Also, the company lowered its Eastern cost of sales guidance to a midpoint of $66.5 per ton.
ANR has also been making efforts to improve its financial flexibility through refinancing and reduction of capital expenditure. In an attempt to repay near-term debt and extend debt maturities, ANR last month priced a private offering of $500 million of 7.5% senior secured notes due in 2020. Also, the company amended its credit facility, which includes the suspension of interest coverage ratio covenant till 1Q2016. Also, the company has reduced its capital expenditure guidance for 2014 from the midpoint of $275 million to the midpoint of $250 million. Cash burn for the company in 1Q2014 was approximately $95 million, lower than the cash burn of $163 million in 4Q2013. The above mentioned measures will help the company improve its liquidity in the near term and survive through the prevalent difficult times.
Conclusion
ANR's performance in the near term is likely to remain challenging as met coal markets remain oversupplied. The company has been taking measures to improve its financial flexibility to survive through the ongoing difficult times, but I believe supply rationalization is critical for a recovery in met coal prices. However, higher coal-fired electricity generation and inventory rebuilding by power producers will support a recovery in thermal coal markets. As the met coal market conditions remain challenging, I believe the company will continue to trade at depressed valuations; currently ANR is trading at a P/S of 0.17x and a P/B of 0.19x.
Disclosure: The author has no positions in any stocks mentioned, and no plans to initiate any positions within the next 72 hours. The author wrote this article themselves, and it expresses their own opinions. The author is not receiving compensation for it (other than from Seeking Alpha). The author has no business relationship with any company whose stock is mentioned in this article.